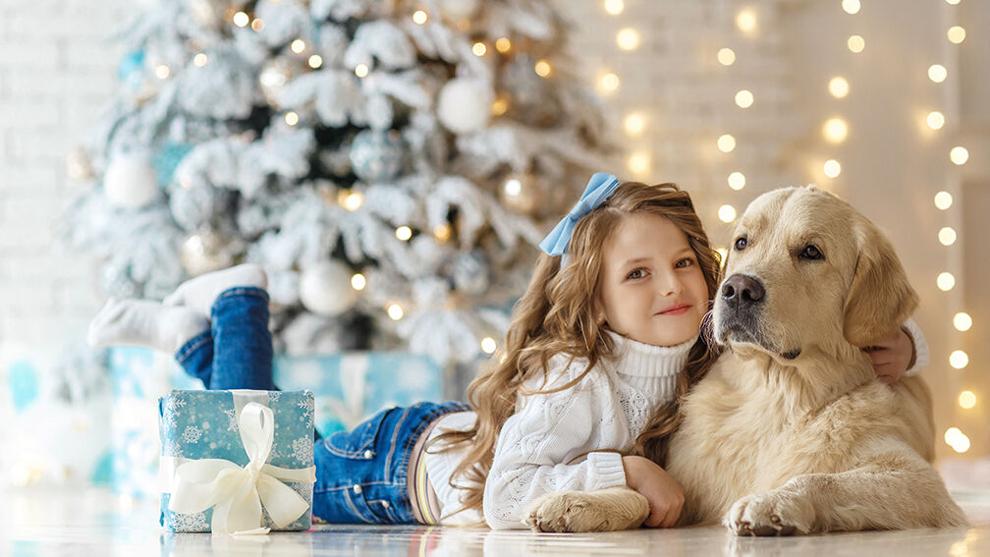 It's hard to believe, but in the blink of an eye, the 2021 holiday season will be upon us. Given these past two years, most customers will gladly welcome the Yuletide cheer.
As always, families (including pets) and friends are the heart of the holidays, and pet parents will plan to seek out special gifts for the pets and pet lovers in their lives. 
Of course the festive season also happens to be the busiest time of year. To take full advantage of the season, retailers need to be informed about the latest trends, newest innovations, and have to come up with creative and festive ways to spread holiday cheer. 
Securing Seasonal Stock
Naturally, the summer months are the ideal time to start ordering stock and prepping for the holiday season. 
"If you haven't already started [getting ready for the holidays], you're already behind," says Sherry Redwine, owner of Dallas, Texas-based Odyssey Pets. 
Some retailers, like T&T Pet Supply, prioritize looking for seasonal products all-year round. 
"We prepare all throughout the year because somebody can come in, a vendor or a manufacturer [that has a product we've never had or never seen that'd be ideal for the holidays, in January,] says Mark Hunsbedt, owner of Skillman, N.J.-based T&T Pet Supply. "We'll take it, but we don't need it shipped until September."  
Laurie Wilson, owner of Teca Tu, a Santa Fe, N.M.-based, single-store pet business, also says that her holiday preparations have already begun. "We start ordering in the summer, taking note of what we have from last year and preparing ordering lists for the new season." 
For store owners that attended SuperZoo last month, the tradeshow is a hub of innovation to tap into, and manufacturers showcased their latest products knowing that the holiday hustle is around the corner. After seeing what vendors and manufacturers have to offer, Redwine suggests that retailers pick a variety of products at different price points, to accommodate customers with different budgets. 
Having access to durable, quality products is the first step, but then retailers need to prioritize what types of products will make it on their shelves. 
"We offer apparel [such as scarves, hats, t-shirts] for both 2-and 4-legged, treats (mostly locally made) and toys," says Wilson.  
"We look for a couple things [when stocking products]," Hunsbedt adds. "If I can get something made in the U.S., which is really hard, I'll do that. It's got to be a durable item or toy, and it's got to be something I know we can sell at a price point." 
"I know stores that get their Christmas stuff in, and whatever they don't sell, they're like, 'we're just going to pack it up for next year'," he continues. "Are you kidding me? That's a whole year of you not making money off the stuff that's just sitting in the back taking up space. For me, I'm always thinking 'how fast can I get rid of it?'"
Of course, retailers need to make decisions about what products are worth stocking in their stores. As more families adopted animals throughout the pandemic, pet parents are more aware of their pets' needs and, in terms of gift giving, there's a great desire for basic staple products that every pet owner could benefit from.
Unfortunately, some basic products or supplies for pets, such as metal cages, have still been hard to secure. Like last year, it's important that retailers have close communication with their manufacturers and distributors to ensure that the products they order arrive in a timely manner and in solid quantities to fulfill the demand.
Preparation for Stores and Staff

 
Since there's typically an influx of customers during the holidays, it's imperative that all sales staff have all hands on deck to ensure operations are running smoothly.
Some retail stores may take on new employees during the holiday season to provide additional customer support. In other cases, some retail stores have seasoned employees that know the drill and are prepared for the rush. Of course, there may also be a mix of both novice and seasoned employees in the same store. 
Wilson is confident that her staff will be more than ready for an influx of customers. "I don't really need to prepare our staff," she says. "We all know this is the busiest and most important time of the year, so we are excited to get going and have a great holiday season." 
Now, how to decorate stores to celebrate this festive season? Sure, retailers can stick to the tried and true holiday classics—but they can always put their own twist on it. Redwine always plans a holiday theme for Odyssey Pets, such as Charlie Brown's Christmas or Southwest Christmas. This year, she plans to create a White Christmas theme, which will be represented throughout the store and in the store's large window display. 
For its part, T&T Pet Supply creates a separate section dedicated to the holidays, and according to Hunsbedt, it's grown every year. 
"What we do is we put it all up front now," he says. "As soon as you walk in the door it hits you. My counter sits in the middle of the store, so they're eventually going to have to come back towards me."  
Gearing Up for the Giving Season

 
One of the most rewarding aspects of the holidays is being able to give back and support animals or people in need. 
"For the holidays, we did a weekend 'Santa & Mrs Claus' photo op and fund-raising for two local animal rescue groups (one dog/cat and one equine)," says Trent McCoy, president of Midland, N.C.-based McCoy Feed & Pet Supply, Inc. "This was easily our largest fund-raiser and store event of the year. We have experimented over the years with several versions, dates, weekends etc., but having a single weekend consistently produces the best turnout and results." 
However, the store decided against hosting the event this year, as it did in 2020. In the midst of the excitement that comes with planning for the holidays, this year retailers once again need to consider how the pandemic will impact their preparations. 
It's imperative that retailers have an idea of what products they want to stock in their stores and when it's time to display them. Whether or not to plan in-person events, however, is a question retailers are asking themselves. 
"Due to COVID, we obviously put this holiday event on hiatus for 2020 and it was just agreed to remain that way for 2021," says McCoy. "As a result of last year, we did the least holiday I have done in over 15 years." 
Many pet stores have decided to take a similar approach, and hold off making concrete holiday plans. Others may not have plans slated for the winter holidays, but retailers, such as Teca Tu and Odyssey Pets, are organizing events for the fall. 
"We don't have anything planned for this time [for the winter]," Wilson says, "but we will be doing a big, Thank You party sometime in the fall to thank all our customers." So far, the event will have libations, a raffle, an ice cream truck and more."
For its part, Odyssey Pet usually schedules a Halloween event, which had to be held virtually in 2020. Redwine is organizing the event for 2021, which will be Vegas-themed, to be in-person. 
"We do a really big Halloween party, where vendors come out to give samples, there's a raffle, and more," she says. 
Even if certain events can't be held in person, there are always other ways pet stores can do their part to support charities and their local communities. If stores can't hold in person charitable events, such as photos with Santa, they're still making the effort to give back in whatever way they can. 
For instance, T&T Pet Supply decided to offer a voucher to encourage customers to support local restaurants in its community during lockdown, and plans to do the same this year. Collaborating with the local community, especially in times of hardship, can help strengthen these relationships. "I should help them, so they can return to help us," says Hunsbedt. 
A Show of Strength

 
Despite all of the uncertainty, the pet industry remains strong. Of course, business has been impacted in a variety of ways, but being around to support customers and provide the products that they need for their beloved pets. These past two years have been a testament to the resilience of independent pet stores.
"We did pretty well last year," says Redwine. "Almost the same as the year before." 
Now, retailers this year have a pandemic holiday season under their belt and are better prepared to handle this environment of uncertainty. With omnichannel support, curbside pickup and at-home delivery in place, retailers may be able to take advantage of the holiday season more than ever before. 
"I can't say this year is going to be worse than last year," says Hunsbedt. "Because last year we had this whole COVID thing start, and nobody knew where you were going to end up, but the pet adoption, whether it be fish, bird, cat, dog [as a result of all these pandemic pets], we got flooded. For this year, I don't see us missing a beat." 
For pet stores that offer services, such as pet boarding, grooming, etc., this holiday season will be much better for business as compared to last year. 
"Most customers did not go away in holiday 2020 due to the pandemic, but will be travelling this holiday 2021 to visit family/friends or travel out of town," says Antony Karabus, CEO and Farla Efros, president of HRC Retail Advisory, a specialist retail consulting firm based in Northbrook, Ill. "As a result, there will be a very high demand for pet hotels or pet boarding or daycares. This is a great opportunity for pet retailers who have these facilities to be able to expand their customer list and [improve their customer retention]." 
Overall, the feelings going into this holiday season are positive. 
"I am feeling cautiously optimistic," Wilson adds. "We are all vaccinated and can only hope that more people get vaccinated so we can get back to normal."  PB