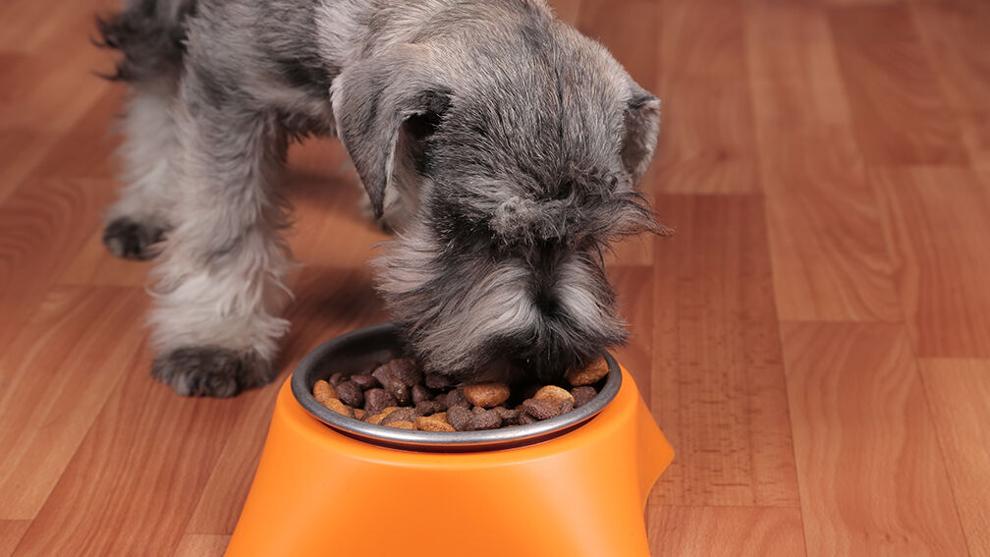 It's no secret that nutritious food is an integral component of animal wellness. When dogs are fed wholesome food formulas that meet their nutritional needs, they are more likely to enjoy higher levels of energy, increased quality of life, fewer health issues and have extended lifespans. 
Every year, new trends in dog food seem to arise. While some of these trends don't resonate with consumers, the best will enjoy staying power to become the standard within this category. 
Incorporating Fresh Foods
As more consumers gravitate toward purchasing fresh ingredients for themselves, they are adopting these habits when it comes to feeding their dogs. Finding ways to serve fresh ingredients to pets is becoming much easier and more affordable, as brands offer products to serve as additions to traditional kibble, or ingredients to create unique, tasty, wholesome dishes for their canines. 
"Lately there has been an upward trend in adding fresh foods or moisture to kibble bowls," says Emma Kumbier, veterinary outreach coordinator for Primal Pet Foods. "Pet parents are choosing more fresh, unprocessed food for themselves, and since we consider our pets part of the family, that has prompted increasing conversation about pet food. 
Convenience and cost are always factors, so products like scoopable meat-based toppers, goat milks, broths, and other fresh food-blends that are low cost, quick and effective have become increasingly popular." 
Not only do these additions to the dog-food space add a new dimension to canine cuisine, they present opportunities to incorporate healthful ingredients that provide the necessary nutrients to support a dog's overall health. Toppers and mixers both can serve as supplementary products to help dogs lead healthier lives. 
"There is also a growing interest in the use of supplements to enhance a pet's diet," reveals Heather Hickey, senior vice president of Ziwi USA. "As consumers are becoming more educated on the ingredients in their dogs' food, they are looking to boost the nutritional value that may be lacking in their current kibble diet. This has led to a significant increase in toppers and supplements in the market." 
Naturally, since more people value their pets as members of the family, premium pet food remains popular and quality continues to be a priority. According to Eleanor Blackmer, brand manager of ACANA Pet Foods, humanization leads pet parents to purchase the highest-quality formulas possible. 
"Pet lovers and their pets only grew closer during the pandemic, and now, more than ever, pets are viewed as integral members of the family," Blackmer explains. "They are prioritizing quality nutrition as they understand the impact nutritious food has on their dog's overall health and wellness. That's why the premium pet-food category continues to be a strong performer in the industry."
The treatment of dogs as members of the family has become the standard, but the trends that develop due to these practices reflect how pet parents live their own lives and the products they choose for themselves. While the trend toward fresh products is strong, the ease of preparing wholesome meals for dogs is reflective of new developments in the human-grade food industry toward do-it-yourself meal kits, explains Heather Acuff, Ph.D., director of research and development at Nulo Pet Food.
"The purchasing patterns of pet parents are closely tied to their own food shopping habits, and with the popularity of DIY meal kits in the human food industry, the topper and treats categories will likely remain an important way to add functional variety to pets' meals and generate opportunities for innovation," Acuff says. 
Expanding Ethics

 
Of course, a lot of questions pet consumers have about products can be found online, making it easier than ever for them to make more informed purchasing decisions. Shoppers simply need to know where to look for accurate information from reliable sources and how to recognize that foods with the simplest, cleanest formulas will likely include ingredient lists that are easily understood. 
Dr. Ryan Yamka, co-founder of NOBL Foods, is a board-certified companion-animal nutritionist who feels trends are moving toward less-processed formulas featuring easily identified, simple ingredients, in addition to pet parents' demand for greater transparency into nutrient analysis, digestibility and ingredient origin. 
"When people call and ask a company if they have that information and they say it's proprietary—no it's not," he says. "You yourself could take a bag of food and with $6,000 send it to a third-party facility to get the digestibility analyzed. The formula is proprietary and a trade secret, but the digestibility and the nutrient analysis are not.
The companies that say 'We don't have it, but we're working on it,' will receive a better response from retailers versus going 'It's proprietary, so I can't share it with you.'"
Along with the ever-growing trends when it comes to the desire for transparency in pet-food production, consumers are also placing greater emphasis on how products are made and their lasting impacts on the environment. 
"Looking beyond novel and functional ingredients as well as new packaging types over the next year, pet parents are gravitating towards brands who are focused on reducing their footprint and contributing towards a more sustainable future," says Acuff. 
Embodying feelings of responsibility to preserve the planet, the millennial and Gen Z customers, specifically, have increased the demand for more-sustainable practices and greater responsibility from the pet-food industry. 
"It's very exciting to have consumers putting pressure on manufacturers to make products that are better for the environment," says Peter Christiani, head of marketing at Portland Pet Food Company. "As a retailer, it creates an interesting opportunity to vet and designate products that pass a certain sustainability threshold. Knowing consumers—particularly young dog owners—care so much about sustainability, how innovative would it be to have a sustainable section of the store? To me, young shoppers would flock to that aisle!" 
While monitoring trends to gauge the direction of customer interest is extremely important, an intelligent plan of action is also recognizing that pet parents each have different demands. The members of this group hail from an array of lifestyles, economic backgrounds and levels of canine-nutrition education—but they are learning more each day and applying this knowledge to their dog-food purchases. 
"The nature of trends is that they ebb and flow in accordance with consumer demands," explains Bryan Nieman, brand director of Fromm Family Foods. "Sometimes we see a trend emerge in pet food in concurrence with a human trend because of the humanization we put on our pets and how integral they have become to the family unit.  
"One of the most exciting things for us as a manufacturer is the customers' desire for variety and the independent retailers' ability to meet this demand."  PB