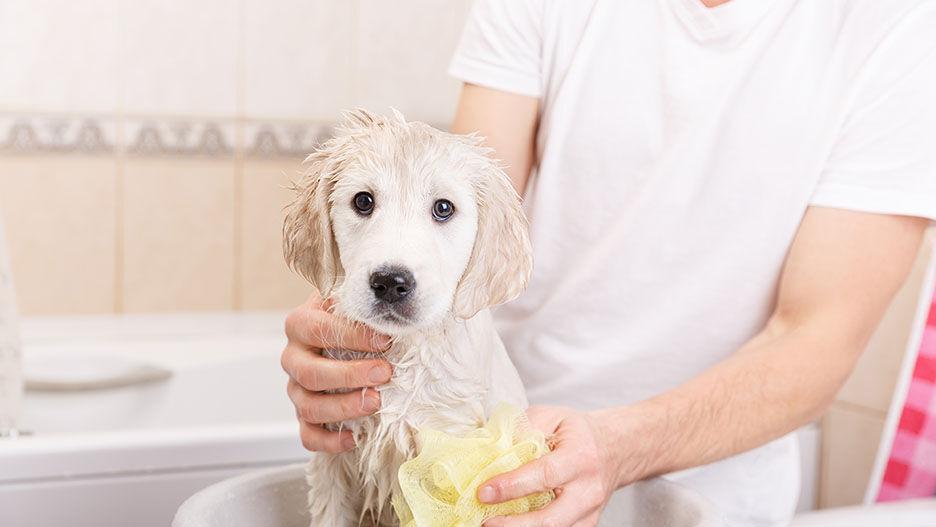 Dogs got more attention—and probably more baths—during the pandemic than in normal times. Humans were home, so they had more time to wash their pups, and they found that bathing their dogs could be a bonding experience. As a result, consumers purchased more shampoos, conditioners, wipes and other grooming products, and learned how to care for their dogs' skin and coat. In fact, according to the 2021-2022 APPA National Pet Owners Survey, there was a 43 percent increase in the average amount spent on dog shampoos and conditioners from 2018 to 2020.
Now, even though many humans have returned to their workplaces, people still want to bathe their dogs at home, and manufacturers are developing products that can help. 
"Since the pandemic, the bathing essentials category continues to grow," says Julie Creed, vice president of sales and marketing for Pure and Natural Pet. "Many pet owners do opt to continue to bathe and/or shampoo their dogs at home in between their grooming appointments. Groomers are very busy and have extremely limited appointments readily available." 
Pure and Natural Pet expanded its lines of organic, natural grooming options, and offers a line of functional pet shampoos, including Shed-Control, Anti-itch, Hypoallergenic, Whitening, Waterless, Grain-Free, and Flea & Tick products. 
In addition to bathing their dogs at home, pet owners are also looking for between-bath items such as wipes.
 "Grooming and cleansing wipes really grew during the pandemic and post-pandemic due to being quick, portable and effective," Creed says. Pure and Natural offers a new FSC certified, eco-friendly, biodegradable wipe in lavender and an unscented wipe that is safe for all pets.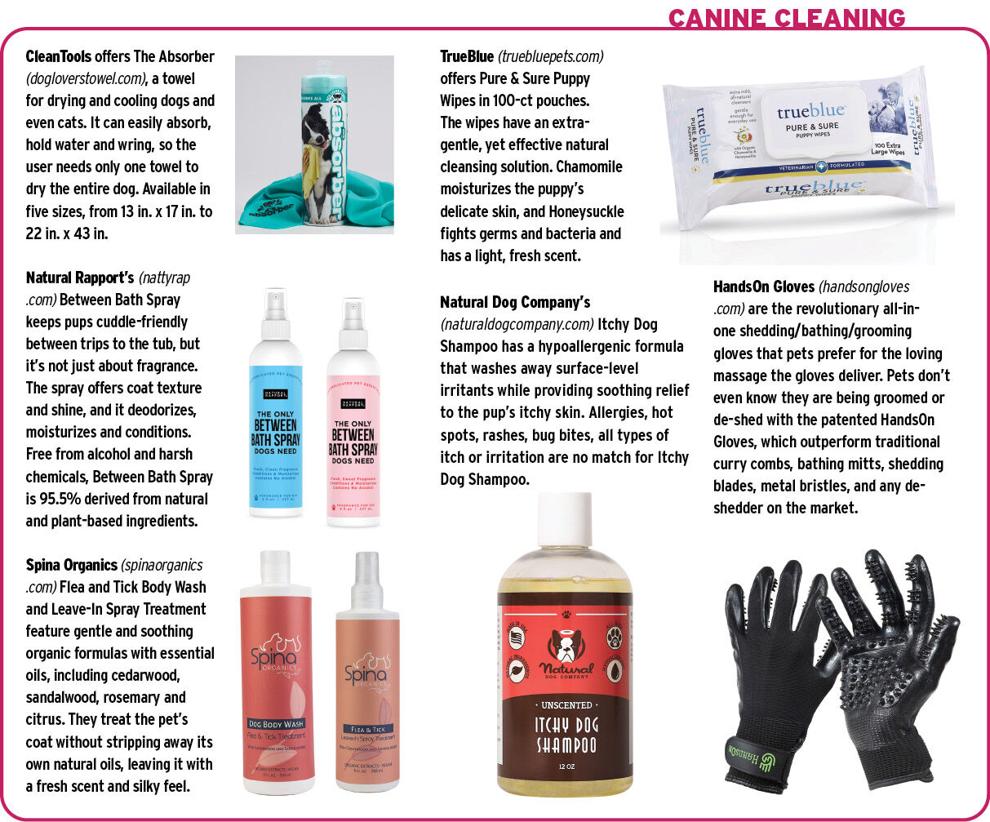 Other between-bath products are also gaining popularity. For example, dry shampoo, and spray and clean products have become important to have on hand, says Dawn Leoso Duncan, vice president of Glo-Marr Products. 
"The ability to spot clean has been a game changer for a lot of pet owners," she says. 
Of course, consumers are still buying bath products such as shampoos and conditioners for a variety of reasons. Some live in rural areas and have dogs that spend a lot of time outside, so these dogs are bathed often. Self-serve dog washes are popular pet store offerings, so dog owners are buying shampoos they can use there. People are traveling, so they like to touch up their dogs between baths. For these pet owners, there are dry shampoos, sprays, and other products. 
"Everyone is still bathing their dogs," Leoso Duncan says. "There will always be the need for quality bathing products." 
Innovations in Bathing
While bathing our four-legged friends will always be important, dog owners are moving beyond the lather, rinse, repeat model. 
"We found pet owners wanted bath time to be faster," says Geoff Hamby, director of marketing for Vetericyn Animal Wellness. "They were also frustrated by the old school shampoo application process."
With this in mind, the company developed the FoamCare trigger system, designed to allow the pet owner to quickly spray on the product rather than plop it in one spot and manually work it over the dog's entire body. The company says the foaming action makes shampooing fast and frustration-free for pet owners. 
"It really speeds up bath time," Hamby says. "It's actually quite fun to use." 
Vetericyn focuses on innovative, effective, safe, and natural animal wellness products. FoamCare Pet Shampoo is plant-based, paraben free, and free of chemical dyes. The company provides retailers with resources such as POP displays, videos, and brochures, and recently launched a free service that provides retailers with ready-made social media content they can share with their followers. 
"It's key that retailers build a trusted relationship with customers," Hamby says. "Once that trust is established, a retailer will have a much better time communicating and educating around specific grooming tools." 
Going Natural

 
Not surprisingly, the demand for natural ingredients is driving innovation in the home-bathing category, and TropiClean, a brand of Cosmos Corporation, has responded with the launch of its TropiClean Essentials line of sulfate-free pet shampoos and sprays. The cruelty-free products have naturally derived ingredients and are free from dyes, phthalates, parabens, and soaps. 
"We're seeing that pet humanization trends and preferences for natural ingredients and exotic and unique blends are leading to some exciting new developments in the pet bathing space," says Amy Horton, corporate communications manager for Cosmos. 
Citing a GlobalData survey, Horton noted that 69 percent of U.S. pet parents agree "my choice of products for my pets is a reflection of my personal values and preferences." Globally, 62 percent of pet owners say they often or always choose "enjoyableness or uniqueness" when selecting pet products.  
"These insights led us to introduce TropiClean Essentials, which serves a consumer desire for affordable indulgences that allow them to try exotic and functionally distinct products with unique, fresh, and trending ingredients," Horton says.
The TropiClean Essentials line consists of four blends: Shea Butter to soothe dry and itchy skin, Yuzu Oil to moisturize the coat and hydrate the skin, Jojoba Oil to condition the coat and balance oil production, and Goat's Milk to soften the coat and balance pH for sensitive skin. 
When it comes to building a selection of home-bathing products, it is important for retailers to understand that dog owners are often looking for products that do more than one task. 
"Consumers continue to seek more premium grooming selections with ancillary benefits such as skin and coat conditioning," says Scott Reinhardt, vice president of sales and marketing for Swedencare. "Others are needing additional therapeutic applications for more specific skin and coat conditions." 
Swedencare offers products in both segments—luxury bathing and therapeutic applications.
Pet specialty retailers have an opportunity to attract these consumers by offering an assortment of premium products that pet owners would not be able to find in big box or internet channels. 
"Usually, retailers offer two or three brand selections for consumers to choose from, based on specific preferences, quality and/or solution-based applications," Reinhardt says. 
In many cases, the solutions that people seek are for their pup's skin issues. Dogs that have itchy skin needed special care during the pandemic. 
"Our pets didn't get the memo that the world has been rocked by a pandemic," says Debra Decker, director of marketing for Pet King Brands, which makes ZYMOX. "Their health needs persisted even with businesses temporarily shutting down or having veterinary services restricted. Dogs who have suffered from allergic, dry, or itchy skin, continued to suffer from these conditions."
For these dogs, Decker says, veterinarians recommend shampoo therapy. For the allergic pet that can mean bathing up to twice a week as a preventative and to manage flare ups. The company says ZYMOX Shampoo and Leave-On Conditioner is a proven remedy product with a powerful, patented enzymatic formulation.
"The most important product innovation is the ability to help animals manage allergic skin and infections of the ears and skin at home without the use of antibiotics," Decker says. "There is constant mention in the media about the humanization of our pets and elevating the health and welfare of pets to beloved family member status."
The demand for home-bathing essentials will likely continue. Pet parents are finding it challenging to get appointments at groomers and veterinarians, Horton says, likely driven by the surge in pandemic pet adoptions and labor shortages across service industries. There are longer waitlists to get an appointment, and some groomers are not accepting new clients. In fact, the APPA survey also noted that 41 percent of pet parents groom their dogs at home. 
"So many millions of households adopted pets during the pandemic," says Creed, from Pure and Natural Pet. "Pet parents continue to find ways to treat and care for their pets as family members.  They have grown increasingly picky about how they clean and care for them.  Pet parents are interested in selecting grooming products that help support their pet's overall health and wellness."  PB