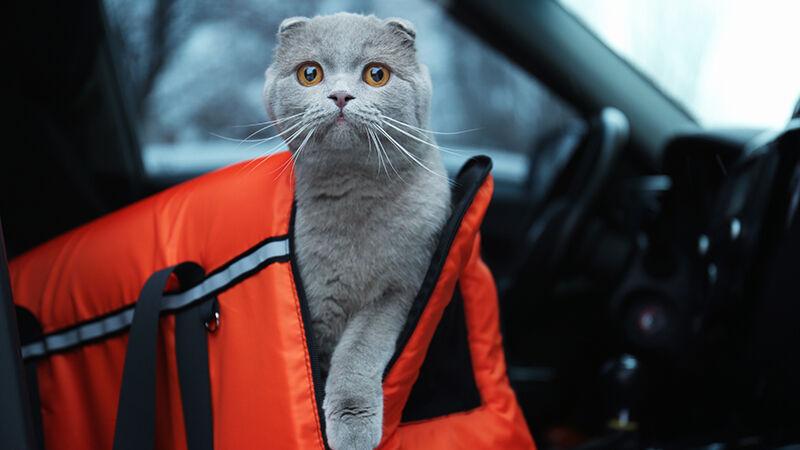 As more individuals welcomed cats into their homes throughout the pandemic, the need for cat-specific products has surged. Of course, pet parents are seeking the essentials for their new felines, and this includes finding the right containment products or carriers. 
"The category is growing, driven by the tremendous increase of pet ownership over the past year," says John Rodriguez, senior director of home solutions at Petmate. "2.3 million new cats entered homes in 2020 and containment is a necessity for cat owners."
Though a basic necessity of cat ownership, pet parents are not just settling for simple carriers. 
"Consumers are looking for pet carriers that deliver more than the typical function of containment with a carry handle," says Michael Leung, co-founder and lead product designer of Sleepypod. "Consequently, these new pet owners are looking for products that will help to enrich the lives of their pets. Multifunctional carriers help their pets to travel in greater comfort and with less anxiety."
The name of the game in kitty containment is diversity, so there's something for every feline and every pet parent. 
"There are so many types and styles of products that help safely contain a traveling pet to prevent injury to the pet and reduce distractions while driving," says Tara Whitehead, director of marketing and communications at MidWest Homes for Pets. "From wire crates sized for vehicles, plastic carriers, camper crates, vehicle barriers, soft-sided carriers and backpacks – there are many solutions available, and MidWest manufactures popular products in each of these categories."
Creative Containment
To accommodate consumer needs and preferences, there are a wide range of popular innovations for retailers to choose from. As an example, more lightweight, durable material that's easy to lift and hard for cats to claw out of, is popular, according to Kathy Tsai, founder of Petique, Inc. 
Naturally, convenience is appreciated, and carriers that can be taken apart and machine washed continue to be well-liked. Beyond how easy it is for pet parents to move a carrier around themselves, more consumers are interested in a carrier's overall safety in vehicles. One popular feature is that a carrier is crash-tested with buckles that keep pets safe in cars, according to Leung. 
While a carrier's effectiveness, durability and safety are keys to a great containment carrier, it's important to take style into consideration as well. To account for style, manufacturers offer products in a range of color options so consumers can get something that suits their taste.
"I believe that Sturdi was the trend setter in the area of multiple color choices and safe pet travel," says Penny Johnson, CEO at Sturdi Products, Inc. "There is a vast array of color and print choices on the market now. More than we have ever seen before."
Creating a Calming Space
Even more important than aesthetics, it's imperative that a carrier is as comfy and anxiety-free as possible for cats. Having a comfortable space is important for cats at any stage, but especially as they age. 
"People want their companions to be comfortable and looking for products that could help," explains Johnson. "Customers are looking for a carrier that is safe and comfortable for their pet and also suitable for the older pet."
Cats may be the most comfortable in their beds, and as a result, more cat carriers today can double as beds. 
"Pet beds that double as carriers are becoming a popular trend," adds Leung "This mobile pet bed style of carrier helps the pet to travel with less anxiety since the pet is always traveling in a familiar space."
Top-entry carriers can also help reduce the anxiety and stress of getting the cats in, and Petmate's new innovation helped lower the price on these usually more expensive options. 
"In our consumer research we found that half of cat owners find their existing carrier difficult to use, often because they are using a front entry carrier where their cat can widen their arms to say, 'No, I'm not going inside,'" says Rodriguez. "Top entry carriers have been the solution to this issue, but they've always come with a much higher price point. For that reason, we just recently launched our Top Load Cat Kennel, the first and only one-door top entry carrier, providing an easier to use top entry solution at an entry level price point."
Marketing and Merchandising
With lots of variety on the market and limited floor space, marketing for cat carriers becomes crucial. 
"With a huge array of carriers (from low to high end) on the market, the retailer must offer products that will appeal to the walk-in customer base," says Johnson.
Assembled carriers sell better, according to Rodriguez, but they take up a large space on the floor, which makes other marketing strategies for the carriers that can't be on display even more important. To promote products to the fullest without sacrificing space, retailers can turn to manufacturers for displays and images to show off what carriers they have to offer. 
"MidWest is aware of the constraints that come with limited retail space, so we offer attractive full-color packaging rich with features and photos on cartons that can be displayed horizontally or vertically," says Whitehead. "We also offer merchandising solutions, like end cap fixtures, that help keep products clean and organized."
For both products that are assembled in-store, those not on display, and ones not on the show floor, a knowledgeable staff can point customers in the right direction to find the ideal product for them and their cat.
"Start with the overall need of a carrier," Rodriguez advises. "While ownership is higher among cats than dogs, approximately 25 percent of cat owners still do not own a carrier. From there, find out the specific pain points or concerns they're experiencing. Are they having trouble loading their cat in their carrier? Do they want something that will resist impact? Questions like these will help guide a consumer who may not know what they need."
Social media and websites are also important for marketing those products that aren't available on the floor or in-store. "E-commerce sites need to continue to create content with felines using the products," Johnson says. "We all say 'Yes please!' to cat videos. That's all fun, but be pragmatic with your information."
Representation for cats in carriers on social media is a great way to promote these products, and introduce them and their benefits to cat parents that may not realize they need them. 
"Merchandising strategies I have found to be most effective for cat carriers and containment products is to show on social media like Instagram and YouTube of our customers with their cats in our cat carriers and containment products outdoors and having fun," adds Tsai. 
Since the pandemic, more people have been home bonding with their felines, and as the world opens, they want to keep their cats with them as they move through the world.
"As a result of the pandemic, consumers are hitting the road with their pets in greater numbers," Leung says. "Pet owners are including their pets in their vacation plans, so I see more businesses rolling out the welcome mat to accommodate these travelers with pets."
As consumers started heading outdoors and enjoying nature more, there's been a greater desire to bring cats outside with them. 
"I expect to see more cat owners taking their cats out because more cat owners are posting images and sharing their experiences with their cats while they are out having fun," says Tsai.  PB