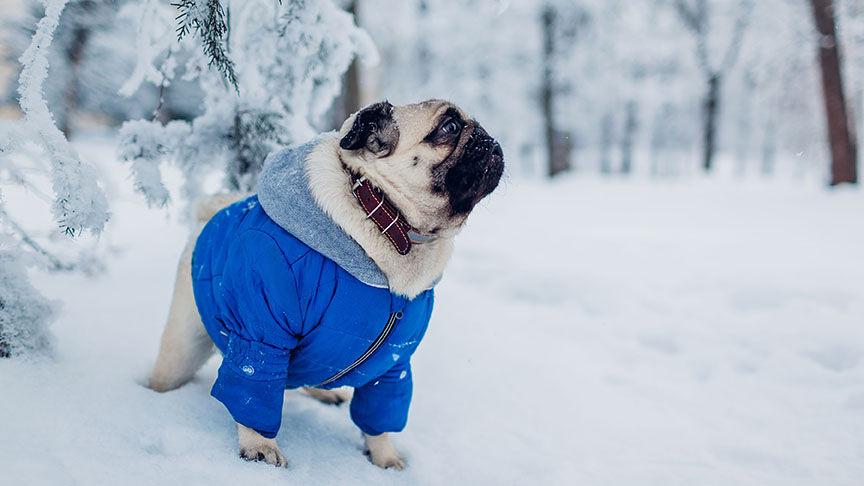 Winter is coming, and for dogs, that means it's still time to go outside. Most dogs are happy to go outside any time, but the cold weather introduces certain risks. No one wants their pet to suffer from cold paws, irritated skin or hypothermia, so pet owners look for products that can help prevent these issues. 
Thankfully, today there are fashionable products that perform better than the clunky boots and bulky coats of the past. If dogs or cats are to wear these new winter essentials, their pet parents will need to see the value in them. 
To start, retailers can benefit from merchandising a variety of items that are crucial for enjoying the season. "Winter means business," says Michael Friedland, president of Pawz Dog Boots. "To ignore winter essentials is to ignore your customer and that is not a formula for success." 
The company makes Pawz Rubber Dog Boots, which are reusable, disposable, and waterproof. The boots are available in seven sizes and are designed to protect paws from frostbite, snow melt chemicals, and other hazards. Friedland notes that dog owners looking for protective boots want the products to offer value, especially as the pandemic created some financial instability for many consumers. So while a value price is important, so are features that make it unlikely the pup will kick off the boot. "Unlike typical boots, Pawz dog boots don't have a thick sole so dogs feel the ground giving them the sense of security," Friedland says. "Not like walking on pillows." 
The pandemic also highlighted the importance of sanitizing products, and Pawz launched Sanipaw paw sanitizing and odor eliminating wipes and spray. Sanipaw is analogous to the hand sanitizers that have become ubiquitous for humans over the last year and a half. The product is a nontoxic, lickable sanitizer for use on the dog, instead of putting it on surfaces like floors, carpets and kennels. It uses the power of oxidation to kill bacteria, virus, fungus and odor, Friedland explains, because dogs can have E. coli and a variety of fungus on their paws.
Paw Safety

 
While venturing outside into the cold brings to mind a certain ruggedness, dogs need to be shielded from the elements. Dogs are very domesticated, says Cindy Magiera, CEO of bootie manufacturer Saltsox. "They live, eat and sleep indoors during the cold frigid icy winter months," she says. "As a result, they need that extra layer for warmth and protection when going outdoors." 
Unlike animals that run wild in packs and live off the land, today's pampered dogs are accustomed to having the comforts of a warm home, comfortable bed, nutritious meals and tasty treats. "So when it is 20 degrees on a cold winter morning they need some extra layers just like we do," Magiera says. 
The company makes the Lavasox summer collection and the Saltsox winter collection of dog boots. Saltsox winter boots are lightweight and are designed to protect dogs' paws from salt, snow, slush, ice and freezing temperatures. 
"We don't trudge around in the snow barefoot and we shouldn't expect our fur babies to either," Magiera says. "Frostbite is very much an issue for dogs just like humans." 
Temperature Control

 
Of course, another issue is keeping the rest of the body warm. Some dog breeds need winter essentials more than others. 
"There are many short-haired fur babies that need extra gears to keep them nice and warm throughout the cold season," says Amy Yu, sales manager at Klippo Pet. "Extra gears means things such as jackets or raincoats on top of an outfit, boots for the snow, or even heat pads for their dog beds."
The brand offers a wide variety of dog pajamas and matching blankets and "Klippo-On" charms that can be attached to the D-ring on the apparel. The pajamas are available in several styles and fabrics, and Yu says fleece and cotton plush provide the most warmth and coziness. 
Pajamas provide warmth and security during the night, says Susan Calles, national marketing manager for Ethical Products, Inc. The company's Fashion Pet line offers functional and fashionable year-round apparel. The line includes a variety of sweaters and coats for the cooler months, tee shirts and sweatshirts for the warmer months and a line of pajamas. 
"Dogs are considered family members, so when the temperatures drop, many pet parents believe it's important to provide an extra layer of protection from the elements," Calles says. "In colder climates, it's beneficial to provide a sweater or jacket to those breeds that struggle to stay warm."
While sweaters and coats provide warmth, they also help keep snow, ice and rain from the dog's fur. According to Calles, one of the biggest trends right now is a water repellent, reversible and reflective garment. 
"The water repellent feature offers that extra level of protection from rain, snow and ice and keeps the dog's fur dry and warm," she says. 
Fashion Pet offers many reversible jackets that have the water repellent feature on one side and a reversible, warmer design on the inside, for two styles in one. Visibility is another important factor to consider, as the nights get longer in winter. The garments feature reflective trim or accents that are designed to improve visibility on nighttime walks. 
Warming up to Sales Opportunities

 
While sweaters, coats, boots and other winter essentials can drive sales when the weather is chilly, retailers can benefit from offering an assortment of apparel items available year-round. "Consumers are now looking for fashionable, functional clothing for their pets every trip to the pet store," Calles says. "It's no longer an impulse item while picking up food or toys."
On top of offering apparel items year-round, it's imperative that retailers stay up-to-date on the latest pet industry trends. As an example, sustainability is a huge trend right now, and that affects the fabrics and other materials that consumers seek. 
"I believe we are going to see more and more green friendly accessories for dogs," says Magiera. "We are currently researching options for our lines." The company is working on a new line of paw protection for a 2022 launch. 
It's also important consider the time of year, not just the changing weather. Retailers can always leverage the gift-giving time of year. It's common for retailers to pair Klippo's pajamas and blanket together as a gift set along with dog toys and treats for the holiday season, says Yu. 
Ultimately, no matter the season, pet owners often seek guidance when they shop, and that has long been one of the extras that pet specialty retailers offer. The key to success for retailers is to know their customers' lifestyle, carry the products that solve a problem and engage with shoppers. 
"That means not only embracing winter essentials but actively educating your customers about these products and how they improve the pet parent experience," says Friedland. "Remember, your customer is looking for advice, so offer it and see higher sales."  PB