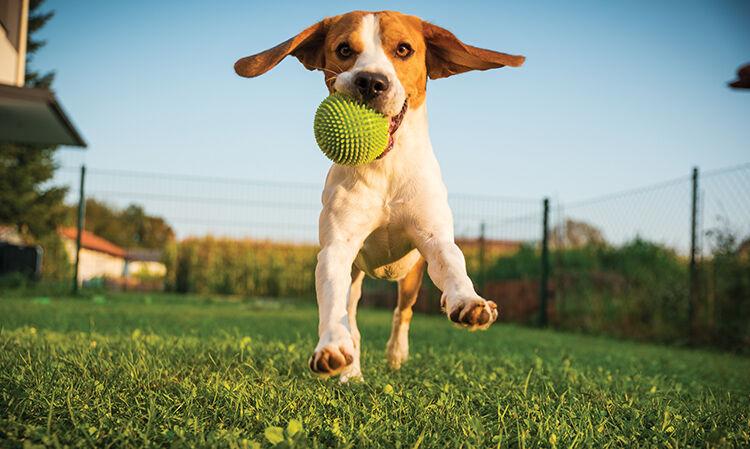 When you think about it, the world's current conditions have created the perfect storm for fetch and tug toys. Thanks to the ongoing pandemic, people are stuck at home more than ever before and pet ownership—particularly of dogs—has skyrocketed. To keep all these pooches from tearing up the house, they need to be worn out, especially when long walks are not possible.
This is where tug and fetch toys come in: not only do they keep dogs from getting bored, these toys also help them stay active and therefore healthier, whether indoors or out. And, by engaging canine and owner in play, they forge a stronger bond.
"The category has grown in recent years because Millennials are more active pet parents," says Mark Pasco, vice president of sales for Mammoth Pet Products. "This past year, we've seen more growth than normal because of the pandemic and more pet parents are home and spending more time with their pets."
Lindsy Argenti, marketing director for Coastal Pet, says materials intended to enhance safety—such as those with antimicrobial properties, constructed of tougher, no-rip fabrics and foamed rubber—have fueled some of the latest trends.
Of Interest
As is the case with many product categories, sustainability is often of interest to pet owners. As such, Lafayette Bay products, the parent company to Spunky Pup, has created a line of Clean Earth toys, which feature 100 percent sustainable toys made from recycled plastic bottles taken from the ocean and from landfills, says Ward Myers, president of Spunky Pup.
Durability is important, followed by price, adds Argenti. Fortunately for dog owners, there are plenty of options on the market made from all manners of hardy materials, such as rope, ballistic nylon, rubber and TPR, making it easy to find the best match for the pet's needs.
"Fetch toys work best with breeds that are natural retrievers," she continues. "Perpetually popular retriever breeds include Labs, Doodles, Border Collies, to name a few. However, every dog likes to tug. Knowing the dog's strength and chewing capabilities will help [pet owners] find a toy that is fun to play with but will hold up over time."
Price does factor in, but pet owners are willing to pay more for a sturdier toy, says Emily Benson, marketing director for Starmark Pet Products. Benson says the demand for interactive toys has increased, and encourages manufacturers to expand the category with new shapes, sizes and materials, cautioning that although most tug and fetch toys target medium-to-large sized dogs, smaller pups shouldn't be left out. After all, she notes, they also like this kind of play.
As fetch and tug toys receive the most amount of wear and tear (second only to chew toys), it's common for the toys to need continual replacement. Retailers should inform pet parents that fetch and tug toys might have a relatively short lifespan, dependent on the breed and type/strength of play.
"Inform [consumers] these toys are not meant to last forever; they need to be replaced periodically," says Pasco. "Once the consumer understands the toys need to be replaced, they're fine with that fact and will purchase more often."
Thoughtful Retailing
Toys have become more advanced, making it a mistake to act as if they require no explaining. Additionally, every brand has its own story. Consequently, says Pasco, it behooves pet specialty retailers to educate themselves on what they carry so they can pass this information on to their customers.
"A well-educated consumer is one who will purchase a variety of toys and spend more time bonding with the pet over playtime," he explains. "Pet owners like to be engaged at the store level and retailers need to be armed with knowledge of the products they stock."
This will also help stores hold their own—and perhaps even thrive—against online retailers, since this affords a personal touch the digital world is lacking. But, at the same time, it's essential to understand online shopping will continue to be key, says Argenti. 
"Tapping into social media with a direct call to action will be beneficial," she explains. "If you need help with the social content, look to your manufacturers who have developed endless content around the products you carry."
Merchandising these toys by type/intended activity can make finding the right solution easier. Another tip is to arrange them by the size of dog the toy's most appropriate for. Retailers shouldn't take a passive approach and assume items in this category will sell themselves. Instead, routinely inquire if a customer is also looking for a toy or if the pet owner needs to replace one. 
Pasco advises recommending a fetch and tug toy to every puppy owner. In fact, creating a new puppy section (as many pet retailers have already done) and including the appropriate size fetch and tug toys is an excellent sales-spurring strategy.
Additionally, take advantage of the social distancing required by the pandemic, creating end caps reminding customers that playing with their pet in a park or backyard is fun and safe, says Argenti. Keep assortments stocked with new and exciting toys, which "are always a must," adds Myers.
And, while COVID-19 has injected this category with a shot of adrenalin, Benson explains that it has also created some global supply chain and manufacturing challenges.
"There are simply longer lead times on everything, across all supply chains," adds Argenti. "We're seeing it in multiple industries, including pet. Our best advice is to plan ahead and review your forecast closely. If you're looking to reset your assortment, work closely with your representative or your manufacturer's merchandising team to make sure you can get everything in stock when it's time to go."  PB