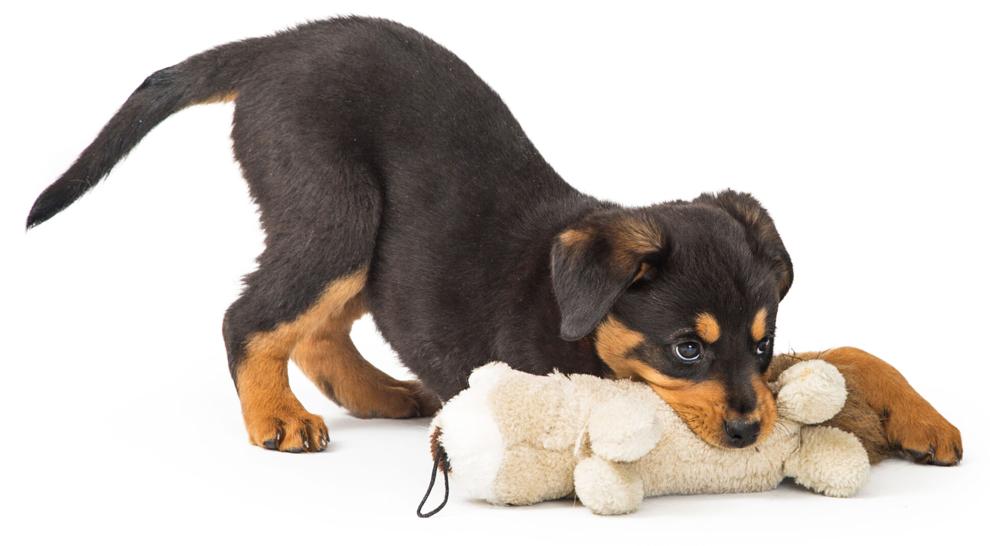 Whether for a pandemic puppy or a longtime furry companion, plush toys are among the most delightful purchases a dog owner makes. Few humans can resist treating their dog to a new toy with cute shapes, fun colors and long nap fabrics. 
Still, the pandemic presented a new challenge for the category. Even though more people brought new dogs into their homes, the pandemic caused the sale of plush toys to dip slightly last year. 
"Toys in general were down a bit last year because of curbside pickup," says Chris Miller, president of Boss PetEdge. Since people pulled up in their cars and picked up their dog food, he explains, there was little in-store traffic, and fewer impulse purchases than usual. 
Miller adds that sales picked up quickly once states relaxed restrictions and businesses could fully  reopen. Today, plush toys are as popular as ever, and one way to encourage continued impulse buys is to offer collections. Consumers that buy one or two items in a collection may be tempted to return for additional toys in that same themed line of toys.
With this in mind, Boss PetEdge launched the Pride collection of toys in rainbow patterns. Also new for the company is the Chomper Food Junkeez collection, a line of plush donuts, ice cream cones, bagels and other food shapes with squeakers. 
"We're getting a lot of purchases in our toys that we group as collections," Miller says. "Retailers are looking to catch people's attention as they come into the store." 
To boost sales in the plush toy section, retailers need to update their assortments to reflect the latest trends, and develop innovative ways to merchandise these items.
Curating a Creative Selection
In addition to keeping up with the hottest trends, retailers also need to rethink how they arrange their plush toy assortments. Stores should set up a section with small dog toys, food, treats, and other items that appeal to these consumers. 
"New pet owners buying a $4,000 French bulldog want to be catered to, and they want to see a small dog section in their store," says Darin Eisenbarth, president of Petsport. "Our retailers that do that, their business has exploded in that category." 
Another way to catch people's attention is to arrange the plush toy section in a way that is more strategic than random. "If you walk into a store and there's a 16 ft. wall of miscellaneous toys, it's not focused," Miller says. "The opportunity now is with merchandising effectiveness, and creating merchandising that is impactful." Stores can highlight new toys, or arrange toys by brand, or by size of the dog. 
Retailers might consider offering a section for puppies, as one subcategory growing in popularity is comfort toys for puppies. These plush toys are made of even softer materials and the puppy can carry the toy around or snuggle with it. Boss PetEdge, which offers its own brand items as well as toys from other brands, offers Baby Bark Bungee Pup Toys that stretch so the puppy can learn to play tugging games. 
Of course, puppies are not the only little dogs around—smaller dogs in general are becoming more popular. 
"Dogs were 55 pounds ten years ago, and now they're 35 pounds," says Darin Eisenbarth, president of Petsport. "The black labs and golden retrievers are still out there, but when you look at designer breeds, that's really exploded." 
The small dog phenomenon can be attributed to factors such as apartment dwellers who want a dog that can live in a small space and millennials that want to try owning a dog before they decide to have children. For these dogs, Petsport offers Tiny Tots Snuggle Buddies, which are super-soft toys in various shapes. The line launched three years ago with five toys, and now has 35 toys. 
"They look more like baby toys," Eisenbarth says. "Little dogs aren't as much of a chewer. They do not destroy toys." He adds that another related trend is that the most popular dog toys mimic kids' toys, so sloths, monkeys and warthogs are big right now. 
However, fun colors and an adorable design only go so far—the toys have to last. 
"Durability will always be a driving trend in plush toys," says Kerry Wezner, marketing manager for  . "We feel our toys are great classics for everyday use, new dog owners, and those looking for that durable plush toy." 
The brand recently launched five new toys: Anderson Fox, Bob Zebra, Lexy Leopard, Squeakerless Soccer Ball and Reese Rabbit. The toys are designed to be durable and attractive, and also diverse for all different kinds of dogs and how they like to play. 
Offering Options
Once the right plush toy products have been secured, retailers can drive sales by engaging with consumers, finding out how the dog like to play, and recommending a toy based on that information. 
"Their customers can walk away with not only a toy that makes their dog the happiest, but a great experience at their store as well," Wezner says. 
In some cases, this might mean a plush toy is not the right choice. 
"We'd rather a dog find the perfect toy for them specifically and be happy," says Wezner. "We're really working with our retail partners to help them educate their customers if a plush toy is a good choice for the dog, and which Fluff & Tuff toy is best suited depending on the dog's playstyle." 
To ensure customers have options to choose from, variety is crucial in the plush toys section. 
"Although plush may look similar on the outside, there are a lot of varying constructions and different materials being used in each toy that can make a big difference in customer satisfaction and even increase pet stimulation," says Leah Angelos, sales manager at ZippyPaws. 
These variations include different levels of durability, interactivity, squeakers, stuffing, exterior plush materials, and other details. Even the squeaker mechanics can vary. For its part, ZippyPaws has added new styles to its Jigglerz line, and the toys contain a ZippyPaws Jigglerz squeaker inside that can squeak three ways: by squeezing, shaking, and tugging. That provides the pup with even more ways to play, Angelos says. 
Another important factor to consider with plush toys is that they don't always have to have filling. 
"One of the biggest trends in plush toys right now is to figure out how to make them without stuffing," says Mark Pasco, vice president of sales for Mammoth Pet. The brand revamped its entire Squeakies Plush toys line by designing a new BIG SQUEAKS squeaker for each size. The new design eliminates the need to fill the toys with poly stuffing, which Pasco explains makes them more environmentally friendly by reducing the poly footprint. 
Pasco notes that plush toys, like all toys, are meant for interactive playing between dog and owner. 
"When a consumer picks a plush toy they generally give it to their dog and forget it until the dog tears it up and makes a mess on the floor," he says. "A retailer should not be afraid to offer a plush toy, but they should also remind the consumer that it is meant for interaction and not given to the dog without supervision. A safe pet is a happy pet."