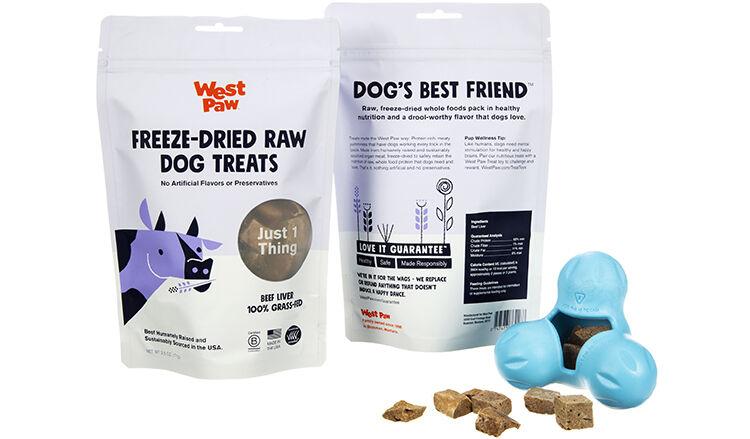 West Paw's (westpaw.com) Beef Liver Freeze Dried Raw dog treat features 100 percent grass-fed, humanely-raised and sustainably-sourced American Grassfed Certified beef liver that's naturally freeze-dried. The treats are enriched with iron, folate and B vitamins, and backed by West Paw's Love it Guarantee in the U.S. only.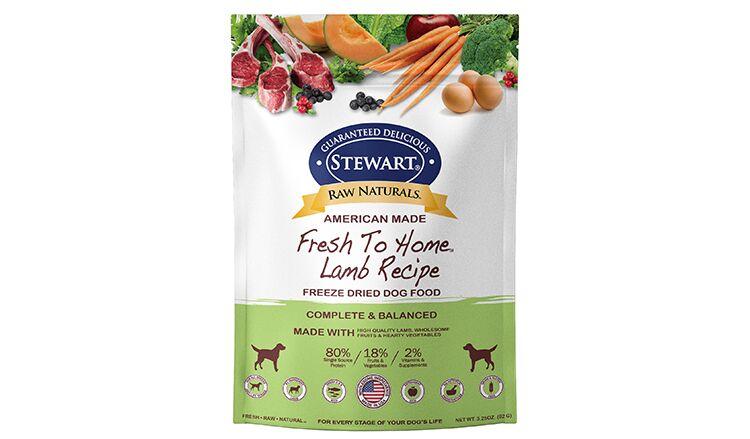 MiracleCorp's (miraclecorp.com) Stewart Raw Natural USA Freeze Dried Dog Foods are all-natural, made in the U.S. grain-free dog diets that are free from artificial colors, flavors and preservatives. The diets contain 80 percent protein, 18 percent fruit and veggies and 2 percent minerals and supplements.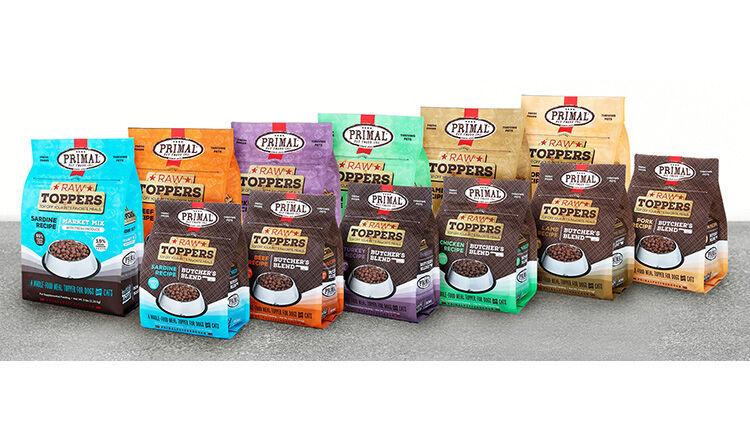 Primal Petfoods' (primalpetfoods.com) Raw Toppers are quick-thaw bowl boosters that provide fresh food nutrition to any complete meal. Available in Butcher's Blend, for high-quality protein; and Market Mix, for high-quality protein and organic produce. Each style is available in Beef, Chicken, Lamb, Pork, Turkey and Sardine protein options.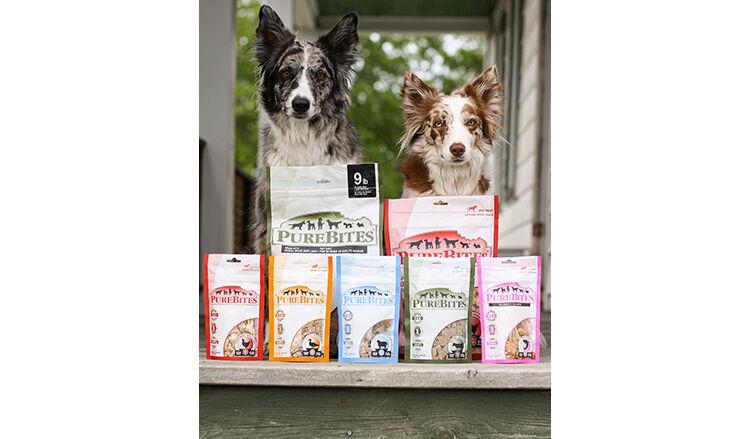 PureBites' (purebites.com) freeze-dried raw treats, food and toppers are made fresh with simple, high-quality ingredients. The freeze-dried line features high levels of protein, omega-6 and omega-3 fatty acids, calcium, taurine and other essentials vitamins/minerals, in addition to low calorie levels. Offered in 10 raw protein flavors for dogs and 13 raw protein flavors for cats, all made with one to three human-grade ingredients.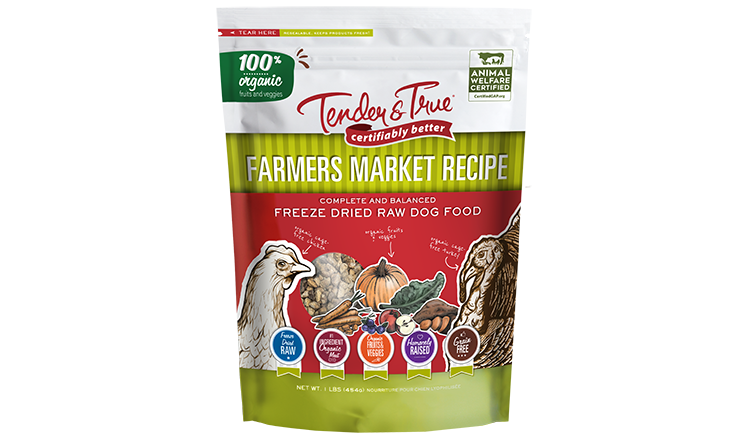 Tender & True's (tenderandtrue.com) Farmers Market Freeze Dried Raw Dog Food features 100 percent organic fruit and vegetables and organic cage-free chicken and turkey. Formulated to be used as a complete, balanced meal or a topper, the recipe uses ethically-raised chicken and turkey through the Global Animal Partnership.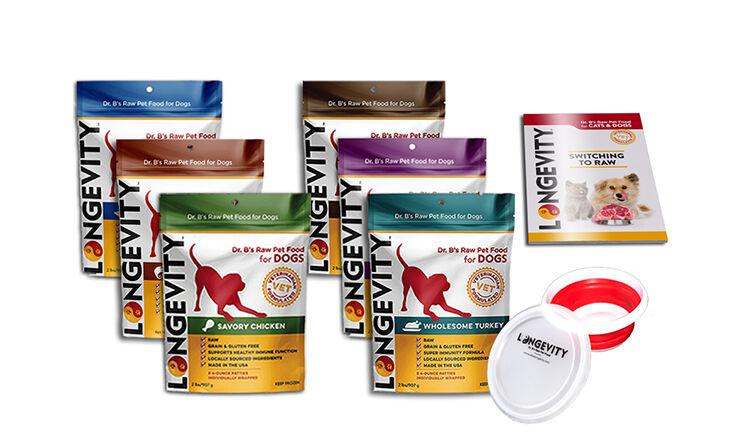 Dr. B's Longevity (drbslongevity.com) Switching to Raw Kit aids in the transition to a raw diet by providing its Switching to Raw guide and collapsible defrosting bowl. All pet parents have to do is select their pet's favorite protein and stick with it during the transition.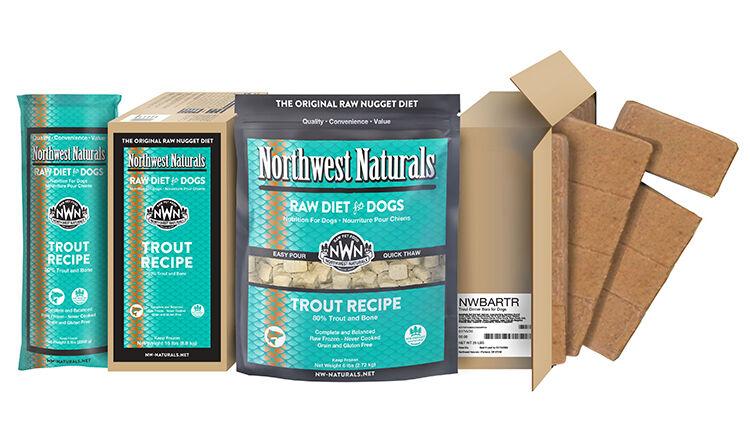 Northwest Naturals (nw-naturals.net) expanded its complete and balanced raw food diets for dogs by creating a Trout flavor made with high-quality, sustainable trout sourced from the Columbia River. The formula is grain- and gluten-free.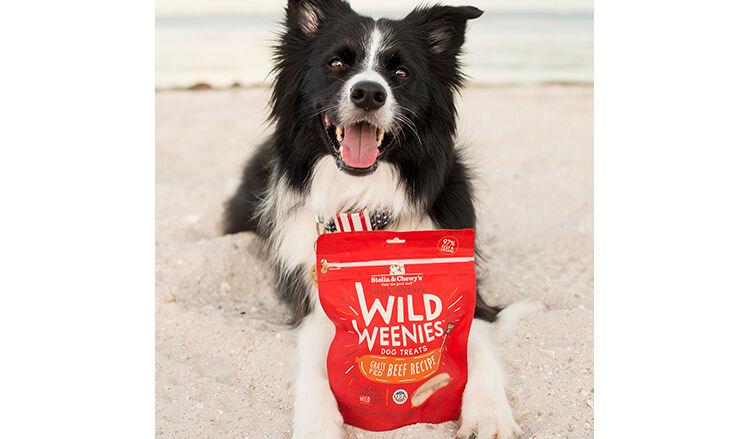 Stella & Chewy's (stellaandchewys.com) Wild Weenies Bac'n Me Crazy is freeze-dried raw and features bacon as the only ingredient. The product is 100 percent pure and natural, free from gluten, grain and added hormones or antibiotics. All products are made in kitchens located in the U.S., and other flavors in the Wild Weenies line include game bird, red meat, grass-fed lamb, cage-free duck, cage-free chicken, grass-fed beef and Bac'N Me Crazy. Available in 3 oz. and 11 oz. zip-tight packages.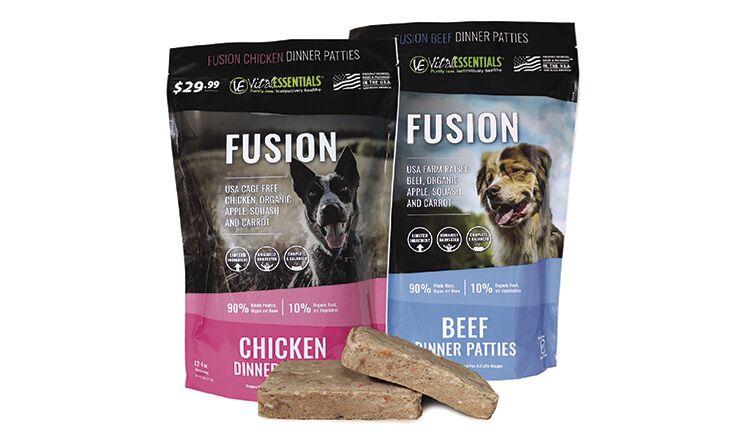 Vital Essentials' (vitalessentialsraw.com) FUSION Dinner Patties are an all-natural pet food made in the U.S. that's available in local farm-raised beef and chicken. It features a blend of real, wholesome meat infused with 10 percent organic fruit and vegetables, with no fillers, artificial ingredients or preservatives. It also includes superfoods such as apples, squash, carrots, blueberries and broccoli.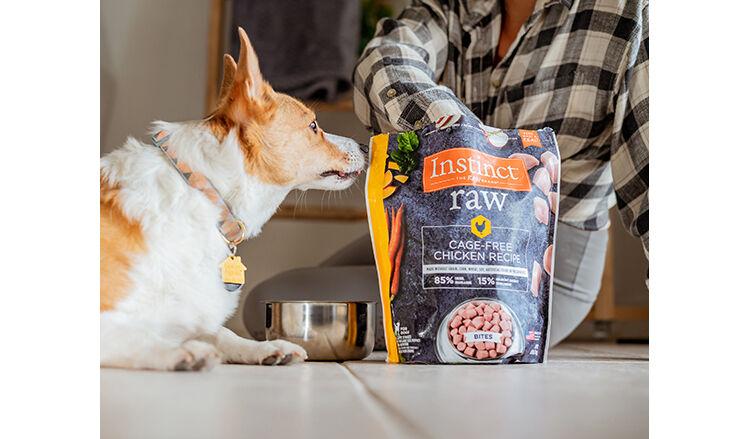 Nature's Variety Instinct (instinctpetfood.com) frozen and freeze-dried raw pet food is made in small batches in the company's Lincoln, Neb. facilities. The food is minimally-processed and cold-pressured to ensure it's free from pathogens and to help retain nutrition and taste.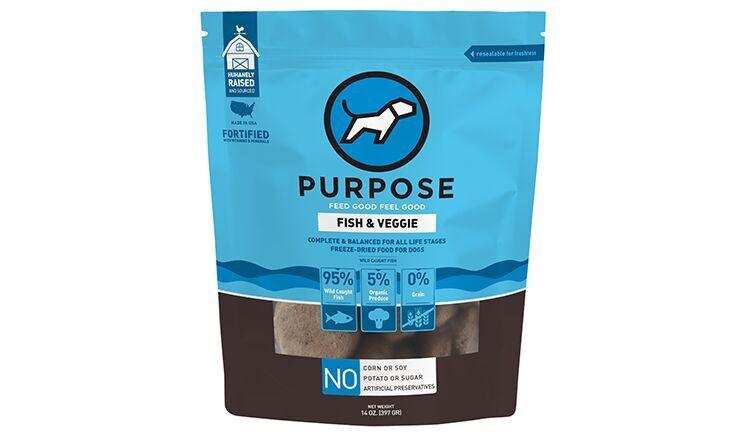 Purpose (purposepetfood.com) Fish & Veggie Freeze-Dried Raw dog food is formulated with limited-ingredients, including whole, wild-caught salmon and whitefish and no added fillers, artificial preservatives, flavors, sugars or colors. Featuring a ratio of 95 percent protein to 5 percent organic produce, it's free from fillers such as grain, corn, wheat, soy and potato.