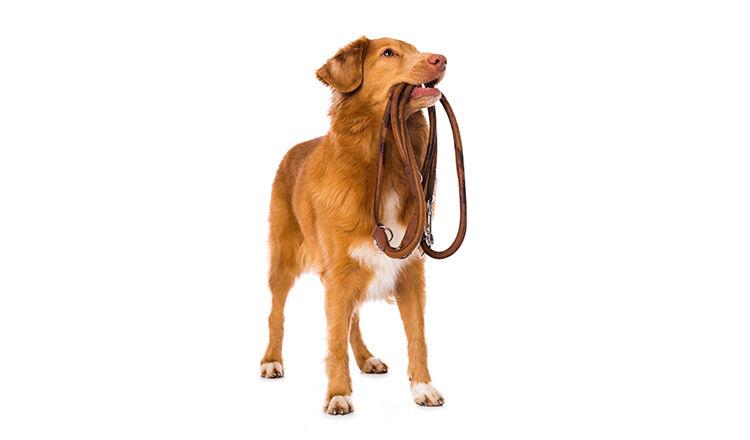 The pandemic's shutdowns and restrictions, coupled with the resultant uptick in dog ownership, has created nearly perfect conditions for collars, leashes and harnesses. When about the only thing most of us can do is walk around outside, dragging our dogs along yet another stroll, it's little wonder that manufacturers of these items are reporting strong sales.
"There's a greater need for leads and especially for harnesses," says Sara Schrekenhofer, advertising manager and graphic designer for Leather Brothers, Inc. (DBA as OmniPet). "Most people have been home throughout the pandemic and have spent more and more time outside with their pets." 
The industry overall has benefited from a "pretty universal boom in demand," fueled in no small way by COVID-inspired pet adoptions, says Lindsy Argenti, marketing director for Coastal Pet Products, Inc., an Alliance, Ohio, manufacturer and distributor of pet products for dogs and cats. But it wasn't just new pet-owners who contributed to category growth, she adds. 
"Even existing pet owners are upping their purchase frequency," Argenti says. "Where collars were once an annual purchase, it looks at though seasonal and activity-related collar purchases are on the rise—think a waterproof collar for outdoor fun, but a regular collar for daily use or even a new clover collar for St. Patrick's Day."
Trend Watch
With increased demand for collars, leashes and harnesses throughout the year, retailers have an opportunity to get creative when it comes to their product offerings. Organic and green sales are robust, says Schrekenhofer, and consumers also seem to be purchasing multiple collars, leashes and harnesses to create wardrobes for their dogs.
"This is a direct result of the dog becoming an extension of the family," Schrekenhofer explains. "Consumers may want their dog to wear a Christmas collar in their family Christmas card photo and then change that collar out for Valentine's Day. But at the same time, there's a demand for just your basic collar, lead and harness."
Argenti says they're seeing a lot of interest in Americana prints—red, white and blue patterns with stars and stripes. Even so, floral patterns tend to sell the best, although the popularity of tie-dye is on the rise.
"Price is always a consideration, but we find consumers are willing to pay more for added function versus just aesthetic variation," she explains. "We see that in the success of our Inspire and our K9 Explorer lines."
Seasonal prints, such as snowmen patterns and other themes, are popular—and they're good for retailers because they tend to be less price sensitive, says Sandra Alexander, owner and president of Sandia Pet Products, Inc.
Alexander has also observed an increased demand for collars, leashes and harnesses designed for small dogs and cats, activity that has picked up pace over the past two years. She attributes this to younger pet owners living in smaller spaces with limited room for pets. 
Sandia, located in Albuquerque, makes a variety of products for dogs, cats, ferret and rabbits, specializing in designer collars, leads and harnesses. They use a variety of jacquard and polyester grosgrain ribbon designs, sewing them onto nylon webbing, providing a wide-ranging selection of patterns and colors, says Alexander. These include animal prints, holiday patterns, beach themes, southwestern styles and more. The company has also expanded into licensed sport-themed ribbon for these products, allowing them, and their retail customers, to break into a new market arena.
"We encourage our specialty retail customers to maintain an inventory of all sizes," she advises. "We note that owners of small pets are particularly interested in our patterned products." 
While pet parents want to stay on top of the latest trends and fashions, their priority is finding quality products that are durable and safe, according to Schrekenhofer.  
"The one good thing that has come from the pandemic is that so many dogs have found homes through adoption," says Suzanne Long, sales and customer service for 2 Hounds Design, Inc. "A lot of these dogs need a little help with leash manners so harnesses are perfect for them."
Important Accessories
In addition to finding a fashionable, sturdy collar that fits their pet's personal style, it's important—for new pet parents especially—to pair a collar with an ID tag in case they get lost. When welcoming a new pet into the home, or dealing with an experienced escape artist, having a collar with identification can make lost pets much easier to find. 
"Providing visible pet identification for dogs is an important part of being a pet parent as they provide a faster return if the pet gets lost," says Tom Glessner, chief commercial officer for MyFamily USA. "While it's great to see the increase in the number of pets being adopted and added to homes, the recent pandemic, like other devastating events such as hurricanes, forest fires, tornados, etc., stresses the importance of wellness and safety, which has had a positive impact in terms of pets wearing ID tags and collars."
MyFamily USA offers ID tags, the Techla (its proprietary self-service engraver) and premium-quality, 100-percent Italian-made leashes and collars. The company has over 600 styles of ID tags, made in various shapes, styles and finishes, says Glessner, explaining these can be immediately engraved onsite at the retailer's store with the Techla.
Thus, since pet IDs are an essential element of pet safety (and for a pet parent's peace of mind), Glessner believes they should become a standard stock assortment offering, allowing pet specialty retail customers a way to identify their pets and, via the self-engraver, an immediate personalization option that helps stores maximize sales.
Boosting Sales
Collars, leashes and harness have been essentially selling themselves these past few months—but there's always more retailers can do to sell to new customers and encourage repeat sales. For instance, offering a wide selection will provide options for all different kinds of pet owners with different needs. 
"You want your selection to be large enough to provide a variety of styles, materials and colors," says Schrekenhofer. 
As a result of the pandemic, online marketing has become more important than ever. To showcase store offerings, Schrekenhofer recommends turning to social media. 
"You will always have certain customers who will get out and shop local, but you will also have those customers who are purchasing online," she says. "Host a Facebook 'LIVE' shopping event—this is a great way to promote new items."
In-store, Alexander recommends creating eye-catching, colorful displays that can encourage impulse purchasing.  Depending on the season, retailers can dedicate space for seasonal and holiday displays that showcase appropriate items. 
This category also presents a great opportunity for cross-merchandising. Locating collars near the cash register for easy viewing will also provide the opportunity to suggest a matching leash or harness. Collars, leashes and harnesses can be easily tied in with other products, such as containment items, apparel, toys, outdoor gear, even food and treats. 
To accomplish this, keeping a store's collar, leash and harness section tidy can go a long way. 
"To make the most of the dog restraints category, you must keep a clean wall," says Argenti. "It's important for shoppers to easily find what they're looking for. Organizing it by color and size will make the wall attractive and easy to shop. Just 10 minutes a day of straightening the items can help immensely and improve sales."
With a clean and organized section, retailers can easily find products and make their own recommendations. 
"Retailers can definitely benefit from the increase in dog walking by [recommending] harnesses, collars and leashes to their customers," says Long. "Retailers who aren't afraid to ask questions and make suggestions, and who are knowledgeable about the brands they carry will not only see an increase in sales but they will also earn customer loyalty."  PB