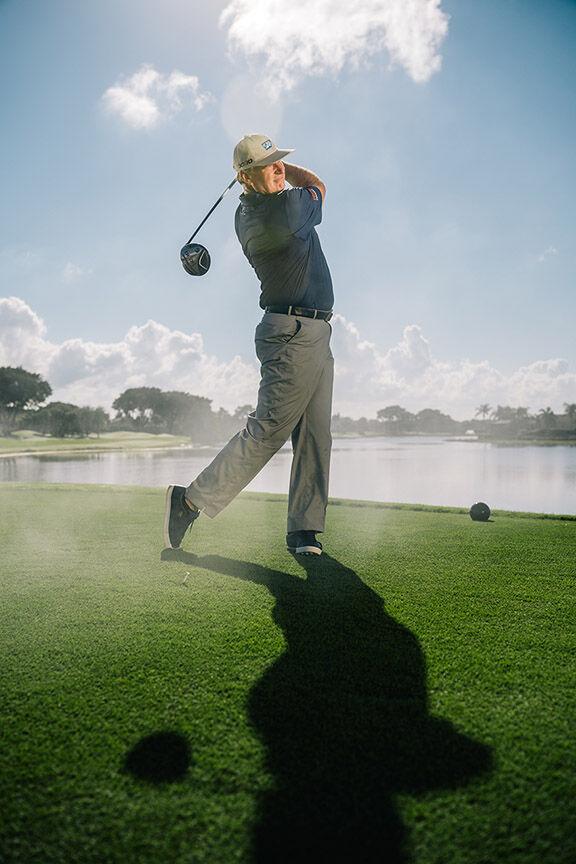 Tell us about the origin of Ernie Els Pet Products. What led a Golf Hall of Famer to the pet business? It almost came out of nowhere, actually. We were hosting one of our Els for Autism charity golf events back in 2018, and I was playing with a couple of friends—Sheldon Golub and Bill Deutsch, both well known for their philanthropic endeavors. We got chatting and throwing some ideas around. It started out, you know, just shooting the breeze. Our main consideration was creating a vehicle that would help us raise awareness and funds for The Els for Autism Foundation. It didn't need to be a pet products company; it could have been any one of a number of different things. 
But now that it is pet treats and products, I'm really pleased. It's a growth market. Pets and pet welfare is something that Liezl and I have always genuinely cared about, and if it's something that you believe in, something you're passionate about, then it's good to break new ground. I'm proud to put my name and face to the company. We launched in 2019, and we think it has all the ingredients to be a successful venture and to make a positive impact on the autism community.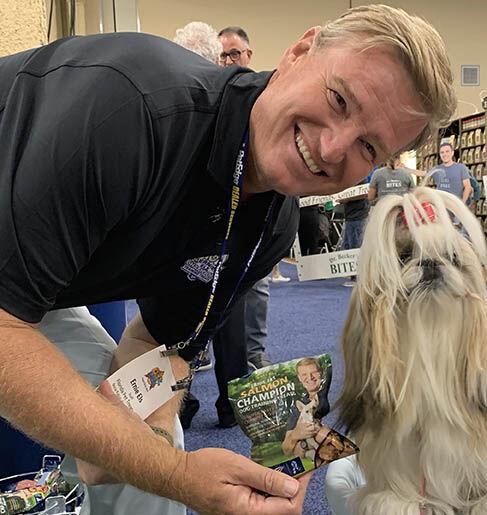 Why did you decide to focus the business on treats, in particular? What opportunities did you see in this pet product category?Everyone who's owned dogs knows that they're part of the family. You want to take care of them, make sure they're leading healthy and happy lives. So, we were only interested in creating a product that we believed would be the best, the highest quality, the healthiest. 
So, I guess you could say that's where the opportunity lies. I mean, we're not the only owners who want the best for their pets. And the response we've gotten at the trade shows we have attended is incredible. I've been to a couple of the shows myself, and the enthusiasm in the room is infectious and great to see. We  handed out samples of our treats at these events, and there were a lot of tails wagging!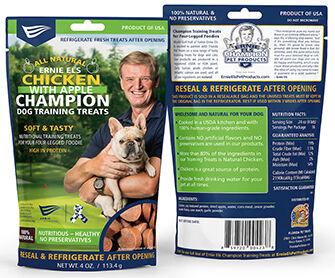 What makes Ernie Els treats stand out? What are the key selling points? Our brand and our business is built on honesty, integrity, affordability, sustainability and love. Love for our products, love for our pets, love for the Foundation. So, the quality has to be the best—that's the starting point. We focus on using the finest ingredients in our treats, using the best-quality chicken, beef or salmon. Some of our products, where we can, are manufactured as human grade. We use sturdy and safe materials in our toys and accessories, again always focusing on quality, while keeping prices low for our growing family of retail partners and customers.
Tell us about Ernie Els Pet Products' commitment to supporting autism research. How is this a natural extension of your own passion? Many people will know our story with autism. Our son Ben is impacted by autism spectrum disorder, and it was our own personal experiences that became the catalyst for Liezl and myself setting-up The Els for Autism Foundation in 2009. What we've achieved since, with Liezl as our driving force, is truly humbling and a source of great pride for all of us who are involved in it. 
The Foundation has its base at the Els Center of Excellence in Jupiter, Fla., and offers programs for families and individuals across the lifespan in six focus areas: Education, Research, Global Support, Recreation Services, Adult Services and Therapy Services. But we're also helping families all around the world through our global outreach programs. 
This is the most important thing I'll do in my whole life. I mean, forget the majors or whatever. Our Foundation is changing peoples' lives all around the world, and we're only just getting started. The more awareness we create, the more fundraising we do, then the greater the impact we can have on the autism community. Our vision is for the pet treats business to play a meaningful role in that. (For more information on The Els for Autism Foundation, visit www.elsforautism.org.)
What is your channel strategy? What types of retailers do you believe are right for Ernie Els Pet Products? What role do independent pet stores, in particular, play?There are so many opportunities for this business, honestly, it's unbelievable. As you say, we're going to be in independent pet stores, supermarkets, sporting goods stores, golf pro shops, pet groomers and trainers—you name it, we'll be there! 
We want to get it right and the priority, as I say, is to establish ourselves in the specialist pet stores and have a strong presence there. Once we achieve that, then we can take it from there to some of the big general retail giants. Right now, you can contact us at orders@ernieelspetproducts.com. Or place your order at wholesale.ernieelspetproducts.com or our partner at wholesalepet.com/Vendor/91833.
Ernie Els Pet Products is a relatively new brand, but one with major consumer recognition potential. What is your approach to driving customer awareness? Absolutely. Some people will know me as a golfer, and of course that helps with generating initial awareness for our product. But the most important thing for our brand is that people understand this is about creating a great product, and also helping people in the autism community. That's what we're all about, and I think that message will come across as we grow the business. 
We've started to make a major push on the usual social media channels—Instagram, Twitter and Facebook—and we've got a great team working on it, so that's obviously going to get our name out there to a worldwide audience. We're just starting to put some print ads out there in various pet trade and consumer magazines. 
As I said before, we've also had a presence at a couple of major pet product trade shows in the last 12 months; those were great learning experiences for us. Quite a funny thing happened, too. We were at Global Pet Expo in Orlando this summer and all week Liezl had her eye on a particular rescue puppy there. It came to the end of the show, and she said to me, "Hey, we're bringing him home with us." So, I said, "Okay, that's fine." He's called Duke; he's getting pretty big already, and he's very much part of the family, along with the rest of our dogs back home in Florida now.
Do you offer any promotional materials that retailers can use to drive awareness?
Our website is undergoing a lot of development to make sure that all the necessary information and promotional resources are available there—www.ernieelspetproducts.com. One partnership we've been working on for a while now is with Pet Vet Hotline. Pet Vet Hotline offers pet parents access to experienced, licensed veterinarians 24/7 via video or chat.  Together, we'll be offering customers a 30-day free trial for virtual pet care with each Ernie Els Pet Product sold. When that initial trial gets converted to a monthly or annual subscription, the profits go to The Els for Autism Foundation. This will be a worldwide initiative, in something like 100 languages, so the potential there is incredible.
What are your expectations for expansion? Will Ernie Els Pet Products continue to focus on treats, or could other product categories be in the company's future? We've said from the start that this business is going to be global. We're determined for that to happen, and already we're having some very promising leads and conversations all over the world. Our first major move was to grow the product line and change the company name from Ernie Els Pet Treats to Ernie Els Pet Products. Our design team has been working hard to expand the range of products to include pet toys, beds, leashes and bandanas, as well as additional dog and cat treats, including chicken jerky, bully sticks and cat food toppers. The more products we make, the more money we raise for Els for Autism. The owners are happy, the pets are happy, too. We're happy. Everyone wins!  PB