A comprehensive stock of essentials to groom animals is necessary for sellers of pet goods to provide a one-stop shop to pet parents. For retailers who offer grooming services, ensuring groomers have access to trusted tools is crucial to building a loyal clientele. Retailers and groomers can gain customer trust through offering the appropriate products to safely and thoroughly groom pets' coats while keeping them comfortable.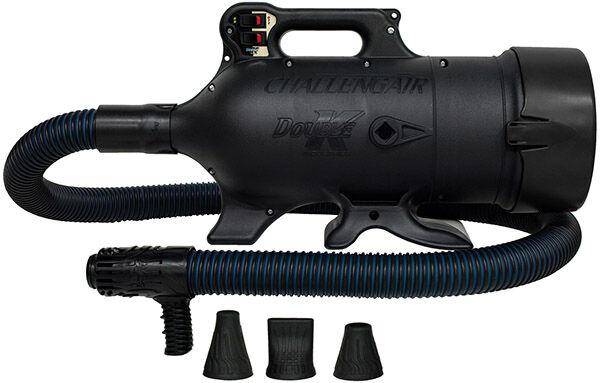 Investing in quality products to groom furry pets helps maintain a healthy coat and promote pet wellness, but it also aids consumers and groomers in reducing costs. The less often used grooming tools must be replaced, the more efficiently groomers and pet parents may work together. They may also save more money or make investments into other resources that can support grooming accessories. 
Gathering the Necessary Grooming Gear
Within the core of a comprehensive collection of grooming essentials are items such as fur shears and clippers, brushes and combs, dryers, and nail trimmers from reputable brands whose products perform as promised. At the Sturtevant, Wis.-headquartered Andis Company, Michelle Eskowski, manager of global solutions for the animal segment, and Nicole Kallish, animal education manager, share their choices of instruments that create a well-rounded grooming kit. 
"There are several essential tools groomers need for grooming a pet. They range from electrical clippers and brushes and combs to nail clippers and grinders. Each plays an essential role in the groom of a pet," explain Eskowski and Kallish. "The electrical clipper is essential to keeping the pet's hair at a manageable length. This will help prevent mats and knots which can form in everyday activities. A slicker brush and stainless-steel comb will also help maintain the coat which prevents mats, knots and tangles from forming, making it easier for the clipper blade to cut through the coat. They also help to keep the coat healthy by removing dead hair and dander."
Rounding out a complete kit, Eskowski and Kallish emphasize that a reliable nail clipper is crucial to comprehensive grooming care. These tools support paw health, which can impact other areas of animal wellness.  
"Nail clippers should be a part of every groomer's tool kit," say Eskowski and Kallish. "They help keep the paw pads healthy by preventing the nails from growing too long and curling into the pad. It also aids prevention of hip and spine ailments by helping keep the body aligned as the pet walks. Groomers are now also using electric nail grinders as a follow up after clipping to smooth edges of the nails."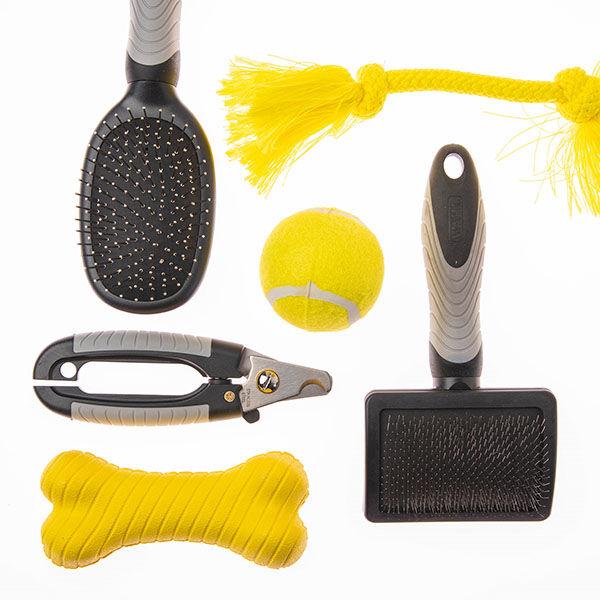 The most trustworthy players in the industry will not only offer their tried-and-true products, but they will continue to innovate, making improvements that afford greater ease to pet parents and groomers. These brands don't always follow trends, but instead remain in the industry as trendsetters for grooming tools. 
"Cordless clipping has gained popularity as the grooming industry has expanded—people seek efficiency and ease when researching and purchasing new products," according to Bailey Russell, marketing communications coordinator the North America animal department at Sterling, Ill.-headquartered Wahl Clipper Corporation. "To efficiently groom, it is important for the pup's coat to be fully prepped for the clippers to guide smoothly, making the process easier for the clipper, [the groomer and pet]." 
As a grooming session winds down, the finishing touches are as important as the first steps and choosing a trustworthy dryer can help groomers create polished looks. While ensuring pets are dried properly can complete an excellent grooming experience, animals must be kept comfortable and calm for an enjoyable grooming session.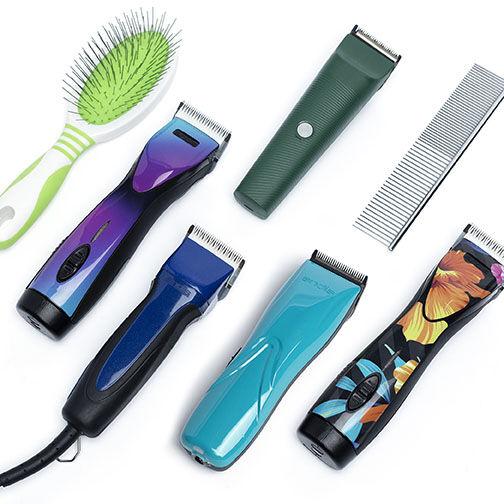 "While today's groomers have numerous equipment-related opportunities and obligations to contend with, certainly one of the critical categories is forced air dryers," explains Greg Crisp, president of Double K Industries in Chatsworth, Calif. "As most groomers know, forced air dryers generally have low-to-moderate air volume but high air pressure, which allows the discharge air to be concentrated by narrow nozzles to achieve high-air velocity. The air also flows through and cools the motors and is heated as a result which contributes to the drying process."
Extras to Support the Essentials
Even the most essential grooming tools require accessories for maintenance that will extend the product lifecycle. In addition to stocking products for pet grooming, shops must also carry the items that keep equipment working properly. 
"Retailers should stock products to complement the grooming tools such as blade care products to keep blades clean and in good condition, attachment guards to help provide versatility when cutting hair, and replacement blades for when a blade gets dull," say Eskowski and Kallish. 
When selling tools that require a power source, providing the needed batteries or chargers is necessary to ensure customers have all the resources needed to properly operate these items. Selling care items to properly clean, sanitize and preserve the intricate parts of these tools can help retailers establish a relationship with shoppers that converts them to return customers who need to regularly stock up on these accessories. 
"Unfortunately, cordless clippers means that batteries might die or charging cords could get lost. With that in mind, retailers should consider inventory levels and shelve extra battery packs and charging cords to keep up with the demand," says Russell. "Blades should also be sanitized after each groom using the Wahl Animal Clini-Clip, which can be found in the maintenance kit paired with blade oil. Retailers should not only promote regularly oiling blades, but also suggest annual maintenance of clippers." 
When well maintained, quality grooming equipment can outlast cheaper counterparts, therefore saving time and money. The initial investment of buying a premium product and its maintenance products yields efficient grooming over the life of the equipment. 
"With a groomer's time being the most valuable asset she or he has, a dryer's effectiveness has an outsized impact on profitability. I have conveyed to thousands of groomers over decades that almost any two-motor forced air dryer on the market would be a better investment than almost any single motor forced air dryer with the savings in labor paying for the difference in cost many times over before the end of the product's lifecycle," says Crisp. "Serviceability of forced air dryers is also important. Dryers engineered for serviceability can reduce expenses for motor brush changes or other service and repair obligations."
While finding the correct grooming equipment for the job is paramount, maintaining these tools is crucial to working efficiently. When grooming instruments are well maintained and cared for, the longer they can remain in use. Brands that offer quality grooming tools, which maintain their performance over time, will gain a following among pet parents and groomers who prioritize investing in long-lasting products to properly groom animals. 
At Ely, Minn.'s Shear Saver, Mary Graves, chief executive officer and vice president of sales, emphasizes how maintaining grooming shears with the proper product can benefit groomers. 
"Shear Saver does not eliminate the need for professional sharpening but it does significantly reduce frequency and the cost that goes along with it. It gives the groomer greater control over their productivity, expenses related to sharpening, and grooming results," Graves says. "It is designed to give the groomer the ability to maintain and restore to sharp their shear's edge—right at their workstation, in between clients, or anytime their edge needs to be refreshed."
Knowing how to educate pet parents and groomers can help associates as they close sales and gain customer trust. By partnering with brands and manufacturers that back their products and afford transparency through providing educational resources, retailers illustrate their commitment to serving customers with goods from reliable, trustworthy companies. It is also an excellent method to ensure all parties—store associates, groomers and pet parents—remain updated regarding the most recent trends in grooming essentials.  
"The Andis education website is a great place to learn about grooming via video," reveal Eskowski and Kallish. "Live and recorded webinars from top groomers in the industry are also a great way to learn about new techniques—Andis' Facebook and Instagram is a great source for these types of educational materials."  PB