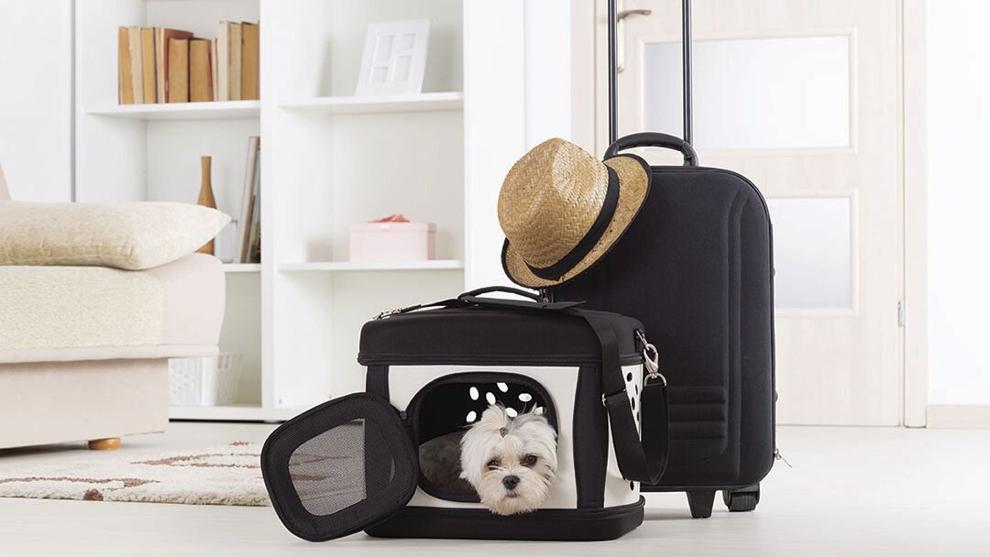 Now that the world is opening up again and more people are on the move, it's safe to assume that so will their furry buddies, making the pet travel products category an especially active—and promising—one for pet specialty retailers.
In truth, even during the height of the pandemic, people were escaping the confines of home and were very often doing so with their dogs (and sometimes cats). But how they were breaking free changed, says Kim Stout, president of Coastal Pet Products.
"During the pandemic people were traveling differently" she explains. "It was less by plane and more by vehicle. So we saw a high demand in vehicle travel items. We've had huge growth in our travel line over the past three years and we see this growth continuing as more consumers continue to travel with their pets."
Shannon Ross, CEO of Springer, has seen the same, saying they also saw an upswing in demand for their products during COVID. She attributes this to more people walking their neighborhoods or outdoors, taking their dogs with them. Another factor contributing to the good sales activity was the increase in pet adoptions that also accelerated the need for travel products, especially among millennials.  
"This demographic, more than any other, treats their dogs as children," Ross says. "This means dogs are traveling more frequently than in prior years. Pet specialty retailers, more than ever, need to look for products that fit the needs of the young demographic of dog owners who travel with pets. This includes products making life on the go easier."
The COVID-related stimulus funds may also have freed up budgets enough that pet owners were inspired to give products a try they previously had not considered, says Bryant Baxter, sales and marketing coordinator for EzyDog. He also notes that sales of their travel products ramped up, likely fueled by the jump in pet ownership. 
It was the same situation for Sleepypod, says Michael Leung, co-founder and lead product designer. Although their sales drooped a bit during the first months of the pandemic, they quickly recovered and continue to grow. People may be returning to their offices and other workspaces, he says. But having spent so much quality time at home with their pets, they're now in many cases toting them to the office, sparking the need for products that make transportation and containment safer, manageable and more pleasant for pet and owner.
Products & Pointers
To start, most pet parents are looking for a safe product that will make traveling with pets more convenient.  
"A well-designed product can make travel with a pet easier and less stressful," Leung says. "Safety-tested and multifunctional products bring peace of mind on the road when there are so many unpredictable variables."
SleepyPod focuses on providing safe travel products for dogs and cats. One of the company's travel products is the Clickit Sport Plus car harness, which features the patented Infinity Loop webbing design combined with a broad padded vest that work together to distribute and reduce forces that can cause injury in the case of a vehicle collision or sudden stop. The product has undergone "rigorous" testing of the kind used to ensure the performance of child safety restraints, says Leung. 
Another offering is the Sleepypod Air pet carrier that can contract to fit under a range of airline seats during take off and landing. In the air it can expand to allow a larger place for the pet under the seat. The carrier incorporates mesh panels on three sides for ventilation, top and side entries, a trolley pocket to secure it onto luggage, and even a plug-in warmer pad accessory that slips below the standard ultra-plush bedding. Once on the ground, it can convert into a crash-tested car seat.
For its part, Coastal Pet offers the Bergan Auto Harness. Crash-tested by the Pet Products Standards Council (PPSC) the harness keeps dogs safe while riding in the vehicle and also minimizes driver distractions, says Stout. The harness has a front-connect D-ring for walking, a padded chest plate and continuous loop webbing to disperse pressure. Constructed from canvas, mesh and neoprene, it's available in four sizes. 
Now, pet specialty retailers shouldn't assume every pet owner is aware of the array of travel products available, their benefits and how to use them. The amount of education required to bring pet owners up to speed varies, says Baxter.
"Knowledge can be more critical with certain products, such as those designed for safety," he explains. "A lot of us think of our dogs as being no different than a child. Based on that principle, any pet parent should properly understand how to use and adjust travel products as they would for a child's car seat."
EzyDog makes a line of dog gear designed for outdoor adventuring and active lifestyles. Among these is the Drive Harness, a crash-tested travel solution to keep dogs safe in vehicles. Materials used in the harness include genuine seatbelt webbing and thick, padded EVA foam that conforms to the dog, providing a custom fit. Worn like a regular harness, it integrates with the vehicle's seat belt and allows the dog to sit or lay comfortably.
A common mistake people make when traveling with their dog is failing to offer sufficient hydration, says Ross.
"They simply forget or rely on public water bowls which often contain contaminants or are not clean," she says. "People need to consider what types of activities they're doing with their pup when traveling. Chances are, if you need water your dog will need water too. We feel this type of education needs to happen more."
Providing a solution is Springer's Travel Bottle, offering a way to keep pets hydrated during excursions. The design enables the dog to drink from the attached bowl without wasting any water. The bottle is 100-percent leak-tight, made from BPA-free plastic and includes a carabiner for easy attaching onto belt loops, backpacks and so on. The company also has the Dog and Me, an insulated stainless steel vacuum bottle that keeps water cold for hours. The all-in-one product has a bottle for people to drink from and a bowl for the dog, is BPA-free and food safe.
Travel-Wise Retailing
Stout says travel item sales are usually seasonal, with demand bumping up in spring and summer. However, this may be changing thanks to the pandemic-inspired "working from anywhere" concept that is giving people more freedom and flexibility to travel, she says.
Leung describes demand for travel products as constant, but that it does seem to spike with the holidays. Baxter agrees, observing that holidays, especially those where weather and road conditions may be less than optimal, tend to make pet owners more aware of this category and of the products that could make travel less fraught for pet and owner.
Leung believes pet specialty retailers are paying more attention to this category, driven by how common traveling with pets has become.
"[Pet owners] need gear they can trust that will be reliable on the road where there are so many unknown variables," he says. "Pet owners rely on retailers to be knowledgeable about the best products for their pets. Multifunctional, high-quality and safety-tested products are tremendous selling points that elicit customer satisfaction and help to build a relationship based on trust."
Still, even though Bryant says pet specialty retailers should be honing in on this category—describing it as having been an emerging one for years but is now one becoming firmly fixed in the consumers' minds—some may hesitate.
"I think the addition of a travel category can be daunting for some retailers to consider at first, but the demand for the product is certainly there and may represent an untapped sales potential," he says. "In some cases a shopper doesn't realize they have a need for something until they see it in-store. 
"We see the biggest success with retailers who go big and make a statement with their new categories" Bryant continues. "[For example] setting up unique displays that encompass the category and present it as a new and fresh experience they can enjoy with their dogs."
When you think of it, this category offers nearly year-round merchandising opportunities, via seasonal and holiday displays and endcaps, and those devoted to the theme of "products you haven't considered" or "taking your pet to work."
As for devising an inventory that flies out the door, Ross advises looking for products aligned with the customers' values.
"Maybe this is sustainability, innovation, fashion, etc.," she says. "Ideally, they will find products that meet as many of these values as possible."
Pay attention to the types of product your customers typically purchase, suggests Baxter. For example, if they opt for expensive foods and treats, they likely won't balk at products intended to keep their pets safer, even if a bit pricey. At the same time, it's important to offer a full assortment of travel products and price points, being sure to include the gamut; from restraints, to travel bowls, to crash-tested gear and seat covers, he adds.
Providing a broad selection, and ensuring store associates are engaging and educated, will help retailers realize this category's full potential, as will keeping the store well-organized and clean, says Stout, enabling customers to easily see the full array of what is available to them.
As always, questioning pet owners is key to directing them to the best solutions. This line of inquiry should include breed, age and weight of the dog (or in the case of cats, age and weight), the pet's activity level or anxiety around travel, as well as the type of travel they're doing, where they are going, duration and so on.
"Ask how often the pet will travel," says Leung. "Sometimes pet owners only think of vacation as travel and don't take into consideration the short trips to the vet, groomer or dog park. Safe and anxiety-free travel is important no matter the length of the car ride.
"And don't forget to include cats when building a travel products category," he continues. "Cat owners are no less attached to their cats as are dog owners attached to their dogs. A knowledgeable staff can educate cat owners on how to make cat travel easier and the best products to lessen cat anxiety."  PB