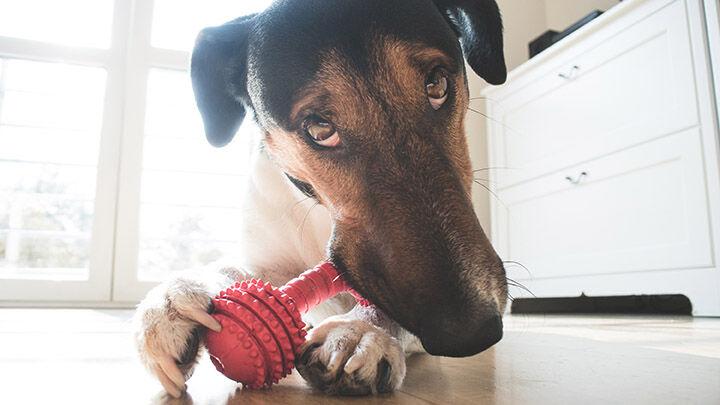 As the human bond with pets continually grows stronger, pet parents are keen to provide an assortment of chew toys that serve multiple purposes, whether it's curbing boredom or stimulating the mind. In other words, the days of tying two old socks together and tossing them to the dogs for playtime is a nostalgic ruin of the past as pet owners understand more of the complexities around their pets' innate desire to chew. 
"Pet owners are savvier than ever and educated on their pet's chew and play needs," says Spencer Williams, president and CEO of West Paw. "As a result of educated pet product consumers, retailers can have meaningful conversations about how they can provide innovative solutions to issues they are facing."
By "issues," Williams is referring to everything from the highly-anxious Velcro dogs curated by the Covid-19 pandemic and subsequent lockdowns, to those hyperactive dogs who just can't wait to sink their teeth into the nearest sofa or table leg.
"Many behavioral problems in pets come from boredom or excess energy, ensuring they release this energy is essential to curbing unwanted behavior," continues Williams. "Dogs instinctively need to gnaw, and chew toys are essential tools for dogs. Similar to a soothing toy or blanket to a baby, a chew toy provides comfort, releases stress and helps with overall concentration and cognitive abilities." 
It's clear that chew toys are a key part of pet parents'—and retailers', by default—arsenal of tools to keep their dogs happy, satisfied and, hopefully, destruction free. To remain competitive in the constantly innovating chew toy space, retailers must keep their eye on trends and work to deliver modernized store experiences. 
Current Trends in Chews
Tube socks are officially out and replacing them are various chew toys with different shapes, textures, materials, and functions designed to engage dogs with different feelings and abilities.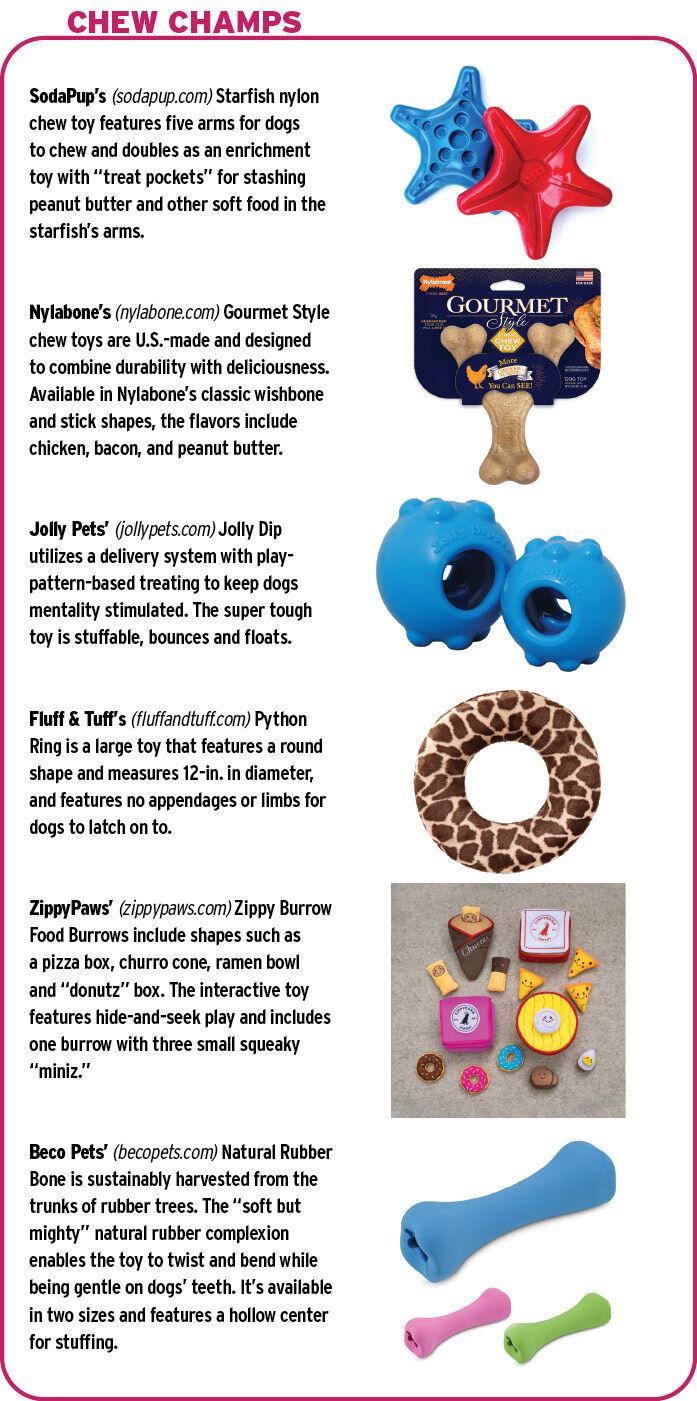 "Mixing of textures and materials in chew toys is the direction of chew toy development," explains Darin Eisenbarth, president of Petsport, Inc. "Using different materials such as EVA foam, TPR, nylon, cotton rope and tennis balls is becoming very popular. Mixing the materials gives the dog different textures and adds interest."
Of course, it's one thing to curate a chew toy with the latest and greatest materials, but the question at the top of every pet parent's mind is simple: is this product safe?
"Safety tends to be the primary concern of pet parents for any toy, especially chew toys, followed closely by durability and cost," says Emily Benson, marketing director of Starmark Pet Products. "Other considerations pet parents often look at now are the material, origin and whether treats can be used with the toy."
Benson continued that pet parents are often looking for chew toys that will engage their pets for longer periods of time, which typically means a toy that incorporates some form of puzzle feature to extract treats.
And, of course, it always comes back to good ole' Millennials. Adam Pasco, vice president of Mammoth Products, explains that the generation often has "active, enriched lifestyles," and they transfer those values directly onto their pets and seek products that encourage activity and stimulation.
Competing with Subscription Toy Boxes
Any pet owner scrolling through Facebook or Instagram has seen a targeted advertisement that encourages them to back some sort of subscription toy box, whether it's themed to the latest pop culture phenomenon or purchasing is incentivized by a free item. 
Pet subscription boxes, which "tend to be whimsical and appeal to people based on cute plush characters or rubber toys molded into trendy shapes," notes Williams, are the latest disruptor in the pet industry that, well, always seems to be disrupted by something, whether it's another Chewy or the dreaded product recall.
"Subscription boxes are a large player in the pet toy arena," explains Petsport's Eisenbarth. "They allow the pet owner to try different toy styles and materials. Once the pet owner finds a toy their dog likes they will be going to the brick and mortar store for a replacement. It is in store owners' best interest to pay attention to the monthly offering from the largest box companies."
But it's not just themed boxes. In fact, toy subscriptions can help build a following for manufacturers. That's why Pasco believes that subscription boxes have enhanced the chew toy space. 
"Subscription boxes give consumers a chance to try one of the toys, which they can then purchase from the manufacturer that supplies them," he explains. "We currently work with some of these subscription box companies, and it has been a good partnership where the consumer can purchase our brand from retailers after they have tried our products."
The Modern Shopping Experience
E-commerce and its related curbside pick-ups, same day deliveries and buy online pick-up in store offerings have thrown another ball into retailers' already challenging juggling act. 
"Consumers now expect their brick-and-mortar buying experience to be fluid with their online experience," explains Petsport's Eisenbarth. "The store owner's website should list all their inventory and item specifics. Often consumers will check the store's website while they are standing in the store looking for more info on the product they are about to purchase. Consumers are now very used to using QR barcodes and they should be integrated into store signage, packaging and advertising."
With that in mind, retailers also need to ensure they carry a highly curated mix of chew toy offerings to satisfy every pup that walks into their store. Here's where geography plays a key role, as an area's local attractions can help determine the type of pet—and pet owner—likely to walk in the door. 
"Knowing your customer base is the best way to know how to diversify what you offer in your store," explains Williams. "For example, if you live in a town where people often play in the water, you'll want to be sure you offer a lot of water toys for dogs. A sure way to know you are recommending the right offerings for the dog, and that the owner is happy, is to ask the right questions about how they plan to use the toys with the dogs."
Communication is clearly essential in retailing, and perhaps is most prominent in the chew toy arena. With so many different options on the market and pet parents wanting to keep up with the latest trends and characters, it's important retailers communicate with them to determine their dog's play style and habits to ensure longevity. 
"Retailers must interact with the pet parents when chew toys are being purchased and ask questions about the dogs' chewing habits in order to offer the correct chew toy," says Pasco. "Size does matter when it comes to picking the correct toy, as well. Some consumers will tend to purchase down based on price rather than size and this can cause problems."
As a general rule, the experts explained that chew toys should always be larger than a pet's mouth to prevent accidental swallowing, and it's important to ensure chewing is supervised, especially when playing with chews that feature a puzzle or treat dispensing element. When retailers can balance fashion with function, it'll provide them with limitless success. PB