TropiClean's (tropiclean.com) Enticers Teeth Cleaning Gels are offered in smoked beef brisket, hickory smoked bacon, honey marinated chicken, and peanut butter and honey flavors. Gels are proven to destroy 99.9 percent of harmful bacteria found in the mouth – helping to remove plaque and reduce bad breath. Enticers Teeth Cleaning Gel & Toothbrush duos contain teeth cleaning gels, and eco-friendly bamboo toothbrushes sized for large, small/medium dogs.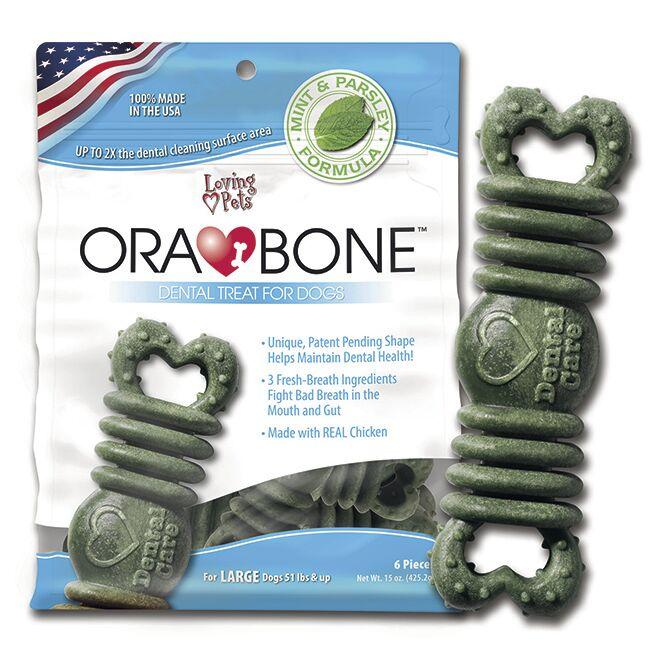 Loving Pets' (lovingpetsproducts.com)Ora-Bone USA-made daily dental chews are made with three breath freshening ingredients to fight bad breath in your dog's mouth and gut. The unique design has up to two times the cleaning surface area of similar products, offering a dental feature on every surface, a center bulb that cleans behind the teeth, roof of mouth, and tongue, and ribs that wrap around both sides of the entire bone to form teeth fitting channels that clean more effectively.
Glo-Marr Pet Products'(glomarr.com)KENIC Better Breath for Dogs is a breath spray and water additive that freshens breath and reduces tartar and plaque when used daily. Both are made with natural ingredients, no artificial dyes or fragrances. The ingredients include distilled water, peppermint extract, cinnamon, honey, and cloves, with Aloe Vera.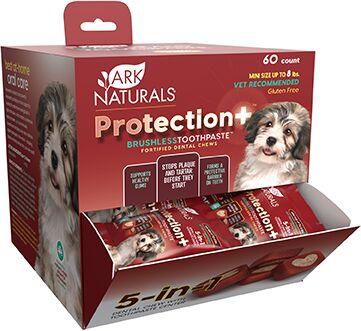 Ark Naturals' (arknaturals.com)Protection+ Brushless Toothpaste dental chews stop plaque and tartar in its tracks with a formula that works from the inside out by boosting antibodies in the pet's saliva to create an invisible barrier on teeth that stops plaque and tartar from sticking. Now available in trial size versions for all breeds and weights, the dispenser boxes come pre-packed with single-serve samples (except the mini size, which has about five pieces in a small pouch) that match the full-size bags.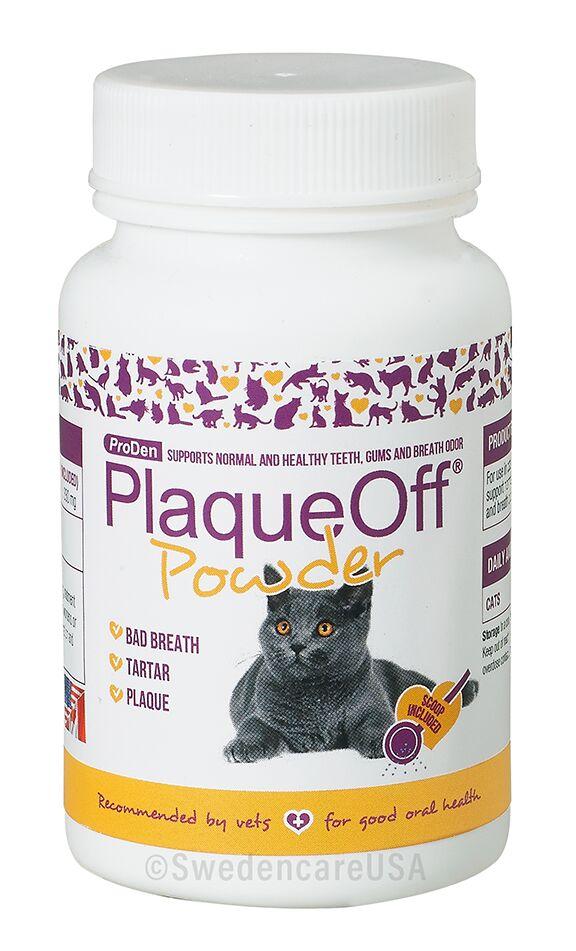 SwedencareUSA's (swedencareusa.com)ProDen PlaqueOff Powder for dogs and cats has been awarded the Veterinary Oral Health Council Seal in the "Helps control plaque and tartar" category. The powder is all-natural, and helps oral health for pets with a specially selected kelp harvested in the North Atlantic from specific areas. Additionally, it is free from additives and artificial preservatives and contains no gluten or added sugar.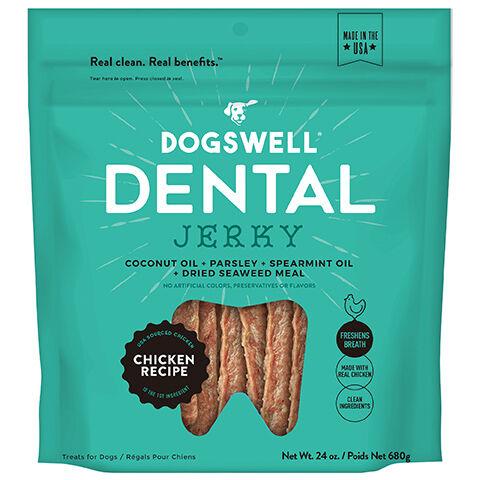 Dogswell's (dogswell.com)Dental Jerky promotes dental health and freshens breath. Made with U.S.-sourced chicken without added hormones, its special formula includes: parsley and spearmint to freshen breath, sodium tripolyphosphate to prevent calcium from sticking to teeth, coconut oil which may reduce oral bacteria, zinc chloride to help maintain pH balance and reduce bad breath, and dried seaweed meal which may help reduce plaque/tartar systemically.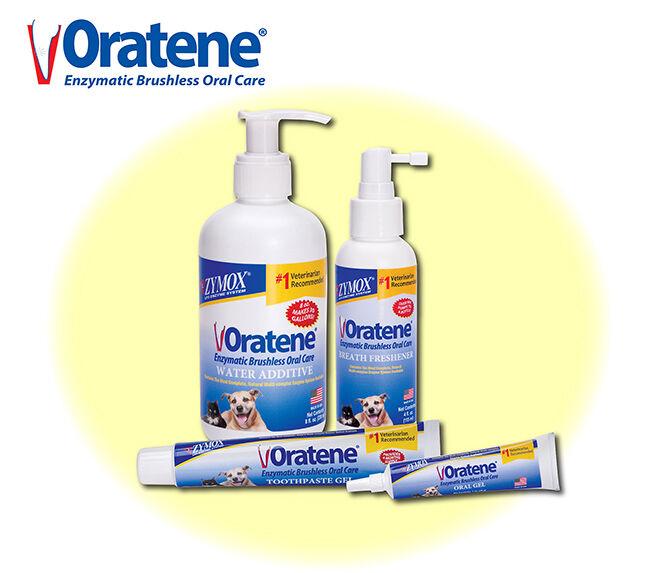 Pet King Brands' (zymox.com)ZYMOX Oratene Brushless Oral Care consists of veterinarian-approved products that are made in the U.S. and use enzymes to help keep dogs' or cats' teeth clean, breath fresh and gums healthy. Each Oratene product features a natural, multi-complex enzyme system that doesn't require brushing to keep pets' mouths healthy. The products contain no xylitol, alcohol, detergents, chlorhexidine, or dyes, and are ideal for pets of any age, especially those on medications which can cause dry mouth. Choose from brushless toothpaste gel, breath freshener spray, and water additive.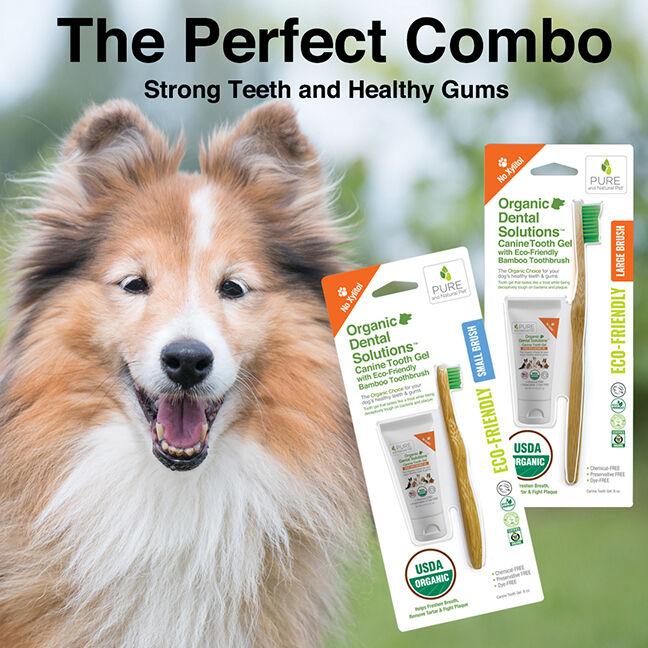 Pure and Natural Pet's (pureandnaturalpet.com)Organic Dental Solutions Dental Kits combine sweet potato and cinnamon gel with an eco-friendly bamboo toothbrush. The USDA certified kits are available in two sizes with a large or small breed bamboo brush. The bamboo brushes have no glue, toxins or paint, and are made with dental grade ergonomic nylon bristles from recyclable material. The biodegradable and naturally antimicrobial ergo handle is coated with soybean wax to make it easier to grip.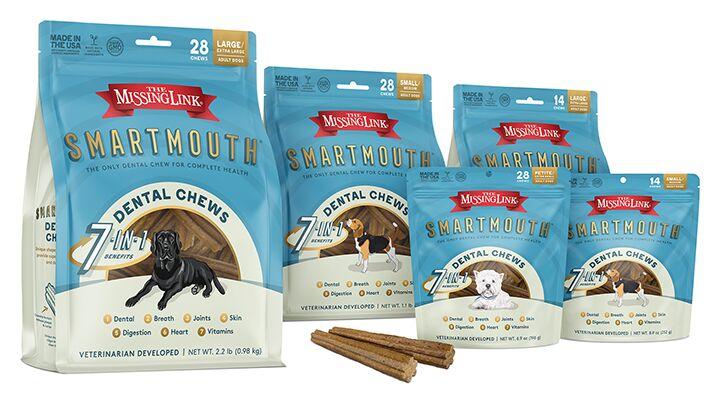 The Missing Link's (missinglinkproducts.com) Smartmouth 7-in-1 dental chews are veterinarian-developed dental chews for complete daily health. The chews feature unique ridges to clean teeth and freshen dog breath, support joint mobility through glucosamine, skin and coat health with balanced omegas, and cardiovascular stability with flaxseed. Smartmouth also aids in digestion and provides a daily vitamin supplement from The Missing Link.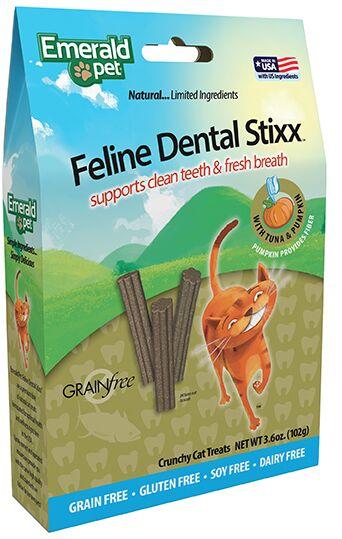 Emerald Pet's (emeraldpet.com)Feline Dental Stixx are designed to reach the back teeth and massage the gums with included ridges that run the entire length of the stick shaped dental treat for cats. The unique shape and texture satisfy a cat's desire to chew while promoting oral health with calcium carbonate, the same abrasive used in toothpaste, to help remove tartar and plaque build-up. Additionally, real pumpkin is included in each of the recipes providing a high fiber source that supports digestive health.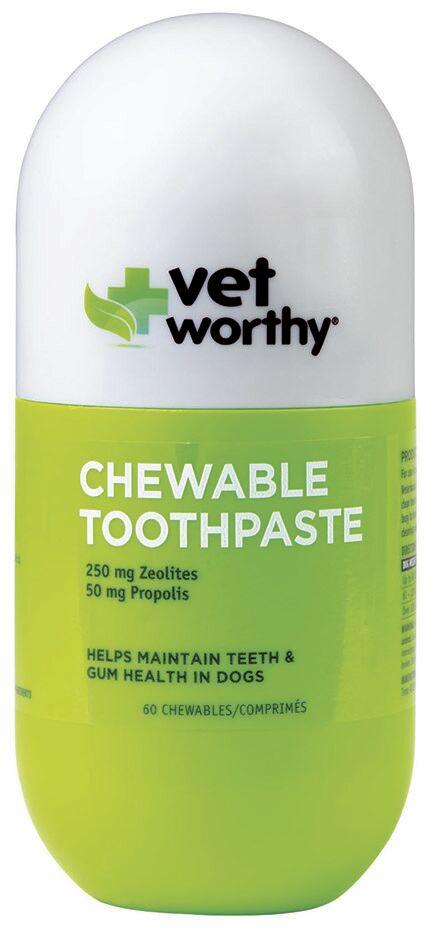 Vetworthy's (vetworthy.com)Chewable Toothpaste for Dogshelps support teeth and gum health in canines by helping to keep plaque, tartar and bad breath at bay. Key human grade ingredients in the product include zeolites and propolis, which support a cleaner mouth and healthier gut, helping to reduce plaque from forming and sticking to teeth. The chewable is liver flavored and recommended to be administered daily, but should not replace regular dental care with a veterinarian.