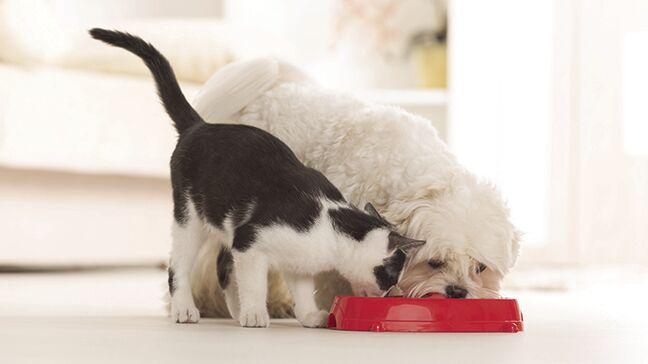 When walking down a pet store's food aisle, customers are faced with a variety of options. With eye-catching imagery and catchy descriptions on packages, some pet parents may breeze over reading the nutrition label on the back of a bag, but more recently, many are taking the time to look it over. 
"In recent years, we have seen an increase of consumers diving deeper to have a better understanding of the ingredient panel," says Danielle Opetz, MSc, companion animal nutritionist at Fromm Family Foods. "They tend to look to see what ingredients are functional and 'healthy,' as well as seeking out specific nutrient values as stated in the guaranteed analysis (for example: high protein, low fat, etc.) and feeding instructions to find the best nutritional match for their pet's needs." 
Every customer is different, and every person has a different motive for visiting a pet store, which likely plays a role in how important checking a nutrition label is to them. 
"Depending on what brought the pet parent into the store on a given day, their diligence in consulting a product's label might vary," says Heather Acuff, Ph.D., director of research and development for Nulo. "For instance, first-time pet owners searching for the right food to start their new best friend on are more likely to be novice label readers and to gravitate towards the key benefits of one product compared to another.
"On the other hand, seasoned pet parents seeking new products due to food sensitivities, digestive concerns, or other common issues are likely more familiar with label interpretation and closely scrutinize them for technical and nutritional content." 
Aside from being a novice or seasoned pet parent, many customers may pay greater attention to nutrition labels after events that may have knocked their confidence in certain foods or ingredients, such as when the pet food recalls of 2007 gained wide publicity. 
"Customers are more aware [of the importance of reading nutrition labels] as a result of multiple recalls," says Dr. Bob Goldstein, co-founder of Earth Animal. 
Dr. Ryan Yamka, founder of Luna Science and Nutrition, also emphasizes the importance of encouraging customers to try different brands that offer the same nutritional value as others. By understanding a nutrition label, retailers should be able to recognize alternatives to a certain diet to move a customer from Brand X to Brand Y, if need be. This way, in case of a recall or supply chain issues, parents can easily make the switch to a different product. 
With these considerations in mind, there are some key elements that retailers and their customers should look for when checking a pet food nutrition label. 
What to Look For
To start, there are basic guidelines set by the the Association of American Feed Control Officials (AAFCO)—every pet food product needs to list protein, fiber, fat and moisture content. To sell a specific product in any given state, manufacturers need to meet that state's specific AAFCO guidelines, as well as feature an ingredient panel, a guaranteed analysis, calorie content, a feeding trial/chart, and a nutrition adequacy statement. 
"The most important pieces of information for a customer, in regards to the nutrition panel, tends to be the feeding instructions, caloric content and ingredient list," says Opetz. 
Naturally, it goes without saying that the ingredient list is a great place to start when customers are trying to learn how to read nutrition labels. 
"Have [pet parents] read the first eight labels on the ingredient deck," says Mary Helen Horn, president and executive director of ZIWI. "It's the absolute best thing you can do. The first five ingredients make up 80 percent of the product." 
Since protein is one of the most important elements of a pet's diet, Horn suggests trying to learn where the majority of the product's protein comes from, based on its first couple of ingredients. Animals should receive the majority of protein through specific animal meat sources (not unnamed ones), she says. 
It's also important to note that, in some cases, companies will split ingredients, even if two different ingredients are connected or offer the same nutritional benefits. As an example, Horn says seeing beef liver, beef organ or beef heart in the first couple of ingredients signifies a high-protein diet. Ingredient splits can also be negative, such as when it indicates there's not enough variety within a product. 
Challenges With Nutrition Labels
Of course, one of the biggest hurdles when it comes to nutrition labels is getting customers to see past the marketing-jargon and fluff words used to describe foods on many pet packages. Many claims, such as "natural," "organic," and "human-grade" don't reveal anything about a product's true nutritional value. 
When pet parents do consult the nutrition label, however, it can be intimidating to see a slew of ingredients they don't understand. 
"Pet food labels can be tricky to read because they look different from labels that we see on human food, and people are more accustomed to those labels," says Dr. Darcia Kostiuk, senior veterinarian for ORIJEN and ACANA pet food.
As an example, humans have a standard 2,000 calorie diet, which is a clear metric that most people recognize. Humans also have a tendecy to ebb and flow when it comes to their diets, eating a healtier meal and then switching to a more caloric meal next. Pets, on the other hand, are not exposed to as much variety, making the nutrition content they consume on a daily basis even more important. 
"If pet parents read the general analysis and don't understand what certain nutrients are or that some are missing, their pets could be missing those nutrients twice a day for many years," says Horn. 
Another way pet food labels differ from those on human nutrition products is that carbohydrates aren't listed on pet foods and customers have to do an equation to roughly gauge a product's carbohydrate count. However, this might change as AAFCO meets every year to discuss pet food regulations. 
"The good news is there are regulatory changes planned to make pet food labels more consumer-friendly, which will be beneficial to pet lovers wanting the best for their pets and will also ensure the pet food industry is being transparent," says Dr. Kostiuk. 
"I think this would be a game changer in the pet world and would be really beneficial for the dog and cat," adds Horn, who says that AAFCO is also considering updating its stance when it comes to terms like "natural" or "human grade" to make sure customers understand the point of differentiation and what terms like this really mean. 
How Retailers Can Help
Even armed with the knowledge of what to look for in a nutrition label, it may still be a challenge for customers to grasp how beneficial ingredients are for their specific pets. As such, they will turn to their trusted retailers for guidance. 
"We find, especially as it relates to neighborhood pet stores and the independent pet segment, customers seek the counsel and more intimate buying experience achieved for knowledgeable retailers," says Opetz. "A store that has a good working knowledge of the foods that they carry tends to help customers navigate the nutritional panel easier." 
As a way of being prepared, retailers should familiarize themselves with common questions pet parents ask when it comes to nutrition labels. 
"Common things a customer needs assistance with is finding the calorie content of a diet or locating and interpreting the protein and fat percentages," says Opetz. "Retailers would be well-served to use the nutritional panel as a guideline, understand how specific ingredients work within the body, and where some of these key percentages fall to answer questions directly." 
Naturally, more informed pet parents expect transparency from products, and if they don't comprehend what an ingredient is and what it contributes to a diet overall, it may cloud their judgement. 
"The assumption that a pet food containing an ingredient with a name that is hard to pronounce is bad, is misleading," says Dr. Kostiuk. "Pet food manufacturers are required to list all ingredients, including vitamins with their scientific or chemical name, and often those vitamins have long, complicated names that can be difficult to pronounce or understand."  
"This is why the role of retailers is crucial—sometimes all it takes is a little education," she adds. 
To help retailers educate customers, manufacturers create their own materials to help consumers understand their product's nutrition label in more detail. As an example, Midwestern Pet Foods recently created a video breaking down exactly what pet parents should keep in mind with the nutrition label they're using. Not only will customers be able to learn more in-depth information about products, retailers will too. 
ZIWI also offers tools for retailers and customers to better understand their products. The company also publishes its recipes online, so customers can easily view an ingredient breakdown.
"At Nulo, we work to equip store associates with the information and resources they need to address topics like our nutritional philosophy, ingredient sourcing, production processes and quality control standards," says Acuff. "We also work directly with our retailers through in-store educational programs, interactive tools and on-demand training that not only focus on nutrition, but other key areas of content as well." 
Many customers view retailers as the experts and will look to them for guidance on the best types of food and treats for their specific pet's needs. "Retailers are our experts in the field because we can't speak to every customer," says Dr. Goldstein. 
Ever retailer should have a clear understanding what a nutrition label is saying, and what key ingredients customers should be looking for to support their pet's specific needs. If there's any doubt about what an ingredient means, retailers shouldn't hesitate to reach out to manufacturers directly for assistance. 
Ultimately, there is a lot of information on this topic, and for some it may be overwhelming. Reassure customers that taking the time to understand what's best for their pet is proactively helping to support their future health, and all they can do is their best. 
"You can only do your very best and trust your gut," says Horn. "Phone a friend if you need help."  PB