Pets are your passion; and caring for them, your purpose—and we know the impact a positive, productive day can have on you and your business. At Shear Saver®, we appreciate there's a lot expected of you as a groomer. That's why we set out on a mission to make your life easier.
On top of mastering the perfect pet cut, you need to wrangle energetic pups and soothe anxious older dogs–managing the chaos that comes with grooming pets. In order to do this with efficiency and ease, you need razor-sharp shears. Pets won't wait on dull shears. Neither should you.
What Is Shear Saver?
Shear Saver is the only personal scissor sharpener on the market designed specifically for groomers, making it possible to bring your shears' edge back to like-new sharpness in seconds for quicker, easier and cleaner cuts. It's time to say goodbye to dull blades, bad cuts and tired hands, and hello to Shear Saver—a product made right here in the USA. With that said, here are three reasons why razor-sharp shears are essential for your grooming business:
1. Restore Your Shear Edges Fast
Shear Saver is a lightweight and hand-held tool that sharpens shears up to 10 inches in seconds, eliminating the frustration of dull shears folding fur or, even worse, pinching the fur and causing a pet discomfort. It gently realigns, sharpens, and smooths your shear's microscopic edge, putting every cut in your control.
Because Shear Saver doesn't grind away or remove metal from the cutting edge, it won't negate the shear's manufacturer warranty. Fifty years of research and development went into perfecting Shear Saver. It's produced in America by Razor Edge Systems—a trusted name for those who rely on knives, blades, and sharp edges to complete their work with accuracy and precision.
2. Improve Your Health and Enjoyment with Extra-Sharp Shears
A dull shear can mean sore, fatigued hands and lackluster results. Your hands are your livelihood—you can't afford to power through a cut with dull blades that make your work harder.
Shear Saver is designed to be used as often as you need to keep your shears sharp, cuts looking great, and clients happy. Your tools are safe with Shear Saver, so you can use it as often as you'd like to keep your shears at peak performance. You won't believe the difference you'll feel in your hands, and work enjoyment, with Shear Saver. Just a few passes after each cut and you won't know how you survived so long without it.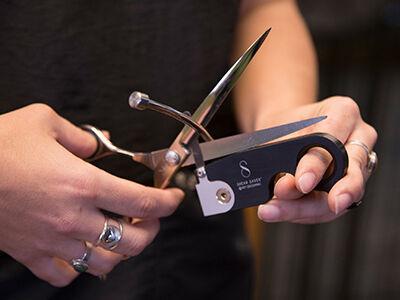 3. Reduce Your Costs in the Long-Term
How much do you spend every year on shear replacement and sharpening fees? Shear Saver puts money back in your pocket by extending the life of your shears and minimizing the need for professional sharpening services.
Most importantly, Shear Saver is backed by a 100% Satisfaction Guarantee — if you don't love Shear Saver just return it within 30 days for a full refund. Plus, you'll get a Lifetime Replacement Guarantee so, in the unlikely event you have a problem with the effectiveness of your Shear Saver®, just let us know and we'll get you up and running again in no time.
Get More from Your Grooming Business with Shear Saver
Pet grooming has incredible profit potential, but only if you're operating with efficiency and ease. This means quick, convenient cuts that protect your hands, increase your profit margin and ultimately end with a satisfied client.
With Shear Saver you'll have the sharp edge you need and save thousands of dollars in replacement and sharpening fees! Get a sharp, clean cut every time. Sharp shears, no waiting. Guaranteed.