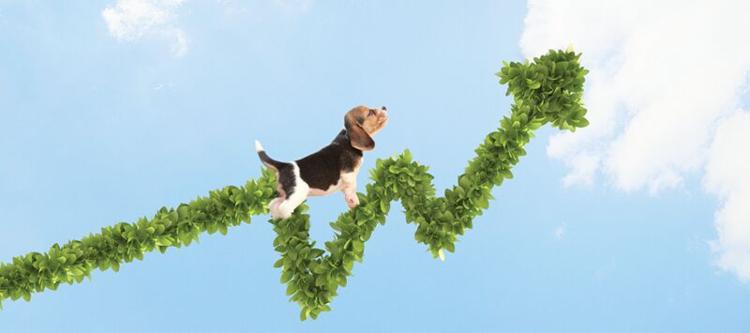 As the pet care market approaches an estimated $63 billion in sales after more than 20 consecutive years of growth, observers both inside and outside the industry are looking for clues as to what is driving this phenomenal performance. Yet, in many cases, one probably doesn't have to look much further than around the corner at the local shopping center, where it is increasingly likely that you will find one of the pet specialty channel's many quickly expanding retail chains.
These are the businesses that are nurturing the broad trends fueling the pet industry's growth—such as the emergence of the super-premium pet food category—while also leveraging economies of scale to fend off increasing competition from mass and internet retailers. And according to Pet Business' Top 25 Retailers list, which ranks pet store chains based on the number of outlets they operate in North America, these businesses continue to grow exponentially larger and more formidable as competitors year after year.   
TOP 25 PET RETAILERS LIST
1. PETSMART
Phoenix, AZ
petsmart.com
Territory: U.S. & Canada
Stores: 1,500 (approx.)
2. PETCO
San Diego, CA
petco.com
Territory: U.S.
Stores: 1,433 (approx.)
3. PET VALU
Markham, Ont., Canada
petvalu.com
Territory: Canada & Mid-
Atlantic, Northeast & Midwest
Stores: 770 (approx.)
4. PET SUPPLIES PLUS
Farmington Hills, MI
petsuppliesplus.com
Territory: East Coast, Midwest, CA & TX
Stores: 375
5. GLOBAL PET FOODS
Brampton, Ont., Canada
globalpetfoods.com
Territory: Canada
Stores: 170
6. PET SUPERMARKET
Sunrise, FL
petsupermarket.com
Territory: Southeast, CA & NV
Stores: 170 (approx.)
7. PETSENSE
Scottsdale, AZ
petsenseonline.com
Territory: U.S.
Stores: 136
8. PETLAND
​Chillicothe, OH
petland.com
Territory: U.S., Canada & Mexico
Stores: 120
9. PETLAND DISCOUNTS
Brentwood, NY
petlanddiscounts.com   
Territory: Metro NY
Stores: 87
10. UNLEASHED BY PETCO 
San Diego, CA
unleashed.petco.com
Territory: CA, CO, Northeast & Mid-Atlantic
Stores: 85
11. WOOF GANG BAKERY
Orlando, FL
woofgangbakery.com
Territory: NV, TX, TN, NC, GA, FL, NJ, KS, SC, VA, CT
Stores: 81
12. PET CLUB
Tempe, AZ  
thepetclub.net
Territory: AZ, CO, TX    
Stores: 64
13. MONDOU
Quebec, Canada
mondou.com
Territory: Quebec
Stores: 62
14. PET FOOD EXPRESS
San Leandro, CA
petfoodexpress.com
Territory: CA
Stores: 60
15. PET PLANET
Calgary, AB, Canada
petplanethealth.com
Territory: Canada, AZ
Stores: 58
 16. HOLLYWOOD FEED
Memphis, TN
hollywoodfeed.com
Territory: TN, TX, AL, AR, MS
Stores: 53
17. PET DEPOT
​Glendora, CA
petdepot.net
Territory: U.S., Canada
Stores: 47
18. BENTLEY'S PET STUFF*
Lincolnshire, IL
petstuff.com
Territory:  IL, MO, MN, WI
Stores: 43
19. MUD BAY
Olympia, WA
mudbay.us
Territory: WA, OR
Stores: 40
20. KRISER'S**
Chicago, IL
krisers.com   
Territory: IL, CA, CO, TX
Stores: 37
21. CHUCK & DON'S PET FOOD
​Mahtomedi, MN
chuckanddons.com
Territory: MN, CO, WI
Stores: 36
22. BOSLEY'S BY PET VALU
Richmond, BC, Canada
bosleys.com
Territory: Canada
Stores: 36 (approx.)
 23. PET PEOPLE
Hilliard, OH
petpeoplestores.com
Territory: OH, IN, MI, IL
Stores: 35
24. ​CONCORD PET
Wilmington, DE
concordpet.com
Territory: DE, PA, NJ, MD
Stores: 29
25. EARTHWISE PET SUPPLY***
Canby, OR
earthwisepet.com
Territory: CA,NM, KS, TX, OH, FL, SC, GA, NJ
Stores: 26
Total # of stores: 5,553
as of Jan. 1, 2017
*Bentley's parent company, Pet Stuff America, also currently operates several other retail brands, including Moochie & Co. in OH, IN & KY and Tailsspin in GA, for a total of 61 locations.

**Kriser's also currently operates 5 Wylie Wagg stores in north VA & DC, which will soon be converted to Kriser's locations, bringing the chain up to 42 stores in early 2017.

***EarthWise Pet Supply's parent company, NPM Franchising, also operates 14 Nature's Pet Market stores in OR & WA. 
In fact, the number of stores encompassed by the Top 25 Retailers list grew by more than 500 units over the past 12 months, which represents a 10 percent increase since the last edition of the list was compiled in early 2016. That is an impressive accomplishment, especially when one considers that the Top 25 Retailers' store count averaged only five-percent annual growth over the previous 10 years. Clearly, expansion among these chains is an accelerating trend.
Not surprisingly, PetSmart and Petco—No. 1 and No. 2 on the list, with approximately 1,500 and 1,433 locations, respectively—were once again among the leaders when it came to expansion. However, for the first time since Pet Business began tracking the Top 25 Retailers, neither of the big-box chains was responsible for adding the most stores to the list. That distinction belongs to Markham, Ont.-based Pet Valu, which added approximately 150 new locations over the past year. 
That rate of expansion is just one of the reasons 2016 turned out to be a big year for Pet Valu, though. In July, the company made headlines when it merged with Sunrise, Fla.-based Pet Supermarket (No. 6 on the Top 25 list) to create Pet Retail Brands—an organization that is estimated to generate about $1 billion in sales across the U.S. and Canada. Helmed by president and CEO Thomas McNeely, who has served as CEO of Pet Valu since 2009, the combination enables both retailers to share infrastructure, resources and best practices while continuing to operate as separate brands. 
The Pet Valu/Pet Supermarket merger was just one example of the trend toward consolidation in the pet specialty retail channel. Lincolnshire, Ill.-based Bentley's Pet Stuff (No. 18) and Chicago-based Kriser's (No. 19) both made key acquisitions last year to strengthen their reach and buying power in a competitive environment where size provides a decided competitive advantage. 
However, when it came to acquisitions within the Top 25 Retailers list, there was probably no bigger development in 2016 than Tractor Supply Company's purchase of the 136-store Petsense chain (No. 7) for approximately $116 million. Driven by the success of the pet care category in its 1,500-plus "rural lifestyle retail" stores, Brentwood, Tenn.-based Tractor Supply had previously experimented with its own pet specialty retail concept—HomeTown Pet. The addition of an established pet store chain—especially one as successful as Scottsdale, Ariz.-based Petsense—was apparently a natural progression of this focus.
"With Tractor Supply's success in the pet category and the knowledge gained from our HomeTown Pet stores, we determined that the acquisition of an established, successful concept with a proven track record of growth would be the best way to capitalize on the opportunities we see in the pet market," says Tractor Supply Company CEO Greg Sandfort. "We believe the Petsense team's expertise in growing smaller format pet specialty stores combined with our proven expertise in the category as well as site selection and store growth will enable us to accelerate the growth of our pet specialty retail business and enhance long-term shareholder value."
Of course, these are just some of the developments that took place among the pet industry's top specialty chains in 2016.  To delve a bit deeper, Pet Business reached out to executives from five of the companies on the Top 25 list. What we uncovered were stories that were indicative of a thriving class of retailers.
An Omni-Channel Approach
After it reportedly considered and ultimately decided against an acquisition of Petco in late 2015, PetSmart spent the past year growing organically with new store openings, eventually reaching the 1,500-store milestone in November. But that isn't all that has been going on at the No. 1 pet store chain in North America. The company has also been hard at work in diversifying its approach to retail by introducing new brick-and-mortar store concepts and revamping its e-commerce strategy. 
In August, PetSmart opened its first PetSmart Pet Spa in Oceanside, N.Y. Featuring a much smaller footprint than the company's big-box model, the new concept focuses on pairing services such as professional grooming and self-service dog washes with cutting-edge pet nutrition in a modern, customer-friendly environment. The model even includes a coffee bar and lounge where pet owners can relax while they wait for their four-legged friends to be groomed.
"We expect to learn much from our new concept stores in order to continue to drive retail innovation in our store chain," says Eran Cohen, chief customer experience officer for PetSmart. "Our aim is a great customer experience with fresh new ways to shop and engage with our brand and associates." 
According to Cohen, the PetSmart Pet Spa concept's product set is much tighter and includes seasonal apparel, collars and leashes and home décor items. It also includes "a new Pinnacle Pet Nutrition section featuring an expanded collection of pet food products that range from high-protein, natural, grain-free, minimally processed and raw pet food," he says, noting that these represent the fastest-growing categories in pet nutrition.
On the e-commerce front, PetSmart has refined its approach with the re-launch of its website, the development of mobile apps and the continued expansion of subscription and same-day delivery services. With each of these initiatives, the company is trying to help make the shopping experience more convenient than ever for customers.
"Consumer insights drove much of the new and improved PetSmart.com and its convenient features, as well as our overall omni-channel strategy," says Cohen. "Pet parents have told us they want to shop and engage with our brand how, when and where they wish. That means offering a range of options from shopping our continually expanding stores to shopping and engaging with us via smartphones, tablets and desktops.
"Our aim is to be the trusted partner to pet parents everywhere and to deliver to them useful, engaging and entertaining content and shopping options that they can access however, whenever and wherever they choose."
The Right "Stuff"
A new member of the Top 25 Retailers list, Bentley's Pet Stuff has experienced a meteoric rise over the past year. 
In early 2016, fresh off the acquisition of another local pet store chain, owners Giovanni and Lisa Senafe were operating 15 locations in the Chicago area under two different retail brands—eight as Bentley's Corner Barkery and seven as Pet Stuff. Since then, they have made a number of additional strategic acquisitions with the help of investors Marcus Lemonis (from television's The Profit, which featured the Senafes in an episode) and David Levy, president and CEO of Des Plaines, Ill.-based pet specialty distributor Zeus & Company. As a result, the company's reach now extends well beyond Chicago and into diverse markets in Colorado, Missouri, Georgia, Ohio, Wisconsin, Kentucky, Indiana and Pennsylvania. 
Today, the Senafes operate 61 stores under the umbrella of Pet Stuff America. While many have been or will be turned into Bentley's Pet Stuff locations, some of the acquired stores continue to operate under their original, carefully constructed brands. Lewis Center, Ohio-based Moochie & Co. and Tailsspin in Savannah, Ga., are two prominent examples of this approach. 
"We want to leverage the equity that some of these brand names have with customers," says Giovanni Senafe, the company's vice president of business development.
The incorporation of the Moochie & Co. brand in particular has unique implications for the Pet Stuff America family. While there is some overlap in the markets in which Moochie & Co. and Bentley's Pet Stuff operate, they have very different retail models. According to Senafe, that creates the potential for synergy between the brands.
"[Moochie & Co.] is a leader in hard goods and boutique-style stores," he says when explaining his interest in the chain, which operates stores across Ohio, as well as in the Pittsburg, Louisville and Indianapolis areas. "For [Bentley's Pet Stuff], it's also an advertising opportunity. They attract so many new customers on a weekly basis who are more than likely living near one of the stores we're opening up in Ohio or Indiana."
In 2017, industry observers can expect to see Pet Stuff America continue to grow as a force in pet retailing. The company continues to see overwhelming interest among smaller pet store operators looking to come into the fold. In fact, Senafe says that for every acquisition that has been made, about seven others offers have been turned down. As a result, it's easy to see Pet Stuff America attaining its goal of reaching 85 stores by the end of the year while remaining very selective in its growth.
A First for Kriser's
Another Chicago-based chain, Kriser's joined the Top 25 Retailers list in 2014, after the company doubled in size—from 11 stores to 22—over a two-year period. Since then, it has continued its steady expansion, moving into new markets such as Texas, Southern California and Colorado. 
Today, the chain stands at 37 stores, but that number will jump to 42 stores in early 2017, as the company converts the five Wylie Wagg stores it acquired in Northern Virginia and Washington, D.C., in October. The acquisition was a first for Kriser's, which previously grew organically through new store openings. This time, according to founder and CEO Brad Kriser, the opportunity to enter yet another new market by bringing an already strong retail operation into the fold was simply too good to pass up. 
"We've looked at acquisition opportunities that have been presented to us over the years, and most of them just didn't make sense to us," he says. "But Wylie Wagg was an absolutely perfect fit for us in the way they do business, the foods they carry and the concepts they have. The management and staff did such a great job building the business, it just made sense for us to do the acquisition."
To accommodate all of this growth, Kriser's has made some key adjustments, including the hiring of Theresa Backes as chief operating officer about a year ago. The former president and COO of Francesca's Collections, Backes helmed the women's clothing and accessories boutique retailer as it grew from 50 to about 500 locations between 2007 and 2014. This has made her a valuable asset in preparing for the future, including bulking up the chain's infrastructure to make sure it is ready for expansion in multiple states. 
With the right resources in place, Kriser says the biggest challenge the chain has experienced in expanding into new markets has been creating brand recognition. "What we've been successful with is getting ourselves out into the community to let people know who we are as quickly as possible," he says. "Because once we can get them in the door, they consistently come back." 
It is this winning formula that makes Kriser confident that his chain will continue its successful expansion, even as the pet specialty channel quickly becomes crowded by a number of growing chains. 
"We know what we want to do and where we are going," he says. "Of course, there are other chains out there that are moving into new territories and making acquisitions, but we feel strongly that what we do is best, and we can compete against anyone."
Under New Ownership
It was a great year for Mud Bay's (No. 19) new owners—its employees. After instituting an employee stock ownership plan (ESOP) in late 2015, the Olympia, Wash.-based chain continued its steady growth in the Pacific Northwest by adding four stores in 2016. This expanded the company's reach north to Bellingham, Wash., and east to Bend, Ore.
Along the way, says co-CEO Lars Wulff, Mud Bay's employees have embraced their new role as stakeholders in the success of the business. While he admits that the process of turning Mud Bay into an ESOP company took longer and was more complicated than expected, Wulff says that it is a move that is already paying off. 
"The launch of the ESOP has been really wonderful," he says. "It has been fun to have a few hundred fellow owner-operators. It is contributing to a strong culture, as well as making Mud Bay jobs better jobs." 
In addition to adding new owners, Mud Bay has continued to grow its leadership team by hiring a chief information officer and beginning a nationwide search for a chief human,resources officer. It's all part of the company's efforts to ramp up its focus on long-term strategic planning. 
Part of that planning includes building the capacity to offer home-delivery services, a component that Wulff says will be instrumental in a changing marketplace. "The biggest issue facing pet retail is that consumers' expectations for convenience are changing rapidly," he says. "Customers expect to buy stuff any way they want to buy it, and they expect to get it any way they want to get it—whether that means picking it up at the store or having it delivered to their home. Retailers will disappoint those expectations at their own peril." 
Moving forward, Mud Bay will likely continue to grow at a rate of about five stores per year. However, Wulff says that accelerating that plan is always a possibility, as there is still plenty of space for the chain to expand without even leaving the two states in which it currently operates. 
"We have a lot of room to grow," he says. "Our newest stores opened really strongly, and there are plenty of opportunities to reach more dogs and cats in Washington and Oregon."
A Franchise On the Rise
EarthWise Pet Supply (No. 25) is another new name on the Top 25 list and a rising star in franchise pet retailing. Offered by NPM Franchising, LLC—which also operates 14 Nature's Pet Market stores in Oregon and Washington—EarthWise locations have quickly spread out into diverse markets across the country, including California, New Mexico, Kansas, Texas, Ohio, Florida, South Carolina, Georgia and New Jersey. 
However, the success of the chain—which CEO Michael Seitz describes as the "Trader Joe's of pet"—has not just been about expanding the ranks of EarthWise locations. According to Seitz, the company's individual franchisees have experienced phenomenal growth. 
"Our established stores average somewhere between 13 to 20 percent annual growth, which we're pretty proud of," he says, pointing out that business has also been quite good for new members of the franchise. "Our franchisees who have opened in the last 24 months have seen stronger first-year and second-year sales than we've ever seen, and I think that's telling of the economic climate we're in."
It is also telling of a winning approach to retail, which focuses on offering not only the type of natural-focused product selection that is growing more popular with today's pet parents, but also traffic-generating professional grooming services. These services, which were a relatively new addition to the franchise model, have proven to be instrumental in EarthWise's success, says Seitz.
"We pride ourselves on anticipating industry trends," he explains. "What we saw was a dramatic increase in pressure on pricing in the consumables side of the business—for example, grain-free foods were becoming commodities [because of e-commerce]. And when you're basing your entire concept on retail, the pressures of commodity pricing are unsustainable."
With this in mind, the EarthWise model incorporated grooming services to keep the stores' blended margins and cost structure at a level that would enable the stores to not only survive, but thrive in an evolving marketplace. "From my point of view, it saved the concept," says Seitz. "We've sort of been successful because of that change and the synergistic relationship between [services and retail]."
Today, EarthWise Pet Supply stands poised to shift its growth into another gear. Seitz says that he believes it is possible for the franchise to increase to 200 to 225 locations over the next three to five years. In particular, he sees four regions that have the most potential for growth over the short term: the west coast, southeast, Texas and the northeast, where the company is currently in the process of opening two locations in N.J.