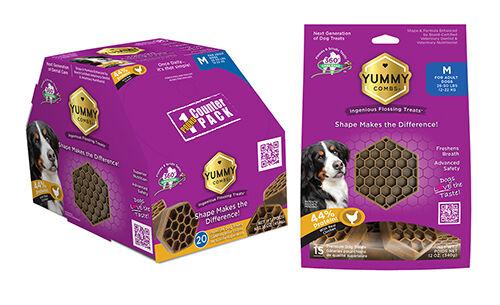 How/when was Pet's Best Life (petsbestlife.com) founded? What inspired the creation of the company? My wife, Judy, and I began work in 2013 on what has become one of the most innovative and healthy pet treats ever. It takes time to conceive, develop and commercialize such an innovative product. The company name and mission are the same—by and for pet's best life. Toiling to improve pet's life is their advocation.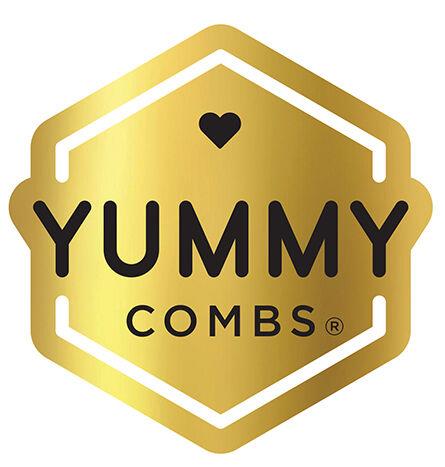 Pet's Best Life's signature product line is Yummy Combs dental treats. What makes these products stand out from other dental treats on the market? Shape makes the difference! The novel functional shape of the treat is so innovative that eight patents have been issued or are pending on a single treat concept in the U.S. Similar applications have been applied for in Japan, Canada, the European Union, England, Australia and China. 
The unique functional hexagonal shape with thin-wall borders is designed to floss and clean teeth to the gum lines, deter gulping, hasten dissolving, speed digestion and preserve volatile ingredients, and it is packed with the best nutrition and wellness ingredients in the treat category. 
We have again teamed with Dr. Lon Lewis, a board-certified veterinary nutritionist, to formulate Yummy Combs. Dr. Jan Bellows, a board-certified veterinary dentist and past president of the American Veterinary Medicine Association's Dental College, has joined the team and lent his decades of expertise to the project because of his admiration of the functional shape that is so important in flossing and cleaning dogs' teeth. 
In summary, Yummy Combs arguably have the best shape, provide the best oral health care, have the most advanced safety benefits, the most superior protein, the most complete nutrition—including the most wellness ingredients—of any treat. Within 15 minutes of seeing his first Yummy Combs, one executive buyer exclaimed that this was the most innovative treat he had seen in well over a decade!
Pet's Best Life will reveal a major rebranding at SuperZoo later this month. What prompted this rebranding? What will it entail? Pet's Best Life is currently rebranding, but we're maintaining the same great product benefits and value. The rebranding was a result of listening to input from retailers and dog owners, combined with the rapidly increasing cost of cardstock and other paper products and the convenience of resealable zip lock bags.
Does Pet's Best Life have any new products or line extensions in the pipeline? If so, what are the key features of your upcoming introductions? Pet's Best Life has long envisioned a second protein source—fish and eggs—plus more vegetables and proteins to provide more diversity to the dog's diet. Would you want to eat the same few foods in the same ratio for years of your life without a broad array of ingredients? I sure would not. This is becoming a reality with most ingredients, manufacturing and testing completed. 
Aside from offering high-quality products, how does Pet's Best Life help drive sales in pet stores? What types of sales and marketing support does the company offer its retail partners? We advertise and promote Yummy Combs in several ways. We write about the product and its benefits for dogs. We work to improve the retail price. And we educate dog owners not just about our product, but also about the needs of dogs. Currently, we are evaluating potential causes of the rampant rise in the rate of cancer in dogs. In conjunction with The Roetheli Lil' Red Foundation (lilredfoundation.org), a portion of Pet's Best Life's profits are donated to support pet therapy, pet shelters, and the needs of the poorest of the poor—not just in America but in Guyana, Guatemala and Nicaragua. 
What does the future hold for Pet's Best Life? After commercializing a highly successful pet treat 25 years ago, and then spending almost 15 years away from the pet industry and treat category, the Roetheli family and team are back to work to aid in revolutionizing and elevating pet's best life through creative thinking and addressing needs of dogs.  PB