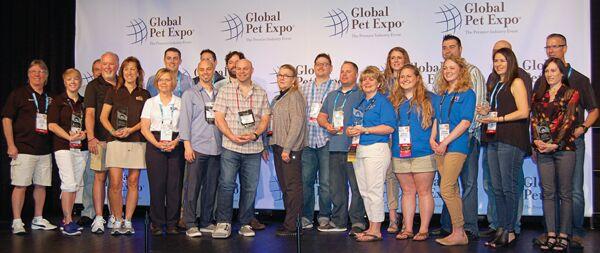 ​CountryMax Stores, Yarn & Bone Pet Supply Co. and Paw's Natural Pet Emporium took the top honors at the sixth-annual Retailer Excellence Awards presentation. Part of Thursday's Pet Industry Breakfast, the awards ceremony was hosted by Pet Business magazine and the organizers of Global Pet Expo, and sponsored by Coastal Pet Products.
"Coastal Pet appreciates the service and care independent retailers provide pet loving communities," said Coastal Pet Products COO Kim Stout. "Supporting pet specialty for almost 50 years, we are excited to celebrate all the Retailer Excellence Awards participants."
Each year, the Retailer Excellence Awards recognize outstanding independent pet specialty retailers in a variety of categories. The list of winners in 2017 includes:
Best Overall Single-Store Retailer
Paw's Natural Pet Emporium – Kennewick, Wash.
Best Overall Multi-Unit Retailer (2-10 Stores)
Yarn & Bone Pet Supply Co. – Camden, Del.
Best Overall Multi-Unit Retailer (10+ Stores)
CountryMax Stores – Victor, N.Y.
Best Live Animal Retailer
Most Valuable Pets, Inc. – Lexington, Ky.
Multiservice Excellence
The Green K9 – Mount Dora, Fla.
Merchandising Excellence
Pet Pantry Warehouse – Rye, N.Y.
Marketing Excellence
Bark Out Loud Doggie Boutique & Café – Mansfield, Texas
Store Design Excellence
Pet Express – Saugus, Mass.
Community Service Excellence
Petsway – Springfield, Mo.
Customer Service Excellence
Natural Pet Enrichment Center – North Royalton, Ohio
At the awards ceremony, this year's winners were excited and humbled to be recognized as some of the premier retailers in the pet industry.
"Being recognized by our peers is an honor because no one else knows better the challenges and hurdles we face on a daily basis," said Michael Morris, co-founder of Yarn & Bone Pet Supply. "Knowing that others in our industry admire our business model is gratifying and humbling. We can't begin to thank those that provided guidance to us as we began this journey nearly three years ago."
Morris credits the care that he and business partner Matthew Moorefield put into building the right product mix for their customer base for driving the success that Yarn & Bone has achieved since it was founded.   
"Our approach to the pet is a simple philosophy, 'If we wouldn't give it to our Fur Kids, we don't carry it.' It really is as simple as that," he says. "We have curated a unique selection of products paying attention to details, such as where our items are sourced and made."
While admitting that operating two stores (in Camden and Rehoboth Beach, Del.) can be challenging at times, Morris notes that there is also a distinct upside to having multiple locations. 
"A clear benefit with two locations is the convenience of stock availability," he says. "If one store is out the other can usually supply the item, so we don't have to wait for a distributor to deliver the product. Another benefit is the ability to test the market for various items or promotions. We will try a promotion at one location and if it is successful, mirror the promotion to the other."
With 16 locations in upstate New York, CountryMax Stores is another retailer that understands the opportunities and challenges that come with a multi-store retail operation, albeit on a larger scale. To Don Payne, CountryMax vice president, the company's success in providing a consistent, local-store experience in each location has come from focusing on the local communities they serve when making decisions in key areas such as staffing and store design.
"We maintain the local store feel through our people and by developing and building our stores with local build-out effects that help to reflect that hometown feel," he says.  "The store system has many very long-term people running many aspects of the company with deep roots in the local area.
"CountryMax team members work diligently to offer a helpful atmosphere and a pleasant shopping experience, including full carry-out service. At the same time, CountryMax has taken the challenge to build our new stores with a multitude of design effects that enhance the shopping experience.  Our interior designs have a very friendly, rustic country feel that makes the time in our stores visually pleasant as customers select from a multitude of products available."
A Focus on Service
In today's crowded retail marketplace, providing a high level of service to shoppers is a vital part of success for independent pet retailers and something that many take great pride in delivering. That is why Christine McCoy, owner of The Natural Pet Enrichment Center, found it particularly gratifying that her business was recognized with the Customer Service Excellence Award.
"To be recognized for outstanding customer service is the highest compliment you can receive as a retailer," she said, noting that the ultimate goal in her customer service strategy is to build lasting relationships with local pet owners.
"We feel that the first time we meet a customer, it is an opportunity to have a customer for life. We take great pride in the lasting friendships that have been built with our customers. Our staff is highly trained and use the products that we sell successfully. Most were our best customers before they became part of our team. We have fun, and we offer a social setting at our store that welcomes families young and old that want the best for their pets."
Marni Lewis, owner of The Green K9, also understands the important role that delivering a great customer experience plays in building a successful business and says that her store's focus on pet-related services plays a huge role in this area. "Offering several pet care services brings customers in our store weekly and many times daily, which allows us to build close relationships with them and their pet," she says. "Customers who trust us with the care of their pet also trust the products we choose to supply in our store."
The key, she says, lies in selecting the right staff to ensure the safety, health, comfort and quality of care of her business's "pet guests."
"Our hiring practices are extremely strict, as we must choose the right employees who not only share our genuine love of dogs, but who can meticulously follow instructions and will assure any behavioral and physical issues are addressed immediately," she says.
Delivering only the best possible care to animals has also been vital to Most Valuable Pets, the winner of the Best Live Animal Retailer Award.  It is a responsibility that owner Melissa Whitton believes extends beyond the four walls of her store.
"The key to our success is conducting our business on the highest of ethics, honesty and morals," she says. "We always put the animals' care and well-being first. We treat each sale as an adoption process, matching the right pet to the right family. We refuse sales if we think it's not the right fit and we make suggestions for species that we feel will fit the family's lifestyle best.
"Animals are individuals, and it's so important to match the right pet to the right person. They will be a new member of the family. It's a bond that will be remembered for a lifetime."