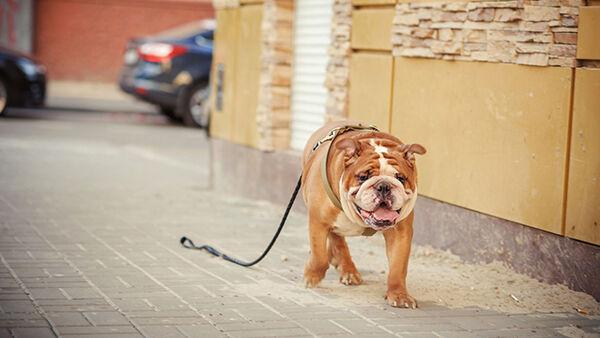 During the early summer days of 2021, many pet parents will venture out to combat feelings of cabin fever after staying at home throughout 2020. Whether leaving pets at home with a sitter, or taking them along for these long-anticipated journeys, investing in effective identification solutions is crucial. 
Mistakenly leaving gates unlocked, or doors unsecured, in addition to pet parents who lose their grasp on a leash at a campground or unfamiliar vacation area are issues that no one wants to think about. As July 4 approaches, fireworks—whether illegal or not—will be heard in many neighborhoods across the U.S., leading pets to become anxious and may result in them fleeing from the frightening noise. If one of these cases occurs, pet parents have a much better chance of reuniting with their animals if they can be properly identified. 
Out, About & Identifiable
Within the pet identification category, industry veterans are seeing a two-fold reason for purchasing tags. While the primary, serious side of this topic relates to the potential loss of a pet, the secondary purpose is based in having fun with this accessory, according to Jane Klein-Hageman, director of engraving at The Hillman Group.    
"Our data shows two primary motivations behind tag purchases," Klein-Hageman explains. "The primary is safety and security—a pet parent's worst nightmare is a lost pet. About 15 percent of lost pets are never found and no one wants to experience that. 
"However, the secondary reason is simply fashion—pet parents have so many options today in collars, leashes, bedding, etc. and retailers are increasing their tag assortments to offer greater choices to the consumer."
While having pets identified with a quality product is important at all times, with pet parents heading out this summer, manufacturers of these products expect greater demand. Mark de Guzman, who works in marketing for iMARC Engraving Systems, foresees greater numbers of consumers seeking identification solutions for their pets during the remainder of the year. 
"We expect to see an uptick in purchases of identification products," says de Guzman. "A larger population of pet parents new and old are now looking to take their pets on walks, to the park, anywhere and everywhere, having a proper identification tag in case your pet gets lost is essential."
To be prepared, retailers should anticipate the identification needs of their customers—and to encourage customers to treat identification products as a necessity. Tom Glessner, chief commercial officer of the U.S. for My Family U.S.A. Inc., reveals that with more than 30 percent of pets becoming lost at some point in their lives, retailers should ensure their customers' animals have appropriate identification. 
"One in three pets will get lost in their lifetime," Glessner reveals. "Every dog and cat should have visible identification so if associates notice them in their store without a tag, they should ask their parents if they need one. New tags should also be suggested when customers purchase a collar or harness along with when area codes may have changed."
Gregg Newman, managing partner at VIP Engravers, agrees that retailers should take opportunities to remind pet parents about the importance of identification products. Citing the immediacy with which identification tags can be created, the price of these items, and their quality as the main concerns of pet parents who are purchasing these goods, Newman encourages retail associates to ask about customers' needs.
"Number one, hands down, is to ask if they need an identification product and explain that they can have one completed with all their critical information engraved before leaving the store," Newman says. "[These products are] still the most cost-effective and fastest way to ensure pet parents are quickly contacted and reunited with their missing pet."
Pet-ID Priorities
Many identification options exist within the pet space, yet there are trusted products that remain popular with consumers. Traditional tags that feature engraving are easily generated at retailers that house a machine to create these products. 
"An engraved pet tag allows the finder of the lost pet to immediately contact the owner," explains de Guzman. "A lost pet with a microchip needs to be taken to a veterinarian's office in order to read the microchip and access their owner's information."
Microchips, when properly registered, are an excellent way for pets to be identified should they get lost and lose their traditional I.D. tags. Jarbas Godoy, founder of The Dog from Ipanema, a Miami-area high-end salon and boutique, believes microchips are currently being underutilized. 
"[It's important for] chips being used more widely because it would be so good to identify everybody," Godoy says. "I wish everybody would have chips. They all buy the dogs and don't register the chips, so sometimes dogs are found and we can't locate them because the chip hasn't been registered."
Ultimately, when a microchip and a traditional pet I.D. are used together, it provides double security for pet parents concerned about the potential of losing a pet. 
"A microchip and a pet tag complement each other very well—using both can double the probability of a safe return home and satisfy the safety needs of most pet parents," says de Guzman.
As simple as it may sound, shopping for the perfect pet tag is not a one-size-fits-all issue. Pet parents must realize that their animals should have unique identification based on different factors. Klein-Hageman notes that, when choosing an identification tag, the choice should be made according to the best option for the pet, the size of the animal, the design of the product and the pet's daily activity level. 
"Tags come in all sizes, shapes and weights, and the tag should never be too large or heavy for the pet to wear comfortably, Klein-Hageman explains. "However, the tag needs to be big enough to show critical information—address and multiple phone numbers—and be easy to read.
"If you have a pet who could be the next Ironman, you might want to stick to a heavy-duty plated or aluminum tag that will fare better at the beach or in the lake."
It's also important for retailers to take consumer preferences into account. According to Godoy, his clients shop for tag options that are softer and quieter. Diana Farrar, owner of San Antonio-based Fifi & Fidos, has noticed several trends pet I.D. trends at her shop that has been in business since 2005.
 "People are looking for the GPS-type trackers," she says. "Sometimes people might want an engraved or embroidered collar and we will do something with [custom dog-collar provider] Mimi Green on that. Sometimes they want the engraved buckles." 
Working with rescue organizations within her community, such as Poquita Paws, the Footbridge Foundation, and God's Dogs, Farrar has a few pieces of advice for her peers to share with pet parents. 
"Put as little information as possible on the tag so the size of the engraving is large enough for somebody to read quickly," Farrar explains. "I am one who absolutely believes in microchips just in case the tag falls off or the collar goes missing." 
Regardless of the type of identification, pet parents should consider the most-important details that should be shared on engraved or embroidered products. 
"The most important thing for an I.D. tag to have is up to date, legible, contact information," Glessner says.
Whether a trusted tag or cutting-edge technological option, manufacturers of identification products recognize the need be aware of the latest advancements in this space. One of the most important resources manufacturers have when identifying demand is through their retailers, who are able to provide valuable feedback. 
"[Manufacturers continue to] monitor the newest technology and evaluate how it might benefit the pet owner without it becoming another exciting but ineffective solution of getting the pet home," Newman explains. "By consistently providing any support needed as well as being available to answer any questions and openly accepting and pursuing all suggestions received, [we ensure retailers recognize our mission.]"