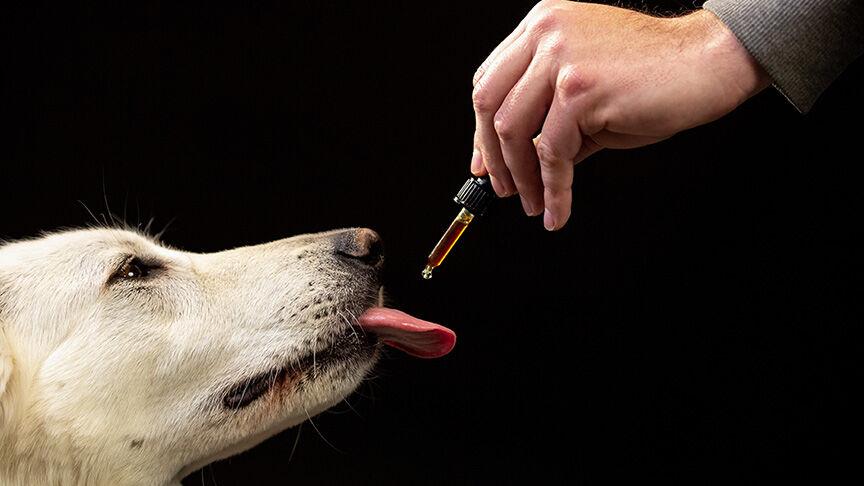 Whether to improve skin, hair or nails, humans have a multitude of vitamins and supplements to choose from. For many, taking supplements is a part of a daily wellness ritual, taking anything from a daily multivitamin, fish oil or a vitamin B-12 supplement first thing in the morning. 
Naturally, as pet parents pay closer attention to the supplements that make a difference in their lives, they're more interested in learning about products that can supplement their pet's health.
"During the pandemic, many pet parents ramped up their supplement regimen to strengthen their immune systems and overall general health," says Chelsea Gennings, co-founder of Pet Releaf. "Our pets can also benefit from a daily supplement." 
Humans and pets are very different, but they both experience the aging process, which can wear down natural systems in the body. 
"Pets are very similar to us in that as they age their bodies don't produce the same level of naturally occurring chemicals to help in various aspects of a healthy life," explains Michael Stoeckle, president and CEO of Ark Naturals Company. "As a result, supplementing their diet with these naturally occurring ingredients (or something that works in the same way) allows them to live a healthier and more satisfying life by addressing the loss of that particular chemical that would otherwise be naturally occurring in their body. 
"It could be for stopping inflammation, assisting in digestion, providing moisture to offset a dry coat, boosting their immunity to help fight plaque and tartar etc…," he continues. 
One important point of differentiation between supplements are other healthcare products: Supplements cannot address a disease or condition in pets. 
"The word 'supplement' is a bit of a misnomer because it implies a nutritional benefit," explains Dr. Bob Menardi, DVM, director of veterinary technical and educational services at Canopy Growth. "These products are not intended to be food, nor are they intended to prevent, treat or cure any disease or condition. Nevertheless, these types of products may support a variety of a healthy pet's normal functions." 
As an example, Dr. Menardi shares that CBD pet products from Canopy Growth, including its SurityPro line and Martha Stewart CBD for Pet line, are intended to help support calm behavior, joint health and flexibility, and healthy aging, including cognitive function and eye health.
Never Compromising on Quality

 
As with other pet categories, there's a greater focus on not just what a product includes, but how and where it was made. 
"A retailer should always do their due diligence on the transparency a brand has to offer," says Gennings. "Retailers should be able to identify where the ingredients are sourced from and how the product is manufactured." 
It's imperative that manufacturers provide the information retailers need to convey what the product does properly. If retailers have any questions, they should feel confident that the product's manufacturer will address their inquiries quickly. 
On top of keeping the lines of communication open, retailers should also look into whether or not a given manufacturer has certain third-party certifications or peer-reviews to confirm a product's legitimacy. This is especially important because, as Gennings says, the supplement space can lack regulation. 
"When looking for CBD products for pets, retailers should look for products that are backed by science and endorsed by the industry's leading authority on non-pharmaceutical animal health products, the National Animal Supplement Council (NASC)," says Dr. Menardi. 
Regina Flight, category manager for NOW Foods, also believes that "the [supplement] line should not be static but should be improved as new information and ingredients become available." 
Making Supplement Sales
Getting a proper education from the start is a great way for retailers to hit the ground running to promote these products. Some manufacturers, like Pet Releaf, offer staff training and other educational seminars to ensure retailers are fully informed about the power of hemp and plant based solutions.
"Retailers should be trained and educated on any brand they are carrying, as that can help build trust with the customer when introducing something new into the regiment," says Gennings. 
To help retailers learn about its products, and how to promote them, NOW Foods provides a comprehensive suite of marketing materials to retail customers to support their sales. The company also makes sure to offer information that's readily available via their website, so pet customers can conduct their own research. 
"We are seeing an increase in traffic to our website, which indicates pet owners are doing their research on our products," says Flight.
When it comes to products containing CBD, Dr. Menardi believes retailers should be able to address two questions for customers: Are CBD products safe for animals, and how much CBD should my dog take? 
As for other questions retailers may have to answer, Stoeckle says that customers focus on asking about products for specific situations they aim to address, which can range from supporting their pet's digestion to helping support their senior pet's joints. Guiding customers directly to the product they're looking for saves them time and gives them the confidence that this product can help make a difference for their pet. 
"This is where you can really set your store apart from all the others; by discussing the active ingredients and how they work to solve the problem," says Stoeckle. "This also is a terrific way to gain loyal and repeat customers because you have acted as the expert and provided a solution to them."
While it's important to demonstrate a product's quality, Flight believes that pet supplements should not cost more than human supplements. In addition to offering products at a reasonable price point, retailers can lean into the most popular trends, such as the increasing demand for natural and sustainable product options, as a way to appeal to customers. 
"We continue to only partner with regenerative hemp farms, which enhances the soil health and sequesters CO2 from the atmosphere and our baking partner is 100 percent wind powered," says Gennings. "Every small change that a manufacturer or retailer makes towards becoming more sustainable has a bigger impact on climate issues." 
The fact that many supplements are designed as natural, holistic products is another aspect that retailers can highlight to customers. 
"Mother nature provides us with some amazing ingredients that are found in nature, and when taken properly can really assist a pet in overall wellness," says Stoeckle. 
"If a store associate understands the real benefits of the active ingredients, they can assist the pet parent in understanding why a given product works so well by advising them on how a particular ingredient works on things like digestion, inflammation, fighting plaque and tartar, [and more]." 
Looking Towards the Future
To highlight the growth the supplement category has seen, Flight cites The American Pet Product Association's Pet Owner Survey: Overall pet ownership in the U.S. is 70 percent of households, of which, 30 percent of cat owners in 2020 give their cats vitamins and or supplements (up 20 percent from 2018), and 44 percent of dog owners give their dogs vitamins and/or supplements (up 34 percent from 2018).
"If you believe what the experts and analysts say, supplements are the hottest category in pet right now and have a very long runway for growth over the next 10 years," says Stoeckle. "We would like to see tighter control put on product claims to ensure there are no products selling under a false solution to a real problem." 
Especially as the trend for natural alternatives continues, the supplement category will continue to thrive with the addition of new innovations and formulations from reliable brands. 
"As the Millennial age group gets older, the focus on natural alternatives that are not pharmaceuticals are going to also grow, so we believe now is the time for retailers to really start expanding their selection of supplements," says Gennings. 
"We see that customers want a complete and well-rounded regimen for their pets, [and] they're no longer just looking to feed their dog or cat and take them to the vet once a year," she continues. "They are fully invested in the health and wellbeing of their pets (family members) and are looking to add supplements to their pets' daily routine." PB