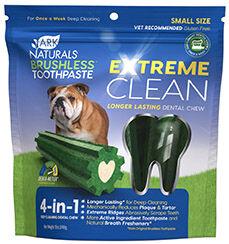 A dental chew made to last and clean hard-to-reach places, Extreme Clean from Ark Naturals (arknaturals.com) was carefully crafted for moderate to hard chewers. This chew is a weekly regimen and should be recommended in addition to original Brushless Toothpaste or Protection+ for longer-lasting, deep cleaning. Dogs can easily hold Extreme Clean chews, which makes it effective at cleaning molars. The deep ridges help reduce plaque and tartar and freshen breath with aromatic spices.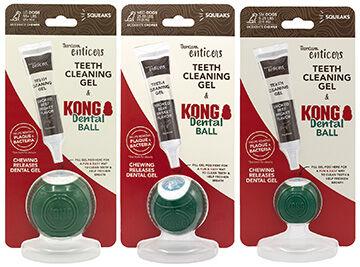 TropiClean (tropiclean.com) Enticers Dental Ball Kit for Dogs includes a 1 oz. tube of Enticers Smoked Beef Brisket Flavored Gel for a delicious treat that cleans a dog's teeth while they chew. The texture of the KONG ball helps reduce plaque while gel works to remove bacteria, and the squeaker keeps dogs engaged. The kits will begin shipping on Dec. 1, in time for National Pet Dental Health Month in February.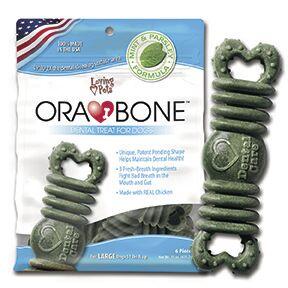 The Ora-Bone USA Daily Dental Chew by Loving Pets (lovingpetsproducts.com/product-category/dog-treats/ora-bone) is designed to do dental better.  Three breath freshening ingredients fight bad breath in a dog's mouth and gut. Ora-Bone offers a dental feature on every surface, a center bulb that cleans behind the teeth, roof, and tongue, and tapered ribs that wrap around the entire bone to form teeth fitting channels. Loving Pets Ora-Bone is proudly Made in the USA.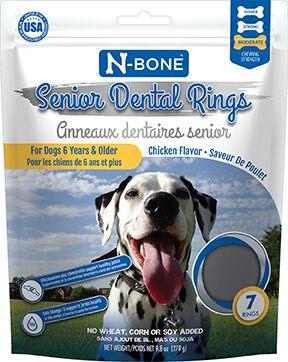 NPIC (npicpet.com) has expanded their assortment of award-winning dental rings with N-Bone Adult Dental Rings, designed to help enhance the dog's overall health, oral hygiene, and wellness. Each treat is made with real chicken, and other functional ingredients that support healthy skin and coat and digestion. The twisted shape and dense texture help remove plaque and reduce tartar buildup. Each bag contains seven chicken flavored treats.
Veterinarian-recommended Nylabone (nylabone.com) Advanced Oral Care Puppy Dental Kit is a soft-bristle puppy toothbrush that provides a comfortable, gentle and thorough brushing experience. It features ultra-slim bristles for pillowy softness, ultra cleaning power, and a built-in tongue cleaner. Apply the USA-made puppy toothpaste, created with an allergen-free peanut flavor and Denta-C, which is scientifically formulated to help reduce plaque and bacteria. The finger brush can be used for added control during cleaning.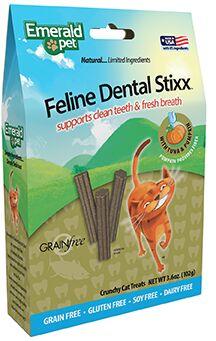 Emerald Pet (emeraldpet.com) Feline Dental Treats are a healthy grain-free dental solution for cats. They are gluten-, soy-, and dairy-free and made in the USA with U.S. ingredients. Whimsical fish shaped treats are big enough to encourage chewing versus just swallowing for maximum dental health. The treats come in six formulas cats love, plus innovative ingredients used to fight plaque and tartar. Available in resealable 3-oz. pouches and 11-oz. tubs.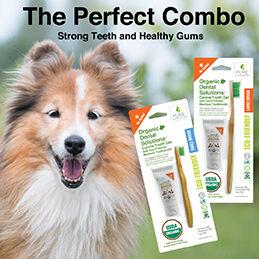 The award-winning Organic Dental Solutions Dental Kit by Pure and Natural Pet (pureandnaturalpet.com) combines an eco-friendly Bamboo Toothbrush with USDA Certified Organic Sweet Potato and Cinnamon Dental Gel. The ergonomic toothbrush has dental grade bristles and the handle is coated with soybean wax for improved grip without any toxic paint. The tasty dental gel tackles tough plaque and tartar. The updated packaging has 50 percent less packaging waste, and the SKU helps plant trees.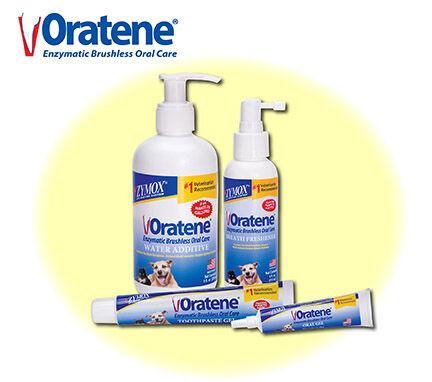 Oratene Brushless Oral Care (zymox.com) uses enzymes to help keep dog and cat teeth clean, breath fresh and gums healthy. These veterinarian-approved products are proudly made in the USA and require no brushing. Each Oratene product features a natural, multi-complex enzyme system and no xylitol, alcohol, detergents, chlorhexidine, or dyes. Choose from Brushless Toothpaste Gel, Breath Freshener Spray, and Water Additive. Especially beneficial to pets on medications which can cause Dry Mouth. 

Swedencare's (us.swedencare.com) new holistic soft bites for dogs and cats are made with the proven PlaqueOff System to help reduce buildup of plaque and tartar when used daily. Available in four different flavors for dogs, and two flavors for cats, the bites are made with limited, functional ingredients, and are free of grains, gluten, and soy.

Mighty Mouth from Friday's Dog (fridaysdog.com) is an ingestible mouth wash that offers an easy and effective way to destroy plaque and tartar-causing bacteria when added to a dog's water bowl with each refill. There is no taste or smell, the additive is safe for both dogs and cats, and veterinarian recommended.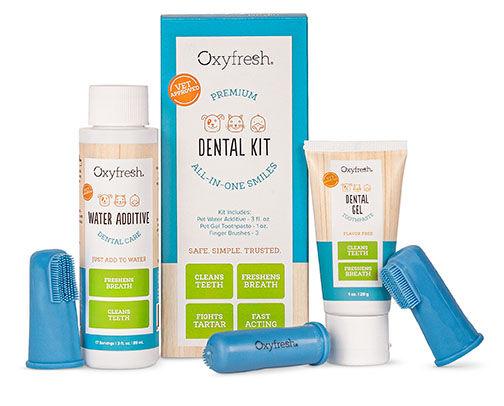 Oxyfresh (oxyfresh.com) dental care kits for pets feature Pet Dental Water Additive and Pet Dental Gel Toothpaste plus easy-to-use finger brushes. Oxyfresh's proprietary ingredient, Oxygene, works on contact to safely eliminate odors caused by bacteria in a pet's mouth. The pet water additive and toothpaste are free of scents and flavors, so even the pickiest pets approve.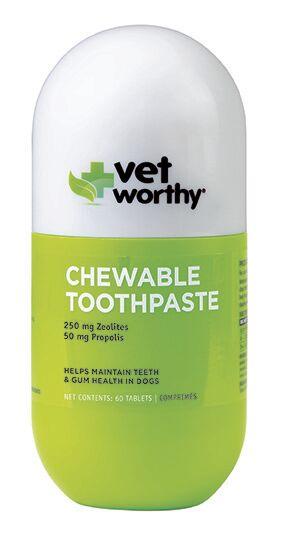 Vet Worthy (vetworthy.com) Chewable Toothpaste for dogs helps support dental health between brushings. Veterinarian formulated with zeolites to help reduce plaque and propolis to reduce bad breath, dogs will love the liver flavor chewables. Recommended for all adult dog sizes and breeds, these may also be crumbled over food daily. 60 tablets are in each bottle. These chewables are manufactured in the USA with domestic and globally sourced ingredients, and carry the NASC Quality Seal.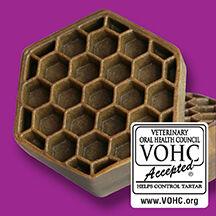 Yummy Combs (petsbestlife.com) Flossing dog treats are accepted by the VOHC, which recognizes products that meet standards of tartar reduction in dogs. Yummy Combs' patented shape flosses and cleans teeth 360-degrees, and contains all the required amino acids, vitamins and minerals and 12 specific wellness ingredients. Advanced safety, superior nutrition and great taste are at the heart of this premium protein treat.