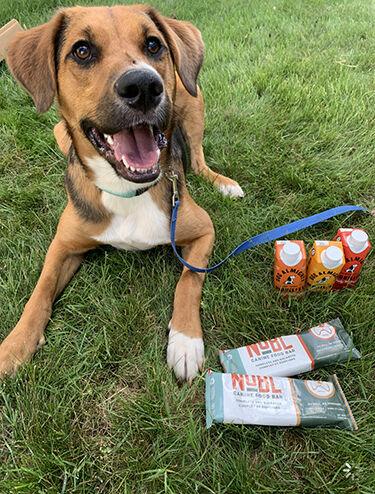 When you founded Guardian Pet Foods and its NOBL brand, you and Jim Galovski were already pet food industry veterans with more than 50 years of combined experience. How did your experience inform and shape your approach?
I worked in product development for big companies like Hill's and Blue Buffalo, and Jim worked for Blue Buffalo, Purina and Royal Canin. A year after I left Blue Buffalo, he came up to me with an idea that we developed into our first formula and the bar concept. That was almost four years ago. A lot of people think we're kind of new to the scene, but we aren't. We actually put in a lot of the research and development (R&D) on the front end, given my background. 
As an R&D person, you don't often get an opportunity to create a brand from the ground up. So, first and foremost, I wanted to make something that was legitimately natural, so you can read and understand all the ingredients on a label; there aren't 50 synthetic vitamins or minerals, like you see in a lot of kibble. More importantly, we considered how we could make our diets in a format that is unique from the kibble space.
Let's just look at reality—over the last 10 years, there hasn't been any real innovation in kibble. A lot of kibble companies come out and say they're unique, but they're not. In reality, most have not even put in enough effort to ensure their food is safe or supplying nutrients appropriately. When we started, we wanted to create a format that was (A) easy to feed and (B) avoid common issues of overfeeding. Each food bar is per 25 pounds of body weight, so you don't have to scoop a cup of food and worry about whether you're getting the same amount every time. We wanted to make a food that could be taken anywhere, at any time without the need for a cooler. This is appealing to raw feeders who travel with or board their pets. In addition, it comes in segments that you can break and hand-feed your dog if you're training or hiking. 
We developed a food that not only hit on those points, but also has actual science behind it. We actually publish all our typical nutrient analysis on our website, including starch, crude fiber, total dietary fiber and, more importantly, taurine and carnitine levels. We also publish our digestibility values from third-party testing, along with tested metabolizable energy.
Those things set us apart because, oftentimes when you ask a company for that, they'll tell you it's proprietary. That's a fancy way of saying, "Hey, I don't want to share it with you," or, "I don't have it, because we haven't done our due diligence." It's not proprietary. A formula is proprietary, that stuff is not. 
We believe in transparency, we believe in honesty, and we believe in sustainability. So, we wanted to build real sustainability into our DNA. Sustainability isn't about paying dues to some organization and making a promise; it's about execution and not looking for the recognition. For example, we just switched over to recycle two packaging, so it could be recycled normally versus being sent to third-party facilities wasting valuable fossil fuels. 
We also moved to digital printing for our packaging, which means we can print on demand, are not held to minimum order quantities which can result in obsolescence and unintentional packaging waste. Additionally, our supplier is a member of the Packaging Sustainability Coalition. Lastly, we picked a packaging manufacturer that is within 20 minutes of our manufacturing facility, so it's not even traveling far, which also cuts down on fossil fuels. 
These are things that the consumer or retailer will never see, and we're not going to go out for bragging rights. We just actually do what we say we're going to do. 
A line of limited-ingredient treats is also marketed under the NOBL brand. How do these items fit in with NOBL's overall approach to pet nutrition?
When we launched our treats, we wanted to make sure that they aligned with our real ingredients, simple feeding and honest presentation mantra. So, we weren't going to just blend a bunch of ingredients to form whatever. So, for example, if you look at our vegan treats, they literally include sliced green beans, diced carrots, and cut sweet potatoes. There are only three ingredients in there—that's it. 
More importantly, pet obesity is a major problem. So, for overweight dogs, our vegan treats are a low-calorie low-fat option. And our treats are also freeze-dried to preserve the nutrition, as well as a lot of other benefits. We're not going to be that company that's going to do SKU proliferation of every protein that there is in a world. This means that the vegan option we offer makes sense for dogs that have certain food sensitivities, particularly when it comes to animal proteins.
Another popular offering from Guardian Pet Foods is the Dog Almighty Elixirs line of supplements. What are the key selling points of this line? How do they differ from other supplement products in the marketplace?
Dog Almighty Elixirs are daily supplements that come in two categories (Mobility and Calm) and three flavors—turkey bone broth, chicken bone broth, and beef bone and mushroom broth. 
The mobility formula has actives in there that you would expect, like collagen peptides, L-carnitine, antioxidants and turmeric, to help support the mobility of healthy joints and bones. Then, with Calm, we utilize diamond ginger, tryptophan and cannabidiol to elicit and maintain calmness and balance behavior with dogs. 
The elixirs come in a liquid broth format because it's a unique form that helps pet owners avoid wrestling with theirs dogs to get them to take pills, powders and/or tinctures. There's nothing worse than trying to put an eyedropper in a dog's mouth, or if you wrap a pill in cheese, the dog always manages to eat the cheese and spit out the pill—they're like ninjas that way. 
But with the broth, you just put it in a bowl before you give them their water for the day. The first day, they're kind of like, "Huh, what's this?" but they drink it usually in less than 30 seconds. Then, the next day, it actually becomes a treating experience. So, we take away a pain point from the consumer and actually make it a treatable time. 
It is also important to note that we have the qualified NASC [National Animal Supplement Council] seal for our Dog Almighty Elixirs. I'm a board-certified nutritionist, and I formulate and validate everything we do. All of the facilities that we work with are SQF third-party food safety certified—that's important, from both a food safety and supplement standpoint. 
Also, we test everything positive release going out the door, and we test everything for nutrients going out the door as well. That's why you're able to see typical nutrient analysis on our website, things of that nature. We believe in that transparency, especially in the wake of DCM. If you look at what was at the heart of the root cause of that debacle, if companies would have simply come out and said, "Hey, grain-free is not linked to DCM, here are the values of my foods. And by the way, here's the digestibility of my foods," a lot of that nonsense would have gone away. 
What is Guardian Pet Foods' channel strategy? What role do independent pet stores play in that strategy?
Independent pet stores are the strategy. They're the ones that educate the consumer, have that touch point, and can become an advocate for your brand because you're doing the right things. We'll market to consumers to drive awareness, but there's a reason why we have a store locator on our page—we want people to go to the store. 
The question that we always get asked is, "Are you going to go to Amazon and Chewy?" The answer is, "No."  And we're not going to tell you that today and then make up a new product or brand, or go, "Hey, you didn't ask about our vegan treats, you only asked about the meat treats, and the vegan treats went on Chewy." We're not that type of company, and we're very upfront about that. We also will not sell to PetSmart; and anyone who has read my articles for Pet Food Industry magazine knows that Petco won't be calling me anytime soon for our products.
Most companies that jump to those channels are, unfortunately, thinking short-term gains, versus the long-term. But it will never make sense for us to work with one of those e-commerce platforms or a bigger company, because they don't do well with premium products. 
In addition to offering high-quality products, how does Guardian Pet Foods help drive sales in pet stores? What types of sales and marketing support do you offer?
We do a few things. First, obviously we have ISOs, like everybody else. However, what I believe is the best part: we provide real nutrition education training as opposed to marketing training. Obviously, most of it's been over Zoom, but we do in-store training as well. We also work with our distributors to do the same thing. This helps retailers to truly understand the landscape of the pet food industry, help identify gaps and therefore help raise the bar for the industry. It's not just about us, or the bottom line, it's much more than that.
At SuperZoo, we actually launched a new gravity fed display that is designed to be placed by the cash register. It has a very small footprint on the countertop and holds all three of our food formulas. Then, on top of that, it holds our Dog Almighty products. This display drives trial and discussion because it's right there at the checkout, versus a bag sitting on a shelf. So, it helps drive introductions, but also opens the door for the bulk bags that we sell.  PB