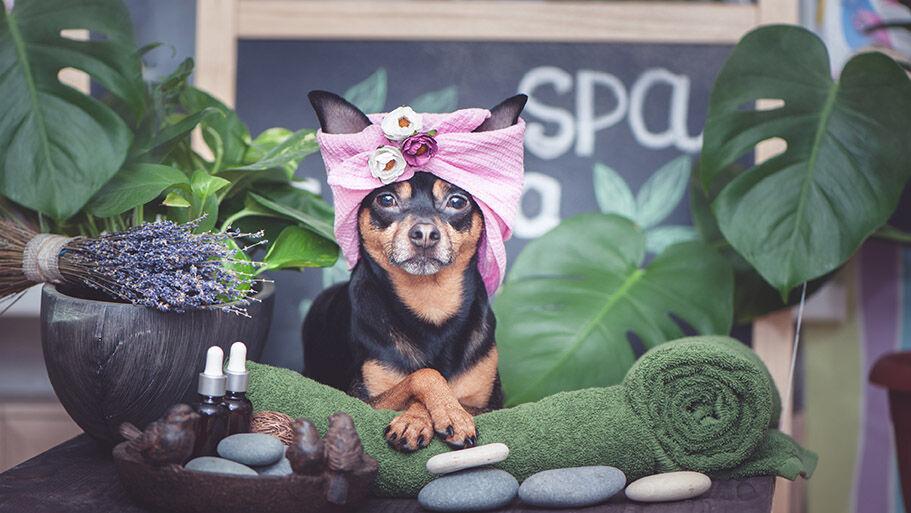 It goes without saying that most pet parents understand that regular bathing helps keep canines clean and healthy. Today, similar to the human experience, dogs are now afforded more luxurious experiences at the groomers', which more closely resemble spa treatments. 
Over time, pet parents have developed a preference for treating their pets to doggie spa days at home, complete with special skin-and-coat treatments, facial applications, ear cleaning, paw-conditioning products, and more. When shopping for products to ensure proper skin health, coat nourishment, and hygiene, consumers will invest in products that their pets will enjoy and benefit from long after the spa day is finished. 
Benefits of a Dog Spa
With pet parents investing time and effort into making their dogs clean and comfortable, they are exhibiting a level of care and concern for pets that reaches beyond a simple bathing session. 
"Spa products for dogs not only help clean and protect your pet, but pampering your pooch is also a great way to further your bond with your family pet," explains Julie Creed, vice president of sales and marketing at Pure and Natural Pet. "I love having products that I know provide a better quality of life for my pets."
Providing spa treatments for dogs can also help support the pets complete health. According to Dawn Leoso Duncan, vice president of Glo-Marr Products, Inc., pet parents must be able to gauge when their animals can use a bit of extra care. 
 "Our pets cannot self-care on their own," she says. "Spa products allow for the pet owner to address specific areas that need extra attention. The skin is the largest organ and it is so important that it is taken care of properly with quality products."
It's critical that the skin and coat are protected and fortified through regular care, says James Brandly, trade marketing communications specialist for Cosmos Corporation. 
"The pet's skin and coat play a vital role in their overall health," he says. "The skin and coat help provide protection from external objects and environmental stressors. The coat also helps our pets regulate hydration and internal temperature."  
Gauging overall health through observing skin and coat health is important for other reasons, as changes in the skin or coat can indicate underlying issues pets may have. Michele Crowley, senior vice president of marketing at H&C Animal Health, reveals what goes into a pet's body can affect skin and coat wellness on the outside, necessitating healing products that can be used during spa time.
"Not only can regular grooming give early cues to health issues affecting your dog, but there are domino effects everywhere," says Crowley. "For example, artificial dyes, additives and preservatives in their food and treats can cause allergies in dogs, which can show itself in itchy/ inflamed skin, loss of fur, and even [gastrointestinal] issues. Just as you would give your dog the most nutritious foods to ingest, what you put on their skin and coat and in their eyes and ears should also contain responsible ingredients."
At the forefront of creating spa products for dogs, manufacturers have noticed that the wellness aspects of administering this type of care for canines is comparable to how humans seek solutions to maintain their own well being. For Jenny Gilcrest, vice president of marketing at Skout's Honor, the correlation between human spa treatments and health is the type of result that pet parents are seeking for their dogs. 
"Spa products are a modern necessity for dogs, in the same way personal care and beauty products are essential for humans when it comes to maintaining healthy skin," says Gilcrest. "And just like people, pets experience skin problems due to environmental factors, genetic predispositions, allergies and underlying health issues."
Dog-Spa Supplies
When planning to treat their dogs to a spa experience, consumers are ready to invest in products that will allow them to elevate their animals' grooming. Therefore, retailers must be prepared to think beyond the shampoo bottle when helping pet parents stock their homes with dog-spa products. 
Taking a holistic approach, Crowley notes that a spa day, which includes both topical and ingestible products—such as pairing shampoo fortified with protein and vitamins with chews to combat skin allergies—is best. 
"At H&C Animal Health, we're most excited that pet parents are beginning to view dog spa products through the lens of overall pet wellness," Crowley says. "For us, grooming is not only about outward appearances, but also the balance of internal and external health that gives our pets their healthy skin, coat, nose, eyes, ears and paws."
Maintaining pet health through promoting skin and coat wellness means that consumers who shop for these products must keep in mind the needs of their individual pets. Different breeds of dogs require distinctive formulas to suit their types of skin and coat. 
"The importance of non-detergent shampoo is paramount," says Leoso Duncan. "You never want to use a product that will strip natural oils—especially in water-dog breeds. Hunting dogs and other athletic breeds do have different needs than an aging housedog. Pets are just like humans and they have different issues that need special care and that is why spa products are so beneficial." 
In addition to shampooing pets, more pet parents are interested in treating dogs to facials, creating a need for gentle products made for this area of the body. According to Creed, nose balm is another useful facial product and food-grade formulas are best to ensure animal safety if a dog licks this area of its face.
Noting that natural products continue to tick upward among pet parents, Brandly also explains that trends continue to align with consumers' needs to buy safe products they can trust. 
"We encourage retailers to host in-store spa days, where they transform a section of their store into a stress-free zone and have pet parents learn about different shampoos, conditioners, fragrance sprays, facial cleansers, and other products available to address their pet's specific needs," according to Brandly. 
"If in-store spa days would be challenging with social distancing needs, floor displays, endcaps, and shelf displays are also great ways to showcase products and highlight their key features and benefits."
The importance of selling beyond simply promoting spa products and providing solutions to pet parents is integral to success in this space. Opportunities to sell in the dog-spa products space include items that are used as preventative measures to problems, and those that provide solutions to skin and coat issues.  
"Retailers can experience incremental sales in this category by creating a new segmented non-medicated option for functional spa products," Gilcrest explains. "Natural and preventative is also a huge opportunity to feature brands and products that do more than just smell great or treat a symptom—like itchy skin. 
"Pet parents today want products that do it all—solve skin problems and create a great grooming experience."  PB