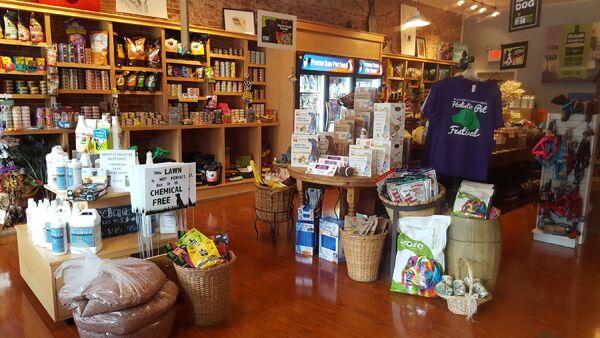 Tammi Janel's business started out small—so small, there wasn't even a store. Unable to find the food she wanted to feed her own pets nearby, Janel began bringing in dog food and distributing it from her basement, with one of her neighbors serving as her first customer.
"My store began in my basement," Janel says. "It grew through word of mouth for about four years, and then my basement was taken over by dog food."
Around the same time that her basement storage space reached its breaking point, an existing pet store in Janel's town of Morris, Ill., closed. She saw the opportunity to open up a real storefront and seized it, naming the shop Blackbird's Bowl after one of her German Shepherds.
Janel first got into the dog food business after spending years making her own homemade food for her dogs. Eventually, she discovered some ready-made mixes entering the market that would provide high-quality nutrition for her dogs without as much work on her part.
"I thought, this is amazing, but the problem was I had to drive for a solid 45 minutes to an hour to get the food," Janel says. "So I thought, 'Let me see what I can do as an entrepreneur.' People shouldn't have to drive an hour to get good quality dog food."
Soon after, she began distributing the food to others in her community, providing a good test run to see if her town would buy into more holistic options for their pets. It quickly became clear that there was plenty of interest, and Janel felt secure opening a bricks-and-mortar location with the knowledge that her existing customers would help provide a core clientele for the growing business.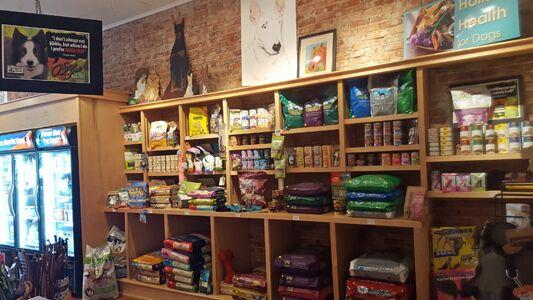 Blackbird's Bowl takes a natural and holistic approach to providing products and services for its customer, borne out of Janel's history with natural health in humans. She has been studying natural health for 22 years, and prior to opening the pet store, she owned and ran a progressive healing arts center. 
"Probably the reason that I started exploring the nutrition aspect more deeply with my dogs was because I had a very sick little cattle dog, and I'd never had a sick dog before," Janel says. "He was just really sickly, and I rescued him."
With her background in natural health and the inspiration drawn from this rescue dog, natural pet food was an easy fit for Janel. Now, she uses her personal experience to help build a solution-oriented selection for her store and provide consultations for pet owners who come in looking to address specific issues their pets have through a change in diet.
"I make it so that each food has a different purpose and serves a different type of situation. We have grain- and potato-free, grain-free and grain-based [diets]," Janel says. "I just feel like if I would feed it to my dog, then I feel pretty confident in it."
But what truly makes this store unique is the quality and passion behind its customer service, a feature that Janel thinks is sorely lacking in many retail environments today. 
"I do feel like customer service is a lost art," she says. "I think we've lost that as a society, and businesses have lost that art. As a customer, a lot of people feel like they don't deserve a high level of attention, and I feel like people do deserve it."
In Janel's mind, every customer should have a positive experience and feel like they've been well taken care of in her store, whether that's through a consultation about their pet, having their bags carried out to their car or individual attention while in the shop.
"We're going on five years now, and we still do all the free delivery that I started in my basement," she says. "People are coming in and spending money, and that's an incredible gift to me. The repayment is that they're not just getting a product, they're getting the whole experience—whatever that means for that person. It's about reading the customer. What is good service to them?"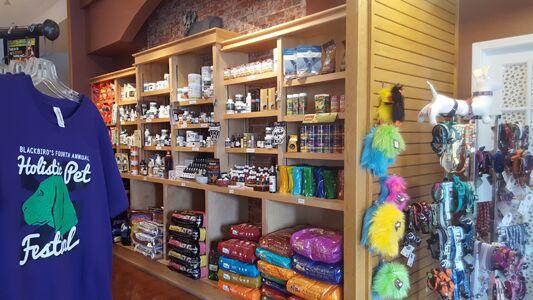 This attention to detail and care for each customer has helped her business continue to grow from its small beginnings. Janel soon found that demand for products had overwhelmed her original storefront, quickly outpacing its available storage and taking over the space she had hoped to designate for in-store workshops.
"We had more than 10 40-lb. bags that we had to store in our bathroom," she says. "I have freezers that had overflowed into the hallway."
Fortunately for Blackbird's Bowl, one of the neighboring businesses vacated its space, and Janel was able to knock out a wall and expand into that property, giving her more room for products and ample space for classes and activities. By a stroke of luck, the previous tenant had been a bakery, and Janel was able to purchase its equipment and start making her own all-natural dog biscuits and other treats in-house.
"All the dog cookies we make are wheat-free and all of the dyes that are used are plant-based dyes, made from things like red cabbage or spinach," she says. "We're the only ones doing that currently, that I know of. Everything is natural, down to the icing."
Janel's focus on natural and holistic goes well beyond just nutrition. Her store boasts an entire wall of supplements, including everything from basic digestive enzymes to a large selection of essential oils, which she has dubbed the apothecary wall. 
"I'm very proud of our specialty," she says. "We do special blends for people that have specific issues—we make our own relaxation sprays and things like that—which makes us pretty unique. It elevates the quality of the experience because of that different level of knowledge." 
Along with the baking equipment, Blackbird's Bowl's expansion has allowed Janel to introduce various classes and activities for customers and their pets, which she has scheduled into an extensive activity guide. The events range from joint care technique classes using essential oils, acupressure and massage, to complementary Reiki for pets and people, to samplings of the latest creations from the kitchen, like whipped banana goat milk parfaits or coconut turmeric biscuits. 
This year, Blackbird's Bowl also celebrated its Fourth Annual Holistic Pet Festival, an outdoor festival held in a town park featuring speakers and representatives from the brands in her store, along with fun activities for human attendees, like live music and face painting. She also hosts Art for Animals, a fundraiser for a local shelter, in the store.
"We transform the store after-hours into a pop-up art gallery and we have live jazz music and local artists donate pieces," she says. "We have cocktails and hors d'oeuvres, and everyone dresses up. It's one of my favorite things to do."
For Janel, the challenge going forward will be making sure that Blackbird's Bowl continues to stand out as a model of customer care and be a trusted source for pet products, especially in the face of growing competition in a relatively small market. She and her staff work to be as knowledgeable as possible and offer a level of service that she hopes makes a difference to customers who might otherwise be drawn by the one-stop-shop nature of her larger competitors.
"I hope that we keep growing, and I hope that we continue to be a really wonderful resource for the community," Janel says. "I want to be the store that people say 'I need to go to Blackbird's Bowl."
"I want our store to be known as a place to get something unique, not only boutique-y but in the form of wellness. They can come to the store and know they can get something substantial to make their lives and their pets' lives a little better."