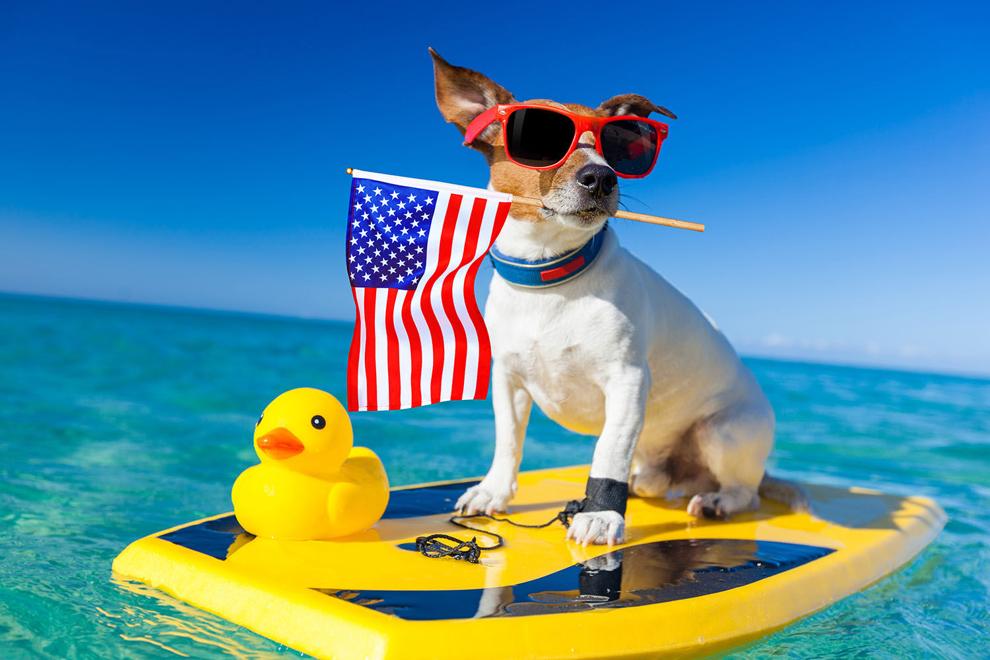 There's no denying the pull of Made in the USA—customers continue to show support for products that reflect their patriotism and support for the American economy. Some companies prioritize offering Made in the USA products, even if most of their lines are created elsewhere. 
P.L.A.Y. Pet Lifestyle and You has always focused on providing eco-friendly, premium pet bedding, toys and accessories for dogs and cats, along with outdoor/active lifestyle products and play accessories for pet owners. Although many of their products are made in the company's boutique factory overseas, they always wanted to offer U.S.-made items as a way to expand their offerings and better meet the needs of their diverse customer base, says Sarah Johnson, account manager at P.L.A.Y. Pet Lifestyle and You. 
Last spring they met this "long-time goal" with the launch of their line of ZoomieRex toys that are entirely sourced and manufactured domestically. The collection include the InfiniDisc, IncrediBall and Fantas Tug toys, each available in three colors and two sizes. The toys have proven so successful that P.L.A.Y is already working adding new ones to the line, says Johnson.
"Establishing production capability and expertise domestically can be a challenge initially as one learns to manage the complexity of domestic production," says Johnson. "In general [we] are very vertically integrated, giving us a lot of control over when we produce and receive our products, so working domestically has added another layer to this for us to adjust to for coordination and integration into our processes."
Adjusting to Change
Anytime sourcing and manufacturing operations change, there are headaches, but at the same time, there are definite advantages to keeping things onshore—which the pandemic and the resultant disruptions to the overseas supply chains has revealed. 
"The successes and benefits of Made in the USA far outweighs the challenges," says Eric Abbey, president and founder of Loving Pets. "Besides creating a greater economies of scale through direct delivery to distributors or retailers, with cost-savings passed onto our retail partners, our home-base manufacturing facility also means more attention to the products during the production cycle."
Employees stay intimately connected throughout, getting a "first-hand" look at what goes into the products, with the ingredients purchased directly from U.S.-based companies. This visibility and control allows staff to know where the products are coming from and where they're going, Abbey explains.
Founded in 2005, Loving Pets launched with a line of stainless steel pet bowls, dubbed Bella Bowls. Other products followed, including dog treats (over 70 lines), slow feeders, mats and accessories, chews, sticks and more. Included among the best-selling treats are ActivPetz, Deli-Licious, Natural Value, Ora-Bone and several others. All are U.S.-sourced and made (the only exception is a buffalo treat since this is not found in the U.S., which only offers bison, says Abbey).
In 2011 the company expanded its onsite treat production capabilities, and in 2020 added more treats to its collection. Abbey says he's "proud" not only to offer pet owners more options but to also support the local economy and provide more job opportunities—another plus that comes with domestically sourced/made products. Loving Pets also invested into achieving SQF Level 2 certification every year, which Abbey describes as "the gold standard in food safety and quality."
The pandemic didn't stop their sales momentum, says Abbey. 
"Many people adopted or purchased new pets during their extended time at home and those who already had pets are treating them more," he explains. "Pet parents and retailers alike continue to recognize the quality and value of U.S. sourcing and manufacturing for peace of mind."
Domestic manufacturers haven't entirely escaped the supply chain woes wrought by the pandemic—U.S. manufacturing and logistics have been impacted, says Kelley Bond, marketing manager for Boxiecat, a provider of clay and lightweight barley cat litter, litter extenders and related accessories. Still, compared to the delays and shipping issues experienced by companies relying on overseas manufacturing and sourcing, the impact hasn't been nearly as bad.
"From the beginning we've sourced and manufactured our products in the U.S., along with our packaging," she says. "This is important to the company because it allows us to maintain the highest level of quality control. Keeping shipping to a minimum helps assure our dust levels remain incredibly low. In addition, keeping the material and packaging in the U.S. has a positive impact on the environment since they don't have to travel as far."
Bond also touts the benefits of supporting U.S. job creation, adding that consumers see this as another domestic-manufacturing plus. The positive environmental impact is perceived as another upside.
"For example, our lightweight-litter product lines, Boxiecat Air and BoxiePro Air, are made from 100-percent U.S.-grown barley," she says. "Barley is an excellent cover crop that helps prevent soil erosion and is non-GMO. These are local issues that consumers take to heart."
Domestic manufacturing does have a cost however, namely in the form of greater production expenses, wages and overhead, which are typically higher compared to overseas, Bond explains, adding this can make it challenging to keep production price-competitive.
Even so, Bond feels the pandemic may spur more companies to pivot to U.S.-based sourcing and manufacturing. If so, this could result in more choices when it comes to packaging and materials, potentially lowering costs. 
Johnson also believes the pandemic may inspire more manufacturers to lessen their reliance on global manufacturing. The COVID-induced spike in the demand for U.S. products may also provide an incentive.
"There has been a bit of a surge during the pandemic for these products as consumers think about keeping people employed domestically during these uncertain times," Johnson explains. "It seems there has been some overwhelming demand on domestic manufacturers, but there has also been an increase for items coming from overseas. Still, those produced domestically have the benefit of faster turnaround and delivery times."
The Trust Factor
Increasingly, pet owners are sleuthing out ingredients and where and how they're sourced, says Jillian Smith, director of communications for Merrick Pet Care. The company provides natural and organic pet foods for dogs and cats, including a wide array of wet and dry foods, as well as treats. Included in the company's portfolio are brands like Castor & Pollux, Zuke's and Whole Earth Farms, as well as the signature Merrick brand.
Pet specialty retailers are also growing more mindful of sourcing, Smith continues, adding that all their products are sourced and made in the U.S., with the exception of those not readily and consistently available, such as the lamb they obtain from New Zealand.
"We've always sourced in the U.S.," she says. "When Garth Merrick founded our company, he established personal relationships with farmers and ranchers and focused on buying directly from partners we trust. 
"A great example of this is our relationship with the Barrett Produce Company, which is based in Muleshoe, Texas and is just down the road from our production facilities in Hereford," Smith continues. "We rely on the Barrett teams to grow the potatoes we hand-stuff in recipes like Pappy's Pot Roast Dinner in Gravy and Carver's Delight Dinner in Gravy. They also help us source fruits and vegetables like real, whole apples and carrots that we use in many of our other recipes."
There is a trust factor consumers have when it comes to U.S.-made products, say Dr. Bob and Susan Goldstein, owners/founders of Earth Animal. 
"Back in 2009, the melamine issue in pet foods, which caused the deaths of dogs, created an awareness and interest in where products are sourced and made," says Dr. Bob. "The deaths of hundreds of dogs inspired many pet parents and retailers to purchase 'Made in America' products. The trend is here to stay, now more than ever, due to sustainability factors, with regards to the global treatment of animals and the imprint on the environment."
Earth Animal offers products and consultive services for pet owners and independent retailers. Products include a variety of wholesome foods and supplements, such as the Dr. Bob's Wisdom Dog Food, the Daily Health Nuggets, No-Hide (a rawhide alternative), liquid herbal remedies and more. The majority of their products are U.S.-sourced. This helped them avoid many of the aggravations associated with the pandemic. 
"We've always sourced our ingredients from the U.S. as part of our mission to support the American economy and its workers," says Susan Goldstein. "Earth Animal's Dr. Bob Wisdom Dog Food (and soon to be, cat) is made in our own plant, so we are on top of the ingredient inventory. However, we have run into temporary inventory and production problems with other products manufactured for us, due to COVID shutdowns."
Dr. Bob and Susan hope that more companies will embrace domestic manufacturing. They're particularly cognizant of the "moral, ethical and environmental impact" considerations where it concerns the agricultural farming of animals. As such, securing an abundant supply of humanely and compassionately raised meat has proven challenging, why EAV is moving to offer alternatives to animal protein.
"It will take some time to convince everyone that this is the right and healthier thing to do," they say,"but we are rising to the occasion wholeheartedly." 
Selling USA-Made
Along with offering pet owners more options and appealing to those who prefer their purchases "Made in America," such products lend themselves well to a variety of merchandising strategies. Locating all U.S.-made products in one section of the store can be effective, says Susan Goldstein. 
Creating a specific display area to feature USA-made items is ideal for drawing attention to them," Johnson says. "Many [of these] products, ours included, have call-outs on the packaging for where they're made. But it can make a bigger impact to see them grouped together, especially for those customers who specifically look for U.S.-made products as this shows you're invested in the kind of assortment they're seeking."
Telling the company's story is also compelling and will help consumers forge a bond with that manufacturer, says Bond. For example, Merrick offers its retailers in Texas custom in-store signage ("Crafted in Hereford") touting the company's connection to Hereford. They also offer a range of slow-cooked BBQ wet recipes inspired by specific U.S. cities and regions. 
For its part, P.L.A.Y offers a four-sided, free-standing floor display designed to showcase its ZoomieRex toys that also has informative signage to help spark sales. Loving Pets also has an array of selling tools, such as special displays like clip strips or floor displays, along with sampling programs. 
Don't overlook the various patriotic holidays, like July 4th, President's Day, Memorial Day, Veteran's Day and so on; perfect times to showcase U.S.-made items in special displays.
It's also important to remember it's not simply a matter of offering any old U.S.-made product—quality counts, in some cases even more than the product's origin.
"There has always been a steady group of consumers who seek out U.S.-made products, and retailers who like to specifically focus on that category or highlight it with their assortment," says Johnson. "This will always be an important category to have as an option, since so many will make that selection when presented with it. 
"But we also see that many consumers and retailers are ultimately more concerned about how a product is made and the quality of design and components involved, along with other concerns, such as a brand's commitment to social and environmental responsibility," she continues. "While there's a notion that U.S.-made will cost more—which can certainly be the case—the main concerns we see for all products is that retailers and consumers want to know they offer the level of quality and value to match the price points."  PB