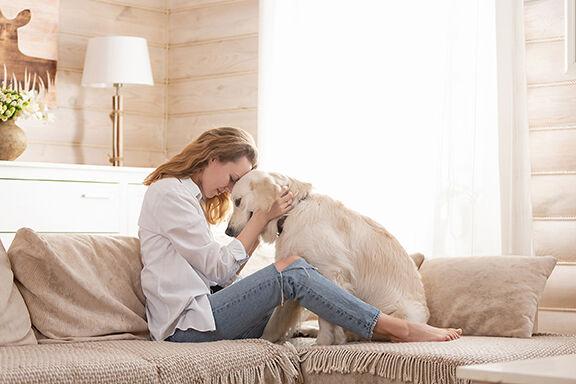 In summer, many state legislatures end their sessions, so with a brief break from the extremely active first half of the year, the Pet Industry Joint Advisory Council (PIJAC) is recapping our accomplishments on behalf of you—the responsible pet care community—from last year.
Facing the Pandemic
The greatest threat to our community in 2020 was the COVID-19 pandemic. PIJAC leveraged our strong relationships and influence with government bodies, trade groups and other priority organizations to stay on top of developments as they occurred to protect pets, pet owners and pet businesses. During these tumultuous times, collecting and sharing accurate information and taking swift action to mitigate threats was our highest priority. We:
•  LED a coalition effort that succeeded in getting pet businesses recognized as "essential" and exempt from pandemic closure mandates so that families had access to the pet care, products and services they needed to care for their animal companions. Over 1,000 members of the pet care community signed the open letter that we delivered to lawmakers nationwide well before most statewide closure mandates were issued.
• PARTNERED with pet trade organizations on pandemic public outreach campaigns to reassure pet owners, promote pet business safety practices, correct misinformation, and help people keep their pandemic pets. As pet owners are now adapting to a return to normal life, our infographic providing advice on pet challenges remains timely. You can download the resource at pijac.org/pandemicpets.
•  COLLECTED and shared information from the Centers for Disease Control and Prevention (CDC), government directives and business continuity resources to help pet businesses navigate and survive the COVID-19 crisis. We continue to stay informed through the zoonotic disease expert members on our Zoonosis Committee. 
Protecting Pets and Pet Ownership
Even though COVID-19 caused unprecedented challenges for your pet businesses, the other threats you face did not disappear. As the legislative and regulatory voice of the pet care community, we engaged with lawmakers and regulators at the federal, state and local levels. Among other efforts, we: 
• TRACKED and monitored over 1,500 pet-related government proposals, taking action on those that could be harmful—or helpful—to pet businesses.
• ADVOCATED with lawmakers for bills to safeguard animals and people from future zoonotic disease outbreaks, to protect pet ownership, to provide funding for service animals for veterans (PAWS Act), and to increase support for pets in classrooms (AEIOU Bill), among others.
•  CONNECTED the pet care community with federal lawmakers in a virtual DC fly-in to talk about the human-animal bond, animal import issues, and more.
PIJAC's work within the legislative system is part of our mission to promote animal well being and responsible pet ownership, foster environmental stewardship and ensure the availability of healthy pets. Our efforts in Hawaii and with the North American Bsal Task Force are prime examples of the three elements of our mission coming together as we:
•  WORKED to protect the aquatics hobby and livelihoods of Hawaiian fishers by producing two Environmental Impact Statements that demonstrated the data and science supporting renewed issuing of aquarium fishing licenses on Oahu and West Hawaii. In July, the Hawaii Board of Land and Natural Resources (BLNR) accepted the updated comprehensive and data-based West Hawaii Environmental Impact Statement (EIS) that PIJAC and a group of Hawaiian fishers dedicated to responsible collection prepared and submitted. The next step will be for the BLNR to use the EIS to make a decision on reviving ornamental fishing and issuing aquarium collector permits to the seven fishers so that they will be able to sustainably collect and trade limited species within the West Hawaii Regional Fishery Management Area. 
•  COLLABORATED with the North American Bsal Task Force to form a workgroup of researchers and pet care community members that is addressing this amphibian fungal pathogen threat by investigating viable options to help prevent its introduction to North America and protect native pets and wildlife.
PIJAC made sure the priorities of America's pet care community were recognized by lawmakers throughout the unprecedented challenges of 2020. But PIJAC's work is even more effective with YOUR involvement. Elected officials want to hear the voice of their constituents, to hear how their decisions impact the business owners and families that live in their communities. 
For your opportunity to virtually meet with elected officials, join us at our fourth annual D.C. Pet Care Community Fly-In on Wednesday, Oct. 20, 2021. You will be able to share who you are, what you do and how you are impacted by pet-related laws and regulations. Our column in September will be all about the fly-in. In the meantime, find out more at pijac.org/dcflyin.
To see these 2020 accomplishments in an infographic, go to pijac.org/join. It is imperative we remain vigilant against potentially harmful legislation and work to promote positive programs—and that is what PIJAC does for you. Please support PIJAC as we continue to protect and advance the priorities of the responsible pet care community. PB
Ally Brimmer is the marketing and communications coordinator for Pet Industry Joint Advisory Council.