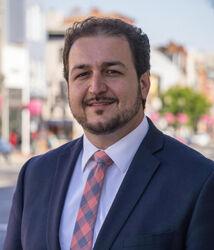 You may think of the Pet Industry Joint Advisory Council (PIJAC) as the advocacy and legislative arm of the responsible pet trade. We fight for good laws and regulations, and against bad ones. It's our way of ensuring that pet businesses can thrive. 
But, thanks to our member-led committees, industry coalitions and public-private partnerships, PIJAC does much more than just talk to politicians. Our alliances are dynamically changing how the industry, the public and lawmakers promote responsible pet ownership, address zoonotic diseases, and develop and disseminate best practices and standards of care. 
Committees at Work
PIJAC's committees are made up of industry executives and other leaders who advise PIJAC on the best courses of action for herptile, aquatic, zoonoses, government affairs and small animal care issues. Any PIJAC member may be considered for committee membership. Additionally, we regularly invite representatives from partner organizations to join our committees to provide their relevant expertise and insight.
Our Zoonoses Committee is the industry's connection with the broader animal health community when it comes to zoonotic disease identification and prevention. The committee issues industry Health Alerts as part of our memorandum of agreement with the Centers for Disease Control and Prevention (CDC) when outbreaks occur. The CDC has been eager to strengthen its relationship with the industry and invited spokespersons to Atlanta to discuss how the industry and the government can prevent zoonoses issues. 
The Committee also independently published a Zoonotic Disease Prevention Series for retailers. 
The PIJAC Herptile Committee is continuing to prioritize lawmaker outreach in jurisdictions addressing invasive species and exotic animal ownership. Additionally, the committee approved PIJAC's first-ever sponsorship of top-level events surrounding National Invasive Species Awareness Week in late February and early March. 
The Small Animal Care Committee is building on its first-in-the-industry care standards program by disseminating breeder and distributor guidelines to those who supply small animals to the trade. Hard copies of these voluntary small animal care standards–which cover sanitation, shipping standards, handling and more—are currently in the hands of more than 100 breeders and distributors.  
The Aquatics Committee has commissioned an innovative study on testing for cyanide in wild-caught ornamental fish, which will enable us to more effectively prevent these fish from entering the market. The committee also authorized a memorandum of agreement to be signed between PIJAC and the Hawaii Fishermen's Alliance for Conservation and Tradition—the state's food fishery trade association—to improve representation of fishers throughout the state.
All of these committees advise PIJAC's Government Affairs Committee on relevant issues which, in turn, weighs in on best public policies for the industry. This committee gives PIJAC policy guidelines and provides feedback on priority issues so that we can best represent to lawmakers your commitment to animal care. 
Regulators Want to Hear From You
Contrary to negative public perception, federal agencies frequently want to work with the industry. The Fish & Wildlife Services (FWS), for example, is working with industry invasive species leaders on a significant update to the Habitattitude website. This powerful tool will once again help pet owners recognize how they can prevent their pets from becoming invasive species. FWS officials also expressed interest in finding greater opportunities to meet with and better understand the industry. 
Likewise, the CDC is engaging in serious conversations about how the industry can continue to mitigate the impact of future outbreaks. One important topic is antibacterial stewardship throughout the pet care community. The CDC also cited PIJAC's work in a widely read enewsletter discussing how to be a responsible pet owner. 
The breeder community continues to work with the U.S. Department of Agriculture (USDA) on its policies, including several proposals circulated for public commentary in recent months. Last year, USDA's Deputy Administrator for Animal Care, Bernadette Juarez, joined us at Global Pet Expo for a tour of the exhibition floor and a town hall discussion hosted by the American Pet Products Association. 
We also work with international regulatory agencies and public-private partnerships such as CITES, the Convention on International Trade in Endangered Species. In February, we participated in a Tarantula Trinational Trade and Enforcement Workshop in Mexico. The workshop gathered stakeholders, regulators, law enforcement officers and others from across North America to strengthen collaboration for the sustainable trade of 16 trinationally-agreed tarantula species.
No single person or entity is responsible for ensuring the future of the responsible pet trade. PIJAC relies on our members, partners and alliances so that we can do our part. We look forward to working with you on zoonotic, best practice and responsible animal ownership issues, as well as legislation and regulations across the country.  
Mike Bober is president of the Pet Industry Joint Advisory Council (PIJAC).