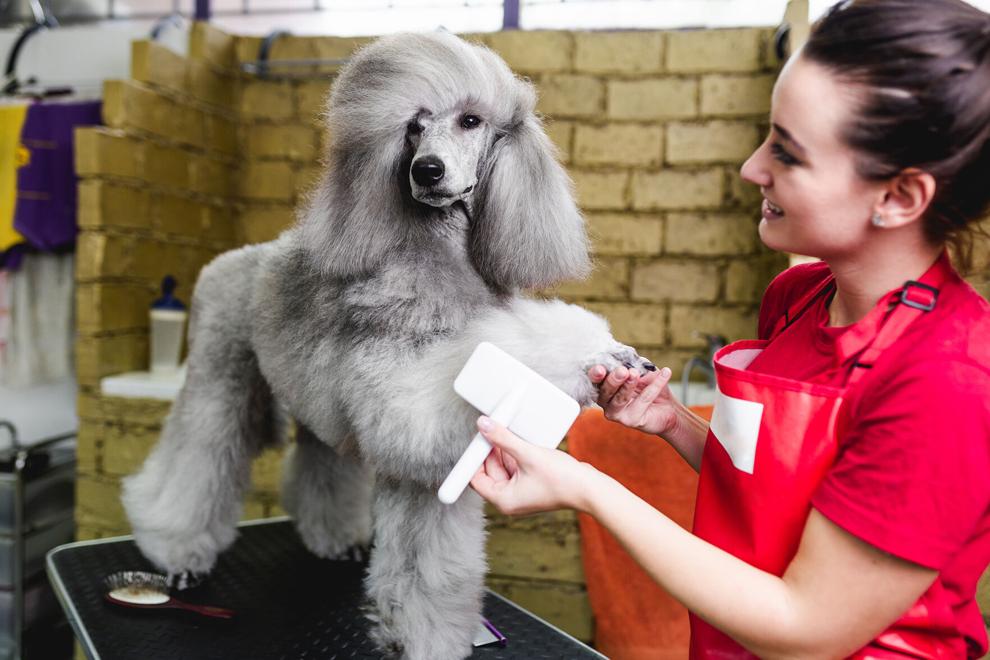 Grooming contests have been relatively the same for many years, but all of that is changing as online grooming webinars and competitions are filling the void created by all of the canceled trade shows this year. In fact, one of the first online grooming contests took place at Groom Expo 2020 just last month.
Without the travel, there are a few aspects of competitive grooming that have changed—there's no need to keep a stockpile of supplies ready-to-go in a toolbox or spend money on hotel rooms. However, despite the shift in mediums, there are many things that have remained the same, such as contest dog preparation, understanding canine structure and the breed standard of the dog you're grooming, and a willingness to go the extra mile to find the perfect dogs upon which to execute these ideals.
Finding Pups to Groom
The two biggest factors in finding contest dogs are training and coat care. In terms of training, you need to find a well-behaved dog that's easy to condition and has a good temperment. There are a few factors to consider here—will the dog be a good traveler? Is it typically quiet in the shop? Would it be OK with long hours in the crate during a competition? Is it clean? Housebroken? Does the dog stand well on the table? Is it easy to handle? Good with strangers? Healthy? A picky eater with an irritable bowel?
If you're lucky and have a client that's competition-worthy, you can offer free baths between regular appointments and a free groom on contest weekends. I've also maintained breeders' show dogs pro-bono with the option to use them when needed, which worked out well because I had quality dogs whose conditioning was fully under my control.
Pandemic or not, determining the number of contest dogs needed is always a challenge. Consider:
• How many contests do you want to compete in yearly?
• When are those events?
• How many weeks are between each show?
In most contests, you need a minimum of six weeks coat growth, starting from the ideal profile or finished groom. It's important to have a minimum of two sets of contest dogs, in case of back-to-back shows. Next, you need to decide how many classes you'll compete in at each show. Every show is different, so make sure to read the rules of each one.
You should plan on bringing at least four to five different breeds to each show—a Poodle, a sporting dog, a purebred, a wire-haired terrier and a mixed breed would be a good start. Check the schedule and make sure there's no conflict in the contest timing and the dog needed. There are some grooming shows that run two contests at the same time and in the same ring, because of timing. This could obviously limit how many dogs you can do. Always check for special contests, as you may be able to enter another class or two, in addition to your regular classes. Online contests seem to be set up the same way.
When it comes to caring for a competition dog's coat, there's no time off, short cuts or excuses if you want to compete at top levels. An extra couple days between maintenance baths can spell disaster for the pup's perfect coat—if you have to de-mat, you might not get the perfection back. You must stay on top of it, watching for parasites, skin irregularities, weight changes and coat changes, and never skipping/missing a bath. I would bathe my contest dogs every two weeks and groom them every six weeks.
Let me put it to you this way: a missed appointment could quite easily mean the difference between winning and losing.
Knowing the Breeds
When I first began grooming, the industry was starting to focus on grooming to the standard of the breed, complementing the structure and hiding the faults. Luckily, this came natural to me because of my experience in the dog show arena. I was able to combine my focus of every hair in place from the salon and knowledge of conditioning coats with the creation of breed profiles on my show dogs.
There are many ways to obtain breed knowledge, such as assisting a dog show handler or a breeder that shows the breed you'd like to compete on. This option is a great way to learn the ins and outs of the breed, as it gives you the type of details that will put you at the top of your game. It's hard work and there'll be a lot of menial chores, but it's all worthwhile.
Another thing to consider is buying a show prospect, conditioning its coat for show and even taking a chance on showing it. You could also develop a relationship with breeders and maintain show dogs for them, or call an A division top-winning grooming and volunteer to assist them.
Even if you choose not to compete, you'll learn things that will improve your pet grooming skills—your speed will increase, you'll become more knowledgeable about grooming techniques and it'll strengthen your communication skills with customers.
There are a few schools that offer advance sessions and a select few seminars that provide hands-on workshops with top winning competitors, but all these options require travel. Throughout the COVID-19 pandemic, I started attending Zoom sessions with a couple competitive groomers, where I watched as they groomed various dogs in their salon and critiqued them as necessary.
A Judge's Perspective
I've personally been judging grooming contests for over 20 years, and many of my judging colleagues feel the same about the following standards as I do. The first thing I look at it overall or three-dimensional balance and symmetry—I want legs the same size from front-to-rear and leg-to-leg. When it's the breed standard, I like legs straight and parallel when viewed from the front and the rear, but if something different is described, you need to follow it.
I focus on making sure the top line matches the breed standard. If it does not, I try to find how the groomer covered the fault and created the ideal profile for the breed. It's not easy, but when the profile's well-executed, it helps me make my first cut.
The next thing revolves around the head shape and whether or not the competing groomer accentuated the expression and good qualities while hiding the faults. Then, I'll jump in and start combing. I like to use the wide end of the comb and lift in gentle, long, smooth strokes upward and then shake the coat out, seeing if the hair falls back into place.
When I'm getting down to a handful of finalists, I take into consideration which dog would take more time to fix or if I'd allow that dog to leave my grooming salon without any tweaking. If I were to ever get stuck between two dogs of the same caliber, then I'd select the groomer who executed the trim with more technical techniques or which one has more hair, but that rarely happens.
When time is called, you can help yourself by cleaning your table and your set-up (many competitors like to have an antifatigue mat for dogs to stand on with good grip) and stack the dog for the judges, not letting up until the judge tells you to relax. Keep your eyes on the judge at all times, so if they look across the room to do a quick assessment against another dog, you're already working it.
Contest Particulars
With the movement to online grooming contests, some of the rules have changed. For Barkleigh online grooming contests, this includes:
• Prep work—nails trimmed, pads clipped, sanitary trim done in accordance to breed standard, ears cleaned and freshly bathed, brushed and blow-dried—must be done before the start of a competition.
• A poodle's feet can be clipped, banding and wiggies can be done ahead of time for spray ups, but the spray ups must be completed in ring.
• Terrier heads should not be excessively styled and teased prior to start of the contest.
• You must hand-strip and card according to the breed standard if you are in open or intermediate division, and may also clip areas that are permitted within the breed standard. Entry division may clipper, but degree of difficulty and technical skills are considered when making final decisions.
The online contests are still asking for sufficient coat to make a distinct difference in the final product of the groom. Additionally, always arrive to check-in early so you can make sure you're set up and have your device open to the web program.
Particulars aside, rules that everyone must follow include:
• Never leave a dog on the table unattended.
• No using visual aids, outside coaching or rough handling.
• All classes—no matter the breed or size—have 2 hours' time.
• There will be no styling or excessive use of products after time is called. You may use curling irons and dryers during the contest, providing you can do so safely.
• Only salon freestyle may add a touch of color, bows, extensions or feathers as accent pieces to their grooms.
• Abstract runway, up-and-coming creative and open creative should be pre-groomed.
Best in Show (BIS) is very specific—first-place competitors from all divisions are eligible for BIS, but there's no re-grooming of the dog. You may re-bathe, blow out or apply product to freshen the groom, but you may not scissor, pluck, card or pull. You must also be present with your dog to be considered for BIS.
Division eligibility is as follows:
A. OPEN—Open to all competitors, and recommended for groomers with advanced styling skills, previous successful competition experience and professional conformation show exhibitors and/or certifiers with expert styling skills.
B. INTERMEDIATE—Restricted to competitors who have not won two BIS or two Best All Around groomer titles, from intermediate division at any show; OR three group placements from any tiered show; OR three first placements from inter-mediate division at any show. Recommended for groomers with intermediate styling skills or conformation dog show exhibitors and/or certifiers and instructors with intermediate styling skills.
C. ENTRY—Restricted to competitors who have not won a Best in Show or Best All Around title from any division at any show; OR three first placements from entry division at any show; OR one group placement from any tiered show. Recommended for groomers who have never competed and/or possess novice grooming skills. Conformation dog show exhibitors, owners, breeders, handlers who have finished a champion and/or certifiers and grooming instructors are not permitted to compete in the Entry Division.
This article is to help you prepare. I believe the competition experience is a great one, if you remember a few sportsmanship rules: thank your sponsors and show promoters, and don't forget to get your critique from your judge. This is a great way to learn. You can do it!  PB
Chris Pawlosky is a Certified Master Groomer, professional handler, breeder, grooming show judge and successful pet store and grooming shop owner (The Pet Connection) since 1985. For 20 years, she served as national training manager for Oster Professional Products, where she developed new initiative educational material to educate at schools and conventions all over the world. Pawlosky is currently working with Judy Hudson to produce the Grooming Professors—a service through which the two industry veterans share their many years of grooming, competing, dog show conditioning and handling with groomers across the country via Facebook and through an interactive website where visitors can access webcasts and videos about everything grooming related.