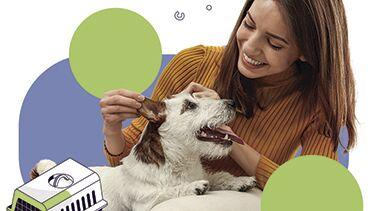 Tell us about DaySmart Pet software. How does the company help drive success for pet businesses?  DaySmart Pet provides business management software specifically for pet care businesses. Through our online booking tool and digital appointment book, businesses can maximize reservations, get new clients in the door, and increase their revenue. This is especially helpful for businesses that are making the switch from pen and paper, as DaySmart Pet automates the scheduling process and allows their books to remain open 24/7. 
By managing all aspects of their business within one platform, our customers are able to streamline workflows and eliminate the chaos that's often associated with the check-in and check-out processes. In addition to helping our customers simplify their day-to-day, we're also committed to supporting the growth of their business through features that optimize the client experience, such as two-way texting, marketing templates, and integrated payment processing.
What types of businesses is DaySmart Pet designed for? What makes it better than other software available? DaySmart Pet is designed to help grooming, daycare, and boarding facilities efficiently grow and manage their business. We've been serving the pet care industry since 2005, and our platform is constantly evolving to meet the unique needs of these businesses. Our user-friendly interface and simple navigation ensures that staff—whether new or seasoned—are able to easily use the platform on a daily basis for scheduling, reporting, marketing, payments, and more.
How does DaySmart Pet ensure success for their customers during the onboarding process and beyond? What types of training and support do you offer? Once a new customer signs up with DaySmart Pet, we provide training to ensure they're set up for success and know how to use the platform to its full potential. After the onboarding process is complete, customers can contact our support team, via phone, email and live chat, with any questions they may have. We also provide an online knowledge base with helpful training videos and answers to FAQs. In addition to daily business management, we offer industry-related resources to help business owners expand their growth.
What are some common mistakes that pet businesses make when choosing and/or incorporating business management software? How can they avoid or recover from these mistakes? When it comes to choosing the best software application for a pet care business, a healthy combination of research and demos or free trials is key. While research is an important first step, business owners will want to make sure they're not buying 100 percent on recommendation. After compiling a list of software applications that look like they'd be a good fit, scheduling demos and free trials will help business owners see the platforms in action and determine which one makes the most sense for their needs. 
Another thing to consider is whether the software is scalable or not. Business owners will want to make sure they're choosing a platform that's able to grow alongside them in the future. Finally, once the software has been implemented, business owners will want to make sure they're not underutilizing the features.
The company rebranded from 123Pet Software to DaySmart Pet in late 2021. What inspired the change? What did the rebranding involve? Despite DaySmart's evolution over the last 22 years to serve new industries, one thing has remained the same—our commitment to our customers' growth and success. With this update, DaySmart's branding now reflects where the company is today and its mission of providing small and midsized business owners with the support and purpose-built solutions that will make doing business easier than ever before. The rebranding involved a new logo, look and website for DaySmart Pet, and it signifies our commitment to providing the pet care community with a best-in-class solution to help our customers efficiently grow and manage their business. 
What does the future hold for DaySmart Pet? With our most recent launch of Boarding by DaySmart Pet, we now have a true one-stop-shop for pet care businesses looking to streamline their operations—whether they offer grooming, daycare, boarding, or any combination of the three. We are excited to continue to invest in the DaySmart Pet platform through new features and partnerships that cater to the evolving needs of our customers. To learn more about DaySmart Pet, visit www.daysmartpet.com.