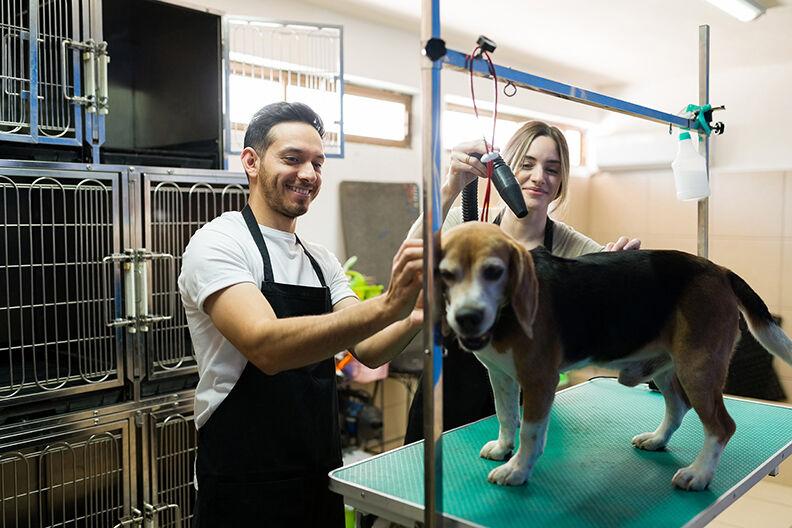 Managing a grooming salon is a balancing act like many other small businesses. Finding the right mix of communication, education, products, tools, employees and then add the customer is quite the challenge.
Small problems can quickly escalate into big problems if you fail to address them immediately. The last thing you want are unhappy groomers that can make you and other team members and customers feel uncomfortable. So, rather than take the risk of a major blowout, try to prevent it from happening in the first place.
Communication is Key
Communication is critical and should be a priority when managing your grooming salon. There is never a lack of dialogue in a grooming salon between customers and stylists. All this chit chat is part of the atmosphere at the salon, but if you can standardize as much regular communication for your staff, it will help minimize misunderstandings. 
In my salon, I share these communications in my policies and procedures, and they're always changing based on customer and pet stylist behaviors. As an example, I recently made the decision to start having habitual no show clients and new customers pay in advance when scheduling appointments. It is a big change in the way we do business, so sharing the verbiage was helpful.
Of course, a challenge in communication is resolving conflicts. To learn how to address these situations, I listen to and read a ton of business management books. If any employees have an issue with another staff member, a product line, or how the grooming salon operates, a good conversation can usually clear the air. 
Regular staff meetings are a great way to talk about some of the less urgent matters and serve as a platform for employees to ask questions and address their concerns. Order some food, drinks, but not more than that because you still want to have a productive meeting. You can reveal monthly highlights, such as who showed outstanding pet care service. You can even give out a small prize to the pet stylist highlighted.        
Building a strong team is also about communication and team-building activities. While holding meetings, organize some team building activities outside the confines of your shop. It can help boost morale and in turn your bottom line too. For a team-building exercise, you can bring in someone who specializes in a breed the team would like to learn about, a product representative or even have a professional team builder present. You may also want to consider having the team attend a conference or workshop. 
Getting the Right Staff on Board
When it comes to team building, there is also something to be said for hiring the right people. Hiring for a service position, especially in the pet grooming industry, is more personal because the services employees provide are much more personal. Not only do you want to do standard background and reference checks, but you want to approach the hiring process as an extended tryout. 
While some applicants look great on paper, they may not fit in with the salon or have the skill set you are looking for. The groomers who don't look so great on paper are your missing link. Have an open mind and try to read between the lines during the resume gathering phase. If you're unsure, a quick phone interview is a great way to screen potential candidates. Have your questions ready or use a survey or questionnaire off the internet. 
For those that pass a phone screen, bring them in for an in-person interview and have them execute a couple of grooms. I like to see a couple pure breed profile trims and a mix breed trim. If you're satisfied with the results, hash out a schedule and bring them back on trial basis to get a real feel for their professional techniques and people skills to determine if they are a good fit for the long-term goals of your business.  
Also, don't be afraid to take a chance on a new grooming school graduate. It's the perfect catch twenty-two, "how can one gain experience if one is not given the opportunity?" While school and formal training are good, real-life experience is what's going to make them great. You get to help mold them before bad habits are formed. 
Keeping Clean and Staying Calm 
Of course, after ensuring that the right grooming team is on board, maintaining a clean appearance is also essential to a grooming salon's success as it's a reflection of your management style. When customers first set foot through your doors, your shop's tidiness plays a significant role in their first impression. I find it is one of the hardest parts due to the dirty nature of pet grooming. To avoid the salon from turning into a hairy mess, outline cleaning procedures. Divide them up and make sure they are completed on a daily, weekly and monthly basis. Assign tasks fairly to each groomer and stress the importance of maintaining a clean environment. 
Now, pet stylists are a notoriously rowdy group. Opinionated, creative and independent — we can be tough to manage at times. I've worked in grooming salons that ruled with an iron fist, in others that let you come and go as you please, and I try hard to balance between the two styles.
As a grooming salon owner, you are the heart and soul of the salons operations. Be prepared to deal with all things good and bad when it comes to managing your team and the clients they care for. You'll be dealing with client questions and complaints, managing product orders and sales, and most likely taking on the role of an HR person while you're at it. It is a huge responsibility! It's also a fun, fast-paced job where you'll be interacting with plenty of colorful and creative individuals.
When managing a grooming salon, it's a great idea to keep in mind that this is not a corporate environment. In my experience, the owners that have the toughest time managing their business were the ones that could not quite grasp this industry. Groomers like freedom, and implementing corporate management habits in the salon can spell big problems. 
The worst place to be as a grooming salon owner is to have your staff turn against you. You don't want to get too close to your groomers because it might make it harder to discipline them if it ever comes down to that. A successful salon owner will find a balance between the two. I will admit that my staff are like family, which makes it very hard for me to discipline them when needed. 
Setting Up a Schedule
One of the biggest issues salon management faces is how to use time as effectively as possible. When I started grooming, I wanted to be successful and grow the salon I worked at. So, slipping out of work early for no good reason was never an option. I realized that my team will sometimes use a sneaky time management trick called booking an imaginary pet. They would use it to fill a late booking so they could go home an hour earlier. Time is money—don't be fooled into thinking you sell grooming, because you're really selling time. Being smart with your time management and scheduling should be a key area of focus for you as a business owner, because failing to do so can cost you a lot.  
An easy fix is to find the gaps in the schedule. Take a few minutes every few days to surf your appointment calendar and find the gaps between bookings. Call clients from your wait list or from later appointment dates.  Ask if they would like to move their appointment up. It'll feel like a big job to start with, but you'll soon get better at making appointments.
Fill your team in on the math. Give them their own production or financial targets. It'll be much easier to manage appointment times if you can get buy-in from the whole team. Most team members will want to work smarter-per-hour rather than harder-for-longer, especially if they feel the reward in their pocket.
Iron out your schedule by streamlining your services and appointment times for all your service types. It can be quite simple to make everything run efficiently. Implementing time management structures like this in your business can take time, and you will need to think of some processes you can put in place to support the change. It may be difficult at first, but it will certainly be worth it. Making these small adjustments to your business could add thousands of dollars per groomer to your sales income. 
You could use this money to hire someone in a salon support role to help care for clients, stay on top of housekeeping, answer the phone and care for customers. They can be the ones who are in charge of making everything run smoothly. 
There is also so much time to save using a point-of-sale system. Having the ability to text people rather than call back every message is so helpful after a long day. Some grooming salons are even using online booking. I am not that brave yet, but after COVID it is now the norm for many businesses. For mobile groomers, the system helps with routing and keeps you grooming. Most software has a connection to accounting software. All this helps streamline business processes so you can spend less time buried in paperwork. There are companies like DaySmart Software that specializes in providing scheduling and business management solutions to businesses all over the world. Their system is used by hair salons, spas, pet grooming and tattoo parlors.
Managing your client and team expectations around your available appointment times can be tricky while you listen to their stories of why those bookings must be on their terms. Politely taking back control of your appointment calendar is a process that you should not expect to nail overnight. Streamlining the way you do things is best planned and prepared ahead of time. Progress slowly but steadily. Do not try to change everything at once. 
Make your change process a long-term project and start with changing one thing at a time. Focus on some speed and efficiency training for any team members who need it. Help each other with time management. Remember that not only is there a lot to gain by being more efficient, but clients will also love you for it. The biggest complaint about pet grooming is it takes too long. Time is precious for everyone in the modern world; it's the one thing you cannot make more of.  PB
Chris Pawlosky is a Certified Master Groomer, professional handler, breeder, grooming show judge and successful pet store and grooming shop owner (The Pet Connection) since 1985. For 20 years, she served as national training manager for Oster Professional Products, where she developed new initiative educational material to educate at schools and conventions all over the world. Pawlosky is currently working with Judy Hudson to produce the Grooming Professors—a service through which the two industry veterans share their many years of grooming, competing, dog show conditioning and handling with groomers across the country via Facebook and through an interactive website where visitors can access webcasts and videos about everything grooming related.