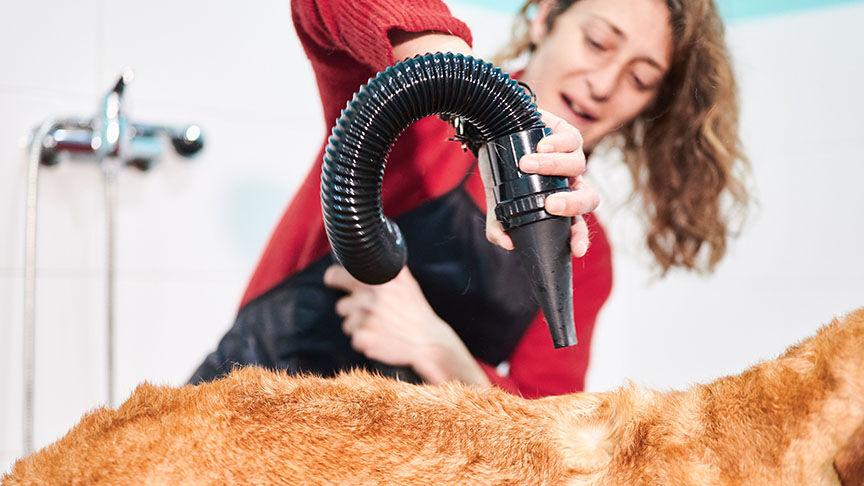 I've been grooming since 1982, and there have been a lot of changes in the tools and equipment available to us since then. In the last few decades, I've gone from using a powerful but heavy and slow clipper to ones that weigh practically nothing and are blindingly fast, leaving little or no clipper tracks when well maintained. After discovering vacuum systems for clippers, I doubt I'd ever go back to not using one. Don't get me started on bathing systems—the time I've saved using them is amazing. 
What equipment, tools and other products we choose to use can have a huge impact on many aspects of our grooming lives—from our health and safety to the quality of our finished product and how much profit we make. I love learning about what equipment and tools other groomers like to use, and tips and tricks for best utilizing them, so I'm passing a few on.
Underrated Grooming Tools
Some of the most interesting tips involve using equipment in ways the manufacturer may not have intended. As an example, I love a Happy Hoodie for many dogs. Designed to help dry thick ear leathers more quickly, the Happy Hoodie also muffles sounds that may cause dogs stress.  A second bonus is that since many dogs may fidget when getting their nails done, this product can provide enough distraction (or maybe it's a feeling of reassurance) that their behavior improves tremendously. 
Simple items, such as the Happy Hoodie, can make a huge difference. I've heard more than one groomer refer to Artero's absorbent towels as a game changer because of how much they sped up the drying process. Some groomers use an old #30 blade held in the hand as a carding tool on some coats – who knew that something you might otherwise throw out could have value in your salon?
Finding Alternative Uses for Classic Products
Of course, every groomer has a tool or two that they just wouldn't want to groom without. Most groomers couldn't live without one of the following: a clipper vacuum system, a bathing system, high velocity dryers, and electric tables – especially ones that go nearly all the way to the floor for those that groom large breeds. If you aren't grooming with all of those, look into the ones you are missing out on!
Of course, some of these products can have uses groomers may not realize. As an example, most groomers are familiar with the Groomer's Helper for dealing with dogs that don't want to sit all the time, spin or bite. According to Ed Berger, chief executive officer for Groomer's Helper, not only can the grooming loop on the second Groomers Helper be opened and wrapped around the hind-quarters so they are restrained at both ends, but "the truly creative use of the extra Groomers Helper and side arm is that you can actually tri-tie the dog to do fully controlled top knots, beards, face work, front nails and chest dematting.  
"Just slide the one side arm with the Groomers Helper on it up closer to the front corner of your table and secure the tether from that Groomers Helper to the same D-ring that the tether from the front arm Groomers Helper is attached to," says Berger. "You then have them restrained from both sides and above, and life as a groomer becomes much easier and safer." 
Another less well-known use for this popular product involves using the tether on the Groomer's Helper Starter as a quick muzzle; placing the clasp on the grooming arm above the dog's head, put his snout between the two ropes on the tether and use your index finger to tighten to keep the mouth closed while you work around the face. 
"By giving the groomer both hands to work with, and control over the dog's bite radius, stylists do better work and do more dogs every single day," says Berger. 
Ensuring Safety
While it's important to have access to the tools necessary to complete a groom, and to understand all of the different ways these products can be beneficial in a salon, it's critical to take safety into consideration as well. 
Groomer's Helper is invested in helping to keep groomers safe in many ways, such as providing groomers with a Panic Snap. This product gives groomers the ability to easily adjust the length of their loop so they never need to stop and adjust the height of their grooming arm. Anyone that's ever had a dog go off a table, or just pull back in panic and not stop pulling on the loop, will appreciate this item. It's an inexpensive and underrated safety item—I don't groom without one. 
To keep everyone in a salon safe and healthy, it's imperative that grooming salons keep surfaces clean. Tool Klean, manufacturer of UVC (Ultraviolet-C) light sanitizers designed to kill harmful surface and air-borne pathogens, offers a number of sanitizers for surface and full room sanitizing, but its UV Light Oven Pro is popular with groomers and veterinarians. It uses UVC light, has no heat and has been tested and proven to kill 99.99 percent of disease-causing germs with just ultraviolet light. Combs, brushes, blades, grooming loops, nail trimmers and collars are all in need of sanitizing, but there are many everyday items you might not have thought of – cell phones, glasses, makeup, jewelry, watches, earbuds, keys, toothbrushes, even shoes, as well as other objects that attract bacteria, viruses and fungus. 
"The items you haven't thought to put in our UV Oven Pro, are the only ones that the Oven Pro can't sanitize," says Lynne Allen, owner of ToolKlean. 
The Evolution of Essentials
Ultimately, grooming equipment evolves depending in part on what groomers want. Manufacturers are consistently looking into new ways to make life easier for groomers. For instance, Wahl was one of the first clipper manufacturers to answer groomers' need for lighter weight, more ergonomically correct equipment. 
All the major manufacturers realized the trend towards faster, lighter weight clippers, but Wahl provided the battery driven Arco with an adjustable five-in-one blade. The five-in-one blade has sizes #9, #10, #15, #30 and #40 all in one blade, adjustable with the push of a lever. Multiple Wahl clippers now accept that blade, which comes in different finishes and styles. 
These small clippers have their own snap on combs to fit them, designed to be used on the #30 setting. Groomers quickly realized that these smaller clippers, that were easier on their hands and easier to handle, were also powerful enough to do complete grooms on many small to medium dogs, and started using them as their main clippers. It's fair to say that overall those five-in-one blade smaller trimmers revolutionized our industry – and did a lot to help save our hands. 
As another example, most of us wouldn't groom without our hi velocity or "force" dryers. Most of us have lost or discarded many of the multiple attachments that come with some force dryers and just used the standard nozzle that produces the most powerful air stream; however, those other shapes have important uses too. 
Double K developed an "Airgonomic Nozzle System" for its force dryers that includes a slide on handle, which remains at room temperature and provides extra control. The system reduces nozzle body temperature by about 20°. The nozzle tips, which allow high velocity, super high velocity and the "air sweep" pattern, are snapped on and removed easily. I didn't learn for many years that those wide, flat nozzles were meant to dry long coats without the type of air stream that makes the long narrow nozzles cause so many tangles on long hair. 
We all have our favorite tools, equipment and products to use, but make sure to stay open to other possibilities. There's a world of good options out there for groomers today, so take advantage of them. Read trade magazines, advertisements, groomers groups online, go to trade shows (hooray for being able to go again!) and ask other groomers what they use. It might be your next best purchase and new favorite.  PB
Carol Visser has been involved in the pet industry since 1982 in various capacities, including grooming in and owning a busy suburban shop, working as a product expert for PetEdge, teaching seminars and training dogs. She certified as a Master Groomer with NDGAA in 1990 and as a Certified Pet Dog Trainer in 2007, and she continues to enjoy learning about dogs and grooming at her small salon in rural Maine.