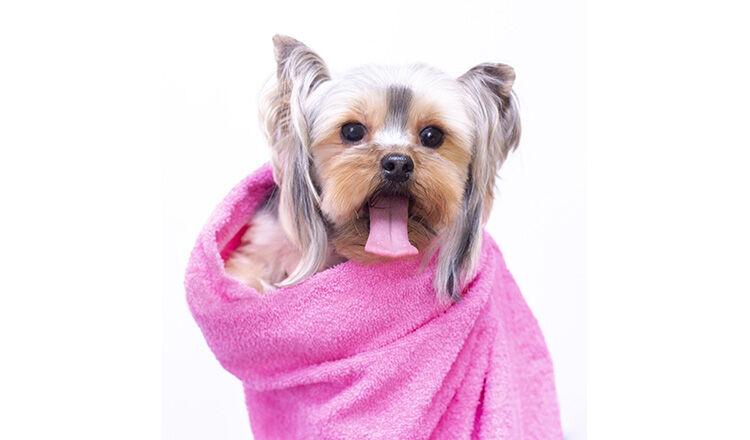 As the demand for mobile grooming has increased, so has its overall popularity. Of course, mobile grooming is a lot like grooming in a salon, but with some notable differences. For instance, scheduling is important for any grooming, but it's critical for mobile groomers. Too many miles driven in a day not only wastes fuel but time. In some cases, mobile groomers may not make a good enough profit to cover the expenses that come with a long day. A mobile groomer can succeed or fail depending on how efficiently they schedule and route customers. 
I consulted a number of experts on the subjects of mapping out routes and scheduling, and they all agreed that crucial steps to ensuring efficient scheduling include selecting your locations, frequency of appointments and how you handle interactions about scheduling with clients or prospective clients. 
Location, Location, Location
When creating a schedule, groomers need to zero in on the areas they want to service. Curtis Hanvey, founder of Hanvey Engineering, which produces specialty grooming equipment and mobile grooming vans, recommends focusing on a very tight geographic area right from the beginning. Rather than looking at a city to serve, look at neighborhoods. 
"One of the biggest errors that groomers make is to get their van and then advertise broadly," says Hanvey. "Then they have to service all those areas." 
He suggests marketing your business to a much smaller area to make more money, especially if you choose your areas carefully. How narrowly focused your area can be will depend, in part, on whether you are in an urban, suburban or rural area. You might decide to do neighborhoods, or towns, but stick to what you pick. 
"Five to 10 miles is the normal radius for a mobile to travel in a metropolitan area. For a more rural area, the service area will have to be larger," says John Stockman, national sales manager at Wag'n Tails Mobile Conversions. 
Demographics are also important. For example, Hanvey believes that neighborhoods with two income households are ideal, even over areas of higher incomes. Since two wage earners have a greater chance of being away from the home during the day, making it harder for them to visit a grooming salon, these are the clients that could use mobile grooming services the most. 
To attract these clients, it's important for mobile groomers to put themselves out there. 
"Your truck is your advertising, so maximize it by putting it where you want to work" Hanvey suggests. 
Once you identify an area you want to work, you can blanket it with doorknob hangers that feature your logo and a picture of you to personalize it. Have it simply say that you are grooming dogs in driveways and have just added the neighborhood to your route. Be sure to include your name and phone number, and use your own handwriting for an added personal touch. 
This approach also allows you to do a survey of the neighborhood, noting which houses had barking or other signs of dogs. Drive through the neighborhood in your van at times people are likely to walk dogs; before and after work hours for most. A month or so later, repeat the doorhangers now that residents may be familiar with your business.
Time Management
Once groomers have made themselves known in their designated target area and have clients coming to them, it's important that they manage their time wisely. The frequency of appointments is vital to efficiency. 
Dawn Cannistraro, proprietor of Diamond in the Ruff based in Framingham, Mass., advises having customers pre-book for the whole year ahead. New inquiries are channeled through her website, and before customers can provide information, it's clearly stated that "Our four-legged guests welcome us to their home anywhere from a one- to six-week schedule."
On top of being transparent about availability, groomers can schedule repeat clients when their pets are due for a grooming. A repeat schedule benefits everyone; it makes things easier for the groomer to expect a certain pet at a certain time and helps pets stay clean and tidy for most of the time. 
To keep track of time, in the beginning of each year, Diamond in the Ruff sends out an email with appointment dates, approximate times and all of the business's policies, including the 48 hours cancellation policy (late cancellations incur the full cost of the grooming) and that clients must have a credit card on file. Since a signed copy of the policies must be returned, clients acknowledge the appointments and the cancellation fee policy. No business likes having cancellations, but mobile groomers are particularly unable to afford them. 
So, how does Cannistraro go about scheduling and routing appointments for an entire year? "I sit down with Google maps to see which clients are close to each other," she says. "The key to making money is keeping appointments close together." 
If a customer cannot accommodate the dates or times they are given, she will try to accommodate with another day they are in that town—but the client may have to be flexible about how many weeks are between groomings. If they skip an appointment and there's no room to fit them in, they'll have to wait wait until their next one, which may add to matting fees. 
"It's the same as in a grooming salon; you just have to take charge" Cannistraro says. "Basically, just tell them what's available and let them decide if they want it or not." 
Groomers on the go also have to understand that, sometimes there may be delays, and they need to be prepared for them. 
"Never give the client an exact appointment time," says Stockman. "Always give a one to two hour span for your arrival. Remember that traffic varies and unforeseen things happen." 
While you may have to schedule everyone that calls when first starting a mobile business, make sure they understand up front that if they don't pre-book they risk not being able to get in. 
First, set your dream schedule. If that means working Tuesday through Friday, do it. Even if you have to work Monday through Saturday at first, schedule your least ideal options on the days you will eventually drop—your least frequent clients, or your least favorite breeds—and make sure they know that you are just building routes and, as you become busy, you will only be able to take monthly or biweekly clients. When you get the client that is only available on particular days or has other scheduling issues, just assume they won't be a good fit as a mobile client and book them on the days you plan to eventually give up.
Customer Service
As with any business, making clients happy is the priority for mobile groomers. In order to ensure that customers will be satisfied with services, it's important that they know what to expect. Even then, sometimes clients out there are not the right fit for your business—and it's up to you to weed them out as early as possible. 
"Make sure you are only taking on clients that are willing to prebook on a frequent schedule," advises Patsy Brooks-Tallant, MPS Meritus, stylist and proprietor of Shear Luxury Mobile Pet Spa in Amarillo Texas. 
How does one do that? Starting right from the first phone call. When a prospective client calls asking about services and prices, the very first thing that Brooks-Tallant says is "I am a monthly service, is this what you are looking for?" If not, they are not the client for you. This is part of interacting with clients in a way that benefits you.
Ultimately, attitude is everything when interacting with customers. Patsy Brooks-Tallant recommends being professional and pleasant, but not to let customers run either the conversation or the scheduling. Refrain from asking open ended questions such as "When would be a good time for you?" Instead, offer them two options, both ones that make you happy and let them choose. Learn to say "No" when needed.
"You must believe in yourself," says Brooks-Tallant. "Your self-confidence is the biggest thing. You have to have it in order to execute your plan. If you don't believe in yourself...your plan can't succeed."
Communication is Key
It's just as important for that confidence to come across when talking to clients. She suggests saying the same things all the time and practicing in front of a mirror so that you sound confident. 
Brooks-Tallant never refers to cancellations and only says that someone has rescheduled—why put the idea of a cancellation into a customer's mind? Her communication with customers takes place by email or text in order to have a record of what's been said, and her phrasing of appointments might be something like "Please put these dates on your calendar. Listed below are your first three appointments for 2021."  
How you communicate with customers is also an important consideration for mobile groomers, especially since they'll be in unique locations throughout the day. Vickie Gabay, administrator of the popular Facebook group "Mobile Groomer Zone" and proprietor/stylist of the mobile Beauty for the Beasts in Rancho Cucamonga, Calif., says that there a variety of apps available for scheduling, as well as physical "At A Glance" planners from office supply stores. Whatever groomer's choose, it's up to them, but they sure definitely keep a backup. 
 "I myself am an Apple fan, and my business email is Gmail, so I use Google calendar synced to my iPhone and laptop, making sure that it's set up to keep all old appointments," says Gabay. 
She thinks the planner books are good as they can't crash, lose Wi-Fi, or run out of battery—they work no matter what. But don't lose it! Moego is one popular app that she says mobile groomers like as it helps with routing, sends reminders and keeps your information, but she believes that all client information should be kept in more than one place. 
On the whole, keep the locations you want to work in at the forefront of your mind at all times, give the best consideration to those clients that book the most often, and remember to exude confidence and professionalism in every interaction with clients and you'll continue to succeed in this segment of the pet grooming industry. PB