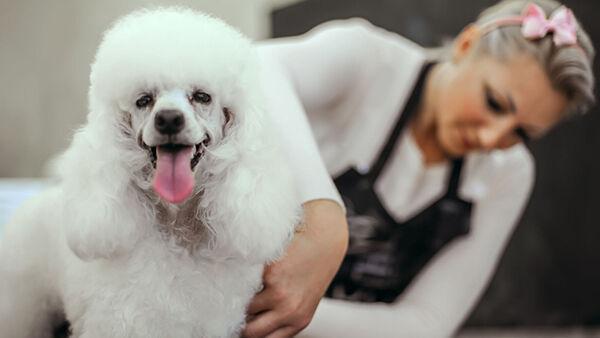 All pet grooming businesses operate by scheduling appointments with customers, and a salon is busy enough without having to go through the trouble of juggling between separate records of handwritten appointments, groomer schedules and salon ledgers. These just aren't efficient ways to track day-to-day salon activity. 
Without a cohesive system, it's difficult for groomers to access information at same time; it takes longer to book multiple reoccurring appointments, change appointments and more. Having the capability to trace the status of all of your pet owners' appointments is crucial. Doing so can help reduce no-shows, optimize business and attract pet owners. 
Staying Organized
Appointment scheduling software is progressively becoming a necessity—for almost all service-based businesses. These systems can help you automate scheduling processes by enabling both pet owners and groomers to book appointments if you choose. The software also facilitates appointment cancellations, rescheduling, can send out automated reminders and capture pet owner information that can be used to run effective marketing campaigns.
One popular function of pet grooming software is online booking, which enables pet owners to book, reschedule or follow up on appointments online. This can save you a lot of "when is my appointment" inquiries. Certain systems allow users to create online bookings that automatically synchronize across multiple devices, including computers and mobile devices. The software can confirm or deny an appointment instantly when a booking request is made, based on availability that is set up by the groomer and salon management. Some can even manage a waiting list of appointments. Some software can also enable pet owners to view the calendars of all pet stylists in a grooming salon so they can book an appointment with whomever they prefer.
This feature helps retain pet owners—the easier you make it for pet owners to schedule appointment times, the better experience they're likely to have. If you use 24/7 online appointment scheduling, your pet owners don't have to contact you during normal salon hours to make an appointment. 
I am closed Sundays and Mondays. There are normally 10 to 20 messages left over the two-day period. I can spend two hours contacting each pet owner; I don't think of it as a waste of time because each appointment made returning calls is a potential minimum of $50.00. With the latest software, I think this time could be cut to less than ¼ the time if pet owners can make their own appointments. 
Groomers also can create appointments on their calendars and share them with other groomers at multiple locations, a feature that may synchronize with Google Calendars. Groomer and other salon staff scheduling allow salon owners to effectively manage groomer work hours by tracking their daily, weekly, monthly and yearly calendars.  
Another helpful feature for salon management is the ability to accept online payments. By integrating electronic payment, this allows users to collect payments whenever appointments are made. Each program is slightly different, but many allow salon mangers to create deals that can be applied across a certain time frames on a groomer's calendar to increase appointment frequency.
Of course, I also can't forget to mention that some software comes with a mapping tool, which can save drive time between clients for mobile groomers. Mapping tools can help plan your daily driving routes, making them much more efficient, which saves time to make more money and reduces fuel consumption. 
There are very useful features to optimize routes and display what order your appointments should be in. Another is "show when I'm close by," which helps mobile groomers schedule on a day when they are close to a customer in need of an appointment. You can even see which customer's pets are past due for a groom including their distance from your current day's appointments. 
Helpful Reminders
There are so many benefits to using appointment management software in your grooming salon, but the big one for me is the reduction of no-shows. Automated scheduling keeps track of upcoming appointments and automatically sends a call, email, or text notification to pet owners to remind them of upcoming appointments. 
I like the software that asks the pet owner to confirm appointments via these reminders. This helps reduce no-shows and allows you to call the non-confirmed appointments to either remind them or reschedule and then have at least 24 hours or more to fill the canceled appointment. 
Having the ability to minimize no-shows improves staff efficiency. Pet groomers can find it challenging to manage pet owner appointments during our busy hours. Without the right software in place, they can risk double-booking appointments, which can lead to a loss of daily income. 
Using software that automates the rescheduling process gives groomers more time to focus on income-generating activities, such as seeing more pets per day. Integration with electronic payment gateways can help speed up the payment process so salons are paid fast and with little to no groomer involvement.
Finding the Best Fit
Now, how can you decide which scheduling software is right for you? I think it depends on the size of the business and what other services you might offer. I know many grooming salons also offer mobile grooming, day care, boarding and training.
You also have to consider how many groomers are in your salon. Are you a sole proprietor in the grooming industry that operates individually? For these individuals, providing an online booking interface to pet owners and enabling web-based appointment scheduling could save enough time to groom one more pet. 
Small and medium size businesses typically have more than two or three groomers. It is essential for these businesses to reduce no-shows and improve revenue by freeing up groomers. 
For groomers looking to find new salon software for their business, Capterra is a free service that helps grooming salons finds the best software for their needs. The service lists all vendors—not just those that pay them—in its comprehensive directories so that groomers can make the best-informed purchase decision possible.
Capterra also features reviews of several popular appointment management software systems. One is Groomsoft, which is what I chose for my salon. Another popular software is 123Pet Software. 
A few other not mentioned in the Capterra review under groomer specific appointment soft wear is Franpos, who is number one in its combined cloud-based e-commerce and POS system for pet stores, pet groomers and pet retailers in the pet industry. It is an all-in-one solution to help a pet business simplify operations, lower costs and increase sales.
Don't forget to use these programs for pet owner engagement and retention. Allow pet owners to perform multiple tasks from the same interface. This can include offering an integrated payment interface that allows users to book an online appointment with their desired professional and then pay for the booking without leaving the salons website. Large businesses also promote pet owner engagement by offering discounted deals, which can be attached to certain dates on groomer calendars or appointment frequency. 
The bottom line is to focus on what you love to do in the pet-grooming world and reduce the stressful stuff. Let the software work for you. 
Chris Pawlosky is a Certified Master Groomer, professional handler, breeder, grooming show judge and successful pet store and grooming shop owner (The Pet Connection) since 1985. For 20 years, she served as national training manager for Oster Professional Products, where she developed new initiative educational material to educate at schools and conventions all over the world. Pawlosky is currently working with Judy Hudson to produce the Grooming Professors—a service through which the two industry veterans share their many years of grooming, competing, dog show conditioning and handling with groomers across the country via Facebook and through an interactive website where visitors can access webcasts and videos about everything grooming related.