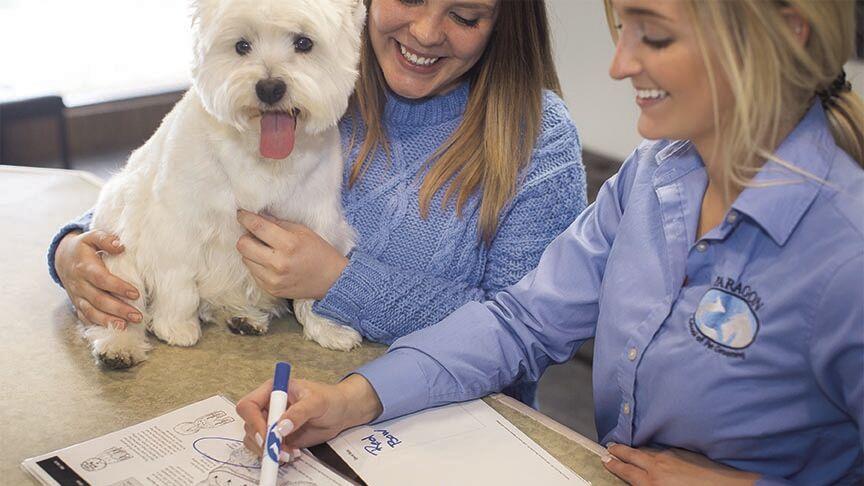 Hands down the most challenging part of running a business is staffing it. Managing staff. Keeping staff. Paying staff. Keeping them accountable. Keeping them productive. Keeping them happy. 
The biggest challenge, however, is training them.
With that in mind, let's tackle the training challenge first. It's far easier to hire basic labor than filling a position that requires skill. At our kennel, the Whiskers Resort and Pet Spa, we have an endless supply of dog enthusiasts who want to work with us. With multiple colleges within our community, the labor force is easy to come by. After all, everybody wants to play with puppies!
But what about those jobs that require skilled labor? Jobs like receptionists, bathers, groomers, managers and trainers.
One of the biggest reasons I started the Paragon School of Pet Grooming was because I could not find qualified groomers to operate my fleet of mobile grooming vans. They just weren't available. 
I've been in the pet care industry for over 30 years, primarily in the grooming aspect of the industry. Finding qualified groomers remains the No. 1 problem in our field.
Finding talented grooming help was close to impossible when I first stepped up to the grooming table in 1979, and it remains the same problem today. So, I have chosen to focus on this critical issue. 
I own multiple companies in the pet industry. On the educational side, my companies aid in training and personal development for those stepping into the field for the first time, as well as for aspiring pet groomers and stylists.
It has always been extremely easy to enter the field of pet grooming. There are very few regulations of any sort. Anybody can start bathing and cutting hair off a dog or cat and call themselves a professional pet groomer. Those of us who have spent years perfecting our craft know it takes time and dedication to become confident and competent in all-breed grooming. It takes lots of practice and study.
One of the best ways to get started is to attend a credible grooming school. The Paragon Distance Learning Program is a perfect example. Students build a strong foundation of grooming skills based on the American Kennel Club (AKC) breed standards and learn how to apply those skills to achieve high-quality grooming on all dogs in a safe and compassionate manner.
This program is perfect for:
• Individual aspiring groomers looking for a career, whether it is your first or maybe even a second career later in life.
• Salon owners and managers who are tired of looking for existing talent. It's time to start looking for the perfect fit by hiring for great attitude and training for the job.
• Multi-unit retailers providing professional grooming services for their customers will love incorporating this program to create a custom-made team.
Paragon has helped hundreds of grooming salons, pet boarding businesses and national retail chains take their grooming operations to the next level through first-class training and professional development. We know it can be hard to find the right fit for this role, and we know what it takes to make a great groomer. We literally wrote the book!
So, why should you train with Paragon? Because we offer:
• Turnkey training for a seamless virtual experience
• Curricular excellence so you know your employee will be trained right
• Direct mentoring on virtual and practical work from Paragon's team of talented mentors
• Systematic instruction that will prepare students for popular trims and breed standards
• Strong ROI through increased speed, productivity and technical quality
Let's get back to that hiring challenge. If you're faced with having to hire a future groomer, know what to look for. One thing I recommend you consider is attitude.
I always look for somebody who's got a positive, upbeat attitude and is receptive to new information. They need to be moldable, adaptable, and they cannot be afraid of hard work. I hire on potential, not necessarily experience.
Once you have someone with a great attitude, helping them be the best they can be is fun—and it can be very gratifying. Use the resources available to help them self-direct their own learning.  
It will take time, dedication and patience before you see your new hire flourish, but you can lighten your training load by taking advantage of educational resources such as the Paragon Distance Learning Program and our new Employer Resources. You might learn a thing or two yourself.  PB
Can't find groomers? Grow your own (www.paragonpetschool.com). Already a groomer? Learn from Certified Master Groomers (www.learn2groomdogs.com)!