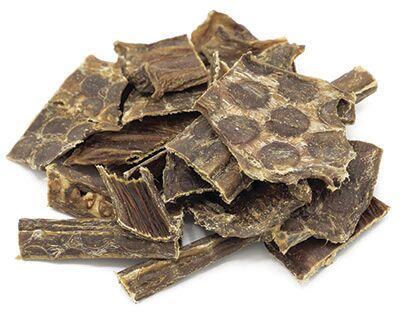 Barkworthies (barkworthies.com) Little Barkers Chews are tailored specifically for small breed dogs to best suit their chewing and nutritional needs. Naturally scented and odor free bully sticks, beef sticks with collagen, and protein-packed gullet bites are available. The chews help dogs burn energy, maintain dental hygiene and are 100 percent digestible.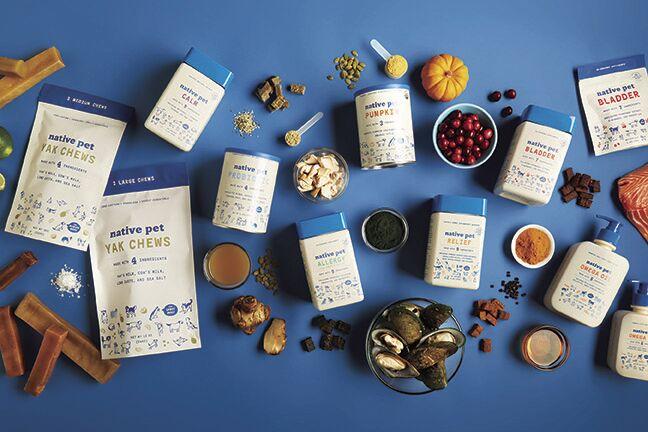 Native Pet's line-up of air-dried chews (nativepet.com) includes four categories: Calm, Relief, Allergy, and Bladder. All supplements are function-driven to provide dogs with unique benefits based on their needs. The chews were created alongside certified veterinary nutritionists and made with up-to-five clean, whole-food ingredients.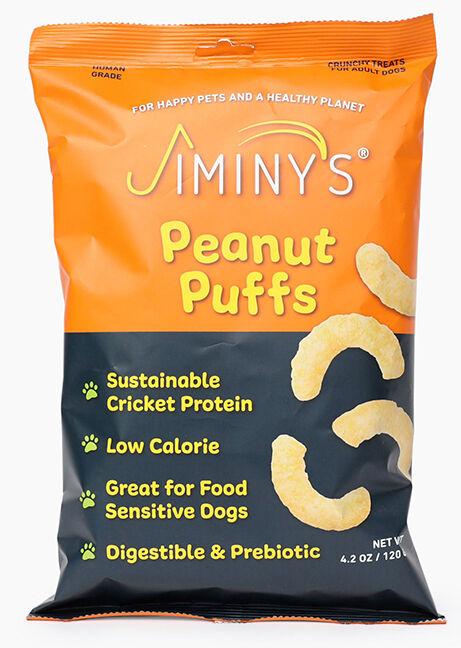 Jiminy's (jiminys.com) Peanut Puffs are human-grade and made with simple, recognizable ingredients, including crickets for a protein boost. The Puffs have a light, airy and crunchy texture, and are flavored with peanuts and a bit of banana for a touch of sweetness.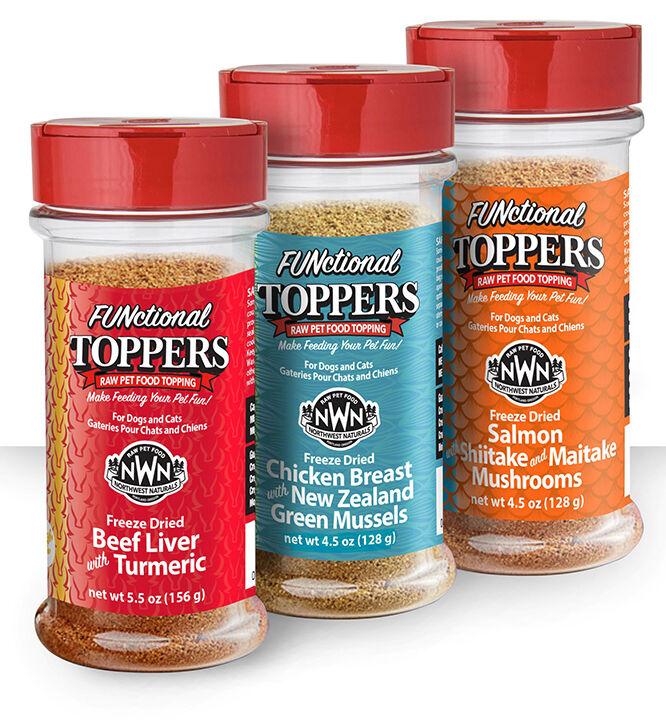 Northwest Naturals (nw-naturals.net) FUNctional Toppers come in three recipes: Beef Liver with Turmeric for heart health, potent anti-inflammatory and antioxidant properties; Chicken Breast with New Zealand Green Mussels for joint inflammation and arthritis relief; and Salmon with Shiitake and Maitake Mushrooms for immune health, vitamin B, heart health, improving energy levels and brain function. Sprinkle or spoon it over a pet's food to add extra flavor to their diet.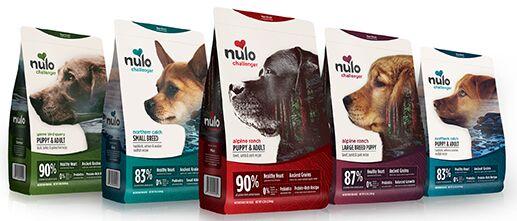 Nulo (nulo.com) Challenger is a premium, high-meat kibble line that features a variety of ingredients sourced from sustainable agricultural systems, including pasture-raised lamb, U.S-raised Guinea Fowl, and wild-caught Acadian Redfish paired with organic ancient grains, including organic oats, organic barley and organic millet. The Challenger kibble packaging is also part of the TerraCycle recycling envelope program.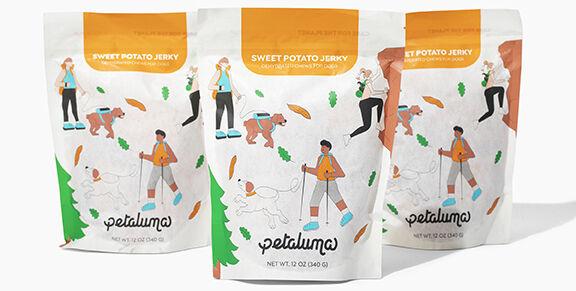 Petaluma's (feedpetaluma.com) Sweet Potato Jerky is sustainably sourced and made with certified organic sweet potatoes. Intended for dogs 10 pounds and up, the chews are loaded with vitamins, minerals, and dietary fiber for optimal digestion. The single-ingredient chews are free from sugar, salt and preservatives. A 12-oz. bag is available exclusively on Petaluma's website.
NutriSource (nutrisourcepetfoods.com) PureVita stews and paté-styled dog food feature meat- rich, limited ingredient and protein dense diets. The recipes are nutritionally supplemented with taurine to support heart health. NutriSource PureVita packages its stews and pate-style dog food in Tetra Pak cartons, which are durable, lightweight and space efficient on the shelf and during transportation, which contribute to a lower carbon footprint. The packaging is also recyclable.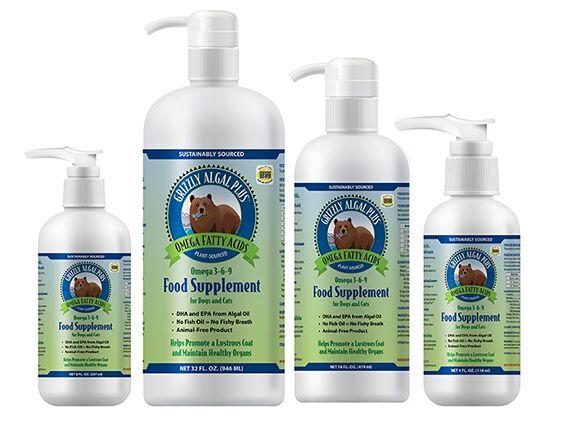 Grizzly (grizzlypetproducts.com) Algal Plus Omega 3-6-9 food supplement is a sustainable option for dogs and cats. Made with a blend of U.S.-sourced marine microalgae oil and U.S.-sourced, non-GMO flaxseed oil, the omega supplement is 100 percent plant-based and vegan. Marine microalgae oil provides a rich source of omega-3 fatty acids DHA and EPA which help maintain a healthy skin and coat, joints, nervous system, and a sound cardiovascular system without relying on fish from the ocean.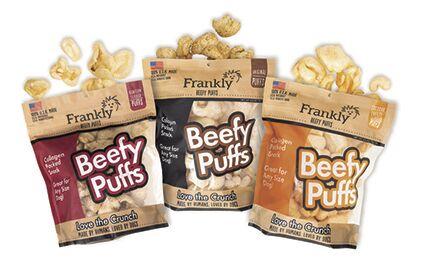 Frankly Pet (franklypet.com) Beefy Puffs are made with beef rind and filtered water that is later recycled. Beefy Puffs are high in collagen, a highly digestible ingredient known to promote healthy skin, coat, joints, nails and teeth. These light and crispy snacks are made from cattle that are born and raised in the U.S. They're wheat-, sugar-, preservative- and GMO-free, and available in three flavors: Original Beef, Venison, and new Cheddar Cheeze.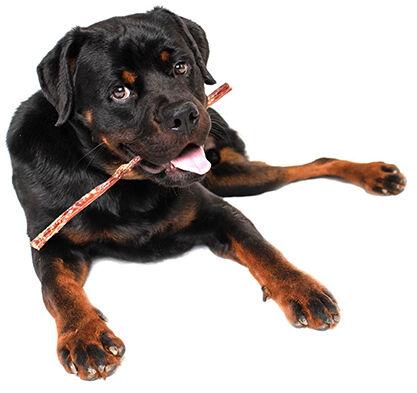 Best Bully Sticks' (bestbullysticks.com) Collagen Sticks and Shaped Chews are made from all-natural bovine collagen. The chews are offered wrapped in beef, chicken, pork, peanut butter and cheese, and in a range of sizes for small dogs, as well as big chewers.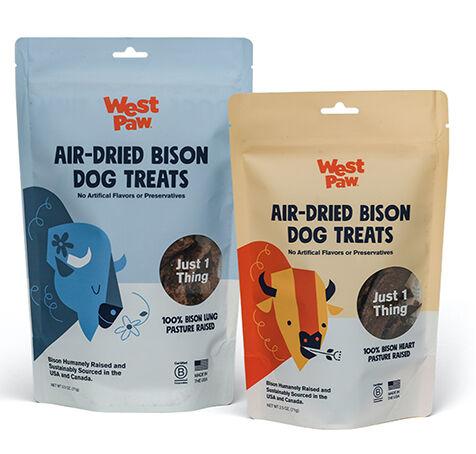 West Paw (westpaw.com) Air-dried Bison Dog Treats are crafted from sustainably sourced, humanely raised bison organ meat from the U.S. and Canada and are air-dried to gently and safely preserve vitamins, minerals and proteins. Bison is naturally lean and packs in more protein, iron and B-12 than beef, pork, chicken or salmon. West Paw Air-dried Bison Treats are easy to break into smaller pieces and are available in Bison Lung and Bison Heart.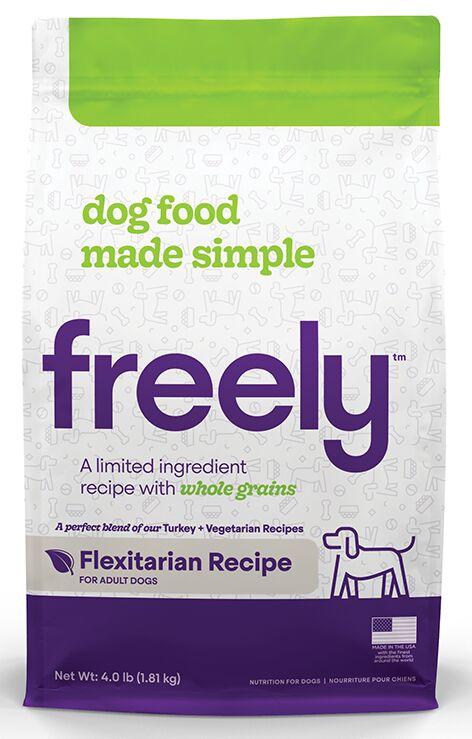 Freely (freelypet.com) offers pet parents a variety of single-source protein options in both grain-free and whole-grain recipes for dogs and cats. Freely's dried food packaging uses a Polyethylene produced from sugarcane, which is a renewable resource that is far more sustainable than plastics derived from the use of oil or natural gas. Each bag of Freely dry food contains at least 30 percent sugar-cane material, making it a more responsible choice for the environment.