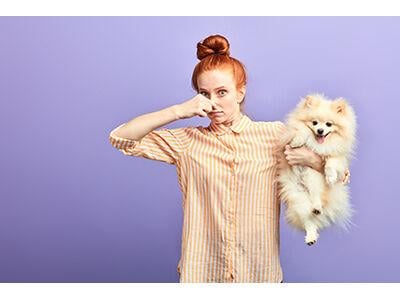 Humans aren't the only species who have turned to amateur haircuts during the COVID-19 pandemic—pets too have increasingly had to rely on at-home grooming and nail care from their owners, who aren't exactly professionals.
"With groomers being closed in some states and people having more time and less disposable income, we've seen a massive boom in at-home grooming," says Lindsy Argenti, marketing manager for Coastal Pet Products. "I think as the world continues to come out of the pandemic climate, we'll see some of that ebb, but for consumers who got comfortable with regular grooming at home, it may be their new preference."
Even when the world isn't at a standstill, there are plenty of other benefits driving pet owners' interest in at-home grooming over a traditional groomer.
"There is an additional level of comfort, convenience and bonding by grooming your pet yourself—knowing that your pet is in good hands and being able to groom them in the comfort of your own home," says Deirdre Heneghan, marketing associate for the professional pet division at Conair.
There is one big barrier to the DIY grooming route, though: the learning curve. Pet owners who dabbled in at-home grooming for the first time undoubtedly ran into a few snags and temporarily felt the wrath of their scorned pet. It's intimidating for uneducated pet parents to find the right tools for their dog in such a crowded marketplace, let alone expertly brush, trim and clip their pup's fur and nails. Luckily, retailers can make a big difference in bridging that educational gap and boost sales at the same time.
"The opportunity for retailers is to make it an approachable experience," says Argenti. "It helps anchor retailers as the experts on pet care and can help keep customers walking back in to ask questions or replace products. In fact, we see consumers purchase three tools on their own, when they need five or six to do a complete job. Understanding and investing in grooming knowledge is definitely good for business."
New to Grooming
To educate customers, retailers first need to educate themselves about the ins and outs of the category, including the latest innovations. One of the biggest shifts in the category in recent years has been toward the pets' comfort, as demonstrated by the popularity of HandsOn Gloves, a non-abrasive brushing, de-shedding and bathing tool.
"Many animals hate to be groomed because they hate that metal bristle brush or metal blade," explains Jay Michaelson, founder and CEO of HandsOn Gloves. "We're seeing a trend with the other tools, the blades and metal bristle brushes, changing their marketing and saying 'no, it's not that harsh.'"
The category is also expanding well beyond coat care with new tools to make activities like nail trimming easier than ever.
"Nail care is important for your dog's overall health and is an essential part of the grooming process," says Heneghan. "We've seen a trend in at-home grooming tools, such as nail clippers and nail grinders for trimming your pet's nails, at home."
In addition to staying up to date on the latest offerings, retailers should ensure staff members are prepared to help customers navigate the ever-growing at-home grooming section and answer questions about use and safety.
"Lots of consumers are just new to the process of grooming in general and need guidance on where to begin," says Argenti. "Help them by asking about the size of dog, type of coat and any concerns they might have, like shedding, mats or fleas. By talking with the consumers and helping them understand the key considerations for grooming, you make it more approachable."
Customer Education
Since not every customer can or even wants to interact directly with staff, marketing materials are a crucial part of educating consumers about at-home grooming products.
"Retailers can address [customer education] by providing additional product information and features, as well as providing tips with signage at point of purchase display areas to guide and walk the consumer through how to properly use these tools," says Heneghan.
Retailers who want to go above and beyond can even offer live, in-store demonstrations or classes so customers can see first-hand how to best operate grooming tools, says Geoff Hamby, marketing director for Vetericyn Animal Wellness.
Still, retailers shouldn't limit educational outreach to the in-store experience. In the post-pandemic world, online experience has become a crucial platform for driving customer engagement and sales.
"Great product images, descriptions and short directions on how to use the product will allow the consumer to understand more about the product," adds Heneghan.
While this appears to be a big investment for one category, it's necessary. Retailers can help alleviate this financial burden through strategic brand partnerships, which means looking beyond the product and choosing stock based on the brand itself; checking out reviews about the way a particular manufacturer connects with their partners; considering product lines and collections as a whole for cross-merchandising opportunities; and researching how certain businesses support their retailers.
"Get in touch with the company and see what kind of marketing materials they have," advises Michaelson. "Ask, 'how is the company marketing it, and are they going to support you and work with you and actually be a partner?'"
HandsOn Grooming, for example, provides retailing partners with a POP display featuring a monitor displaying a video tutorial explaining the award-winning product. Michaelson says that when the company puts the POP display in a store, the retailer's sales go up by 100 to 300 percent—at a minimum.
Other manufacturers, like Vetericyn Animal Wellness, provide assistance with social media campaigns.
"We've recently launched a platform to help retailers tap into our pre-made social media and blog content they can then share on their own channels," says Hamby. "It's a great way to stay top of mind with customers when they're not in store. This takes some of work of the retailer's shoulders and many have told us how much they appreciate our efforts."
Finding the right at-home grooming partner now will make a big difference in the future because, even after the COVID-19 pandemic comes to an end, industry experts expect the category to continue its upward trajectory.
"I believe there is definitely room for the at-home grooming category to continue to grow as consumers become more familiar with the variety of tools offered," says Heneghan. "If education becomes a key focus, this will allow consumers and pet parents to feel more comfortable and move toward at-home grooming."  PB