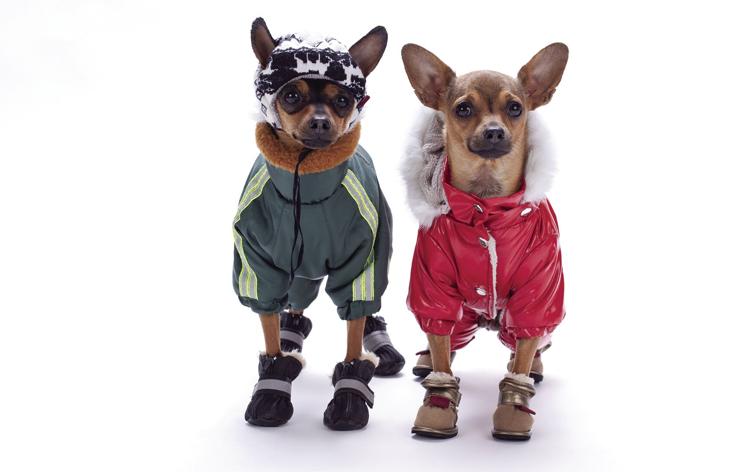 Sure, humans may be schlepping around in their PJs and sweatpants, abandoning all sartorial pretenses during this pandemic, but it's safe to say they haven't subjected their pets to this same absence of fashion. Indeed, chances are good that, whether out of sheer boredom or a need to keep their Instagram feeds drawing likes, folks are dressing up their dogs now more than ever. 
Because style is largely preference-based, this category allows retailers to connect with their consumers on a more personal level, says Gretchen George, president of PetRageous Designs. This not only helps cement customer loyalty, but it also leads to more satisfying outcomes for pets and owners as the retailer is able to offer valuable assistance in measuring, sizing and finding the right fit.
"Dog apparel has a higher ticket price, resulting in higher margins than most non-consumable pet products," explains George, noting that she recommends retailers pay attention to holiday-themed apparel. "Apparel can be displayed and stocked in a small amount of space relative to the amount of dollars generated." 
Still, it's not as easy as offering it and expect shoppers to come. In order to wrest the biggest impact out of the apparel category, pet specialty retailers must pay attention to the trends.
Apparel Must-Haves
The good news is that the category is broadening—not only have more people than ever become dog owners, apparel is no longer primarily confined to the smaller breeds, says George. Instead, larger dogs are getting in on the action. Donna Bodell, vice president of Up Country, agrees, adding that because of this trend, the company is now making most of its designs in sizes 26 and 28.
Driving the demand for larger apparel is the realization that even big dogs get cold and need protection, says George. 
"A jacket on a large-breed dog during inclement weather keeps them warm and prevents the owner from having to towel their dog off," she says. "Pajamas, for instance, serve a great purpose for keeping hair and dander off furniture and are key in keeping dogs from agitating hot spots and other irritated areas. The more dog owners learn about these benefits, the more in demand apparel becomes."
That doesn't mean small dogs have given up their spotlight, though. According to Eleonora Bonfini, owner of Hello Doggie, toy-sized dogs have become more popular, which is why their line focuses on small-to-medium-sized breeds. Smaller dogs in particular represent a good sales opportunity during the colder months, since they often need additional layers of clothing to stay warm, she adds. And, although pet owners are increasingly keeping functionality in mind, there is also a growing interest in fashion-forward apparel, she adds.
"When designing our line, we take a few things into consideration, from the design, highest quality of fabric and, most importantly, fit," says Bonfini. "We always create something that will complement the pooch and the high-fashion moms."
Amy Yu, sales manager of Klippo Pet Inc., says where pet owners live seems to determine what size of dog will be most prevalent. For example, those in urban environments tend to gravitate towards smaller dogs due to crowed city conditions, whereas people in suburban or countryside areas favor bigger breeds.
Yu has noticed that those with smaller pets, which generally spend more time indoors, typically purchase apparel throughout the year, regardless of weather changes. This could be because of the need to keep them warm during summer when the AC is on, in cold weather or just to keep their shedding to a minimum, she explains. Apparel purchases for big dogs seem more contingent upon the weather, for example, protecting them from the cold in states with severe winters. 
Decking Out Sales
Pet apparel can be complicated to sell because of fit concerns, says Bodell, adding that Up Country offers a detailed size chart with neck and chest circumference and back length. Adding to the challenge is the fact that dog owners are demanding a wider variety of styles and colors, as well as innovative designs, flexibility and functionality, she says.
There are several things pet specialty retailers must do to ensure success when it comes to this category. Most important is for them to understand what kinds of customers are coming into their stores, what they need for their pets, inventory accordingly, and demonstrate a good depth of product knowledge, says Bonfini.
"Pet specialty stores have an advantage in that customers can bring their dogs in to try on apparel for a good fit," adds Bodell. "Dogs, like humans, have widely different shapes and garments don't always fit well or comfortably. Plus, customers can feel the weight and quality of a fabric and note the quality of the construction, and specialty stores can bring in styles that will appeal to their customers' needs while educating them on the benefits of each product."
Know what your customers are doing, she advises. This requires retailers and their staff to get a bit chatty, inquiring for example, if they're going for nighttime walks, out in rainy weather or other such activities. Of course, breed and age of pet will be important, as well as activity level and whether the pet is primarily indoors or outdoors. 
Pet owner concerns are also important to identify. For example, is shedding an issue? Is it hard to keep the dog clean during outdoor romps? Does the pet seem cold, even indoors? Does it need protection from sun or heat? Are skin irritations/constant scratching a problem? Or is the pet owner simply looking for something fun, photo-worthy or holiday-themed? These questions will likely lead to a deeper discussion, helping to guide the customer to the perfect solution.
As for merchandising, Bodell suggests putting "looks" together, such as a coat with a matching collar and leash. It's better to get a full collection for display rather than just a few items from it, Bonfini says. She suggests keeping the items together rather than spreading them out through the store so the customer can see all their options. Other ideas include creating themed displays, for example on dedicated endcaps that change monthly, grouping a variety of items together.
Because it can be challenging for space-constrained retailers to carry a large selection, Klippo provides retailers with a catalogue presenting their full collection, minus the pricing, that customers can special order from.
"This makes the dog owners feel happy and the pet specialty owners feel less stressed about keeping a large inventory in their stores," she says. "We also offer drop-ship service for retailers and online stores so they can still offer our full collection without having to keep inventory on all styles."
Being proactive is especially important for the apparel category.
"A majority of these items are seasonal so bringing them in early and making them prominent lets the consumer know you have it," George says. "We can't stress this enough. The seasonality of holiday-themed and cold-weather apparel dictates how manufacturers stock these items to supply retailers. If retailers aren't bringing these products in early, they may miss the opportunity."  PB