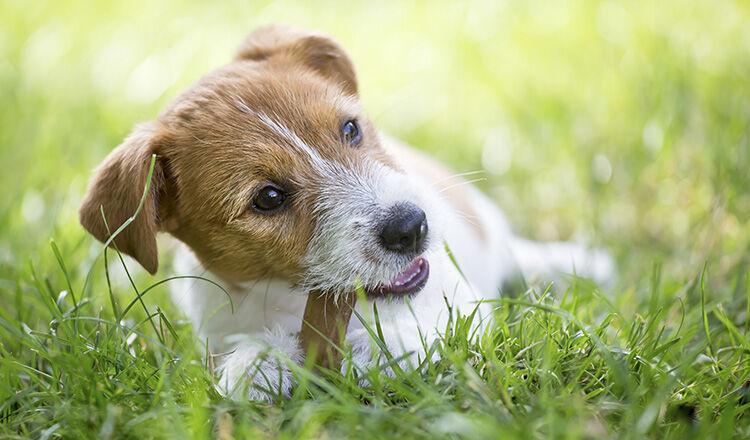 As dogs have transitioned from companions to full-fledged members of the family, owners have been searching for ways to connect with their pets—and what better way to bond than over a crunchy, tasty treat?
"One of the main changes we have seen to the dog treat category in the past few years is that owners have become more indulgent with their pets," says Amy Singelais, a partner at Preppy Puppy Bakery. "Pet owners are now willing to spend more money on high-end treats on a regular basis versus only purchasing a treat for a special occasion like a birthday or for Christmas." 
In addition to steadily-rising consumer interest, another big reason for retailers to take a closer look at their baked treat offerings is the margins.n"Dog treats, although a smaller dollar item, have high margins. When pricing decorated baked dog treats for retail, we recommend always doubling the cost of the treats," advises Singelais. 
Spicing Up Your Selection
To capitalize on the opportunities presented by this category, there's one truth that retailers need to understand about baked dog treats—variety is the name of the game. 
"We have found, over the years, the importance of ordering a variety treats, including treats that may not be your favorite designs. Different people have different tastes, and every treat has the opportunity to be a diamond in the 'ruff,'" says Miranda Collins Costeira, vice president of Preppy Puppy Bakery.
Some dog owners, for instance, want to spoil their canines with crunchy treats in trendy colors, shapes or flavors, so it's important for retailers to continually change up their stock. 
"Flavor variety and visual appeal are important in the baked category, because pet parents are looking for a fun and tasty treat to reward their pup," says Jilliann Smith, director of communications for Merrick Pet Care.
One such trend is crunchy treats that celebrate seasonal holidays and other festive occasions, says Katie McCarron, founder of Portland Pet Food Company.
"With 2020 being such a hard year, consumers appreciate being able to bring a baked treat home that will spark any amount of joy to whoever they are giving it to—whether it be their dog or as a gift to a friend," she explains.
Other pet parents are searching for baked treat options that offer a safe, wholesome and nutritious experience for their pooches.
"Consumer interest in baked dog treats has been driven largely by an overarching interest in learning what ingredients are going into all dog products. In our experience, baked dog treats tend to have less of the preservatives or additives needed—or in our case, none at all," says McCarron. 
Smith also notes that the type of ingredients that are—and are not—included is an important element of driving baked treat sales. 
"We've noticed that many pet parents are turning to crunchy, biscuit treats for their dogs that have food sensitivities. To address this, we make our Merrick Oven Baked Treats with seven or fewer simple ingredients and also offer two varieties that are free of meat—Pumpkin Patch and Peanut Butter," says Smith. 
However, variety doesn't mean stocking anything and everything. Experts encourage retailers to still be thoughtful about which dog biscuit brands they choose to put on their shelves. Quality shouldn't be sacrificed in the name of quantity.
"Not all baked treats are created equally. Retailers should look for pure and simple biscuits with natural ingredients and no fillers," urges McCarron. "Made in the USA does not mean that all the ingredients are from the USA."
Overcoming Category Challenges
Managing and maintaining all of that variety also comes with its own set of hurdles for pet retailers. The first of which is simply ensuring they have enough physical space.
"Retailers are having to create or reallocate floor and display space to expand their treat sections to best supply their customers with the variety of treats they are looking for," says Costeira.
That's why it's imperative that retailers are smart with the limited shelf space they do have and create inviting displays full of baked treats to catch the eyes of owners and pups alike.
"I wish pet retailers understood the importance of their display. We cannot emphasize enough what a difference having a full display makes," says Singelais. "Having a display that is half full or empty makes the treats look old and unwanted by other shoppers. Additionally, retailers should try to make sure they do not have past holiday treats in their case too long. Mark them down and make room for the new product."
Variety can also be overwhelming for customers, especially new pet parents who are still getting to know their pet's needs and preferences. Retailers can avoid this issue by acting as a guide to owners to find the best choice for their pup. 
"It's best to ask a pet parent... a few questions to better understand which offerings might be best for their dog—are they looking for a fun snack or a training treat? Does their dog have any food sensitivities or flavor preferences?" says Smith.
"Consumers rely on pet stores to be a trusted advisor and help point them to the best choice possible, so it's critical that retailers are asking these questions of manufacturers in order to better understand individual needs and preferences," adds McCarron.
Another potential obstacle faced by retailers is the fact that, unlike other staples like food or medication, biscuits are often an impulse purchase for customers. 
"More often than not, the sole purpose of the trip is not to buy treats," says McCarron. "However, once in store, owners love getting treats to surprise their pups." 
So, retailers need to get creative with how they position baked dog treats throughout the store.
"Retailers can take advantage of this shopping behavior by increasing biscuit merchandising points throughout stores, such as having display racks of premium baked biscuits alongside kibble or dog toys sections," continues McCarron.
Since baked treats often offer more emotional than functional benefits, Smith suggests using displays or special discounts, like a "buy one, get one" sale, to pair treats with bigger-ticket items like dog food products.  
"Retailers have an opportunity to position crunchy biscuits as a great add-on with a regular food purchase to treat their dogs," she suggest. "Several of our Oven Baked Treats offerings easily lend themselves to a food pairing because they share a name with some of our popular wet recipes. Pet parents like the idea of rewarding their pup with a baked biscuit that mirrors their favorite food recipe."
Overall, success in this category requires retailers to remain flexible, as its rapid growth and fluctuating trends show no signs of stopping—or even slowing down. 
"We expect to see a continued growth in the interest for baked dog treats," predicts McCarron. "Specifically, we anticipate seeing more and more demand for healthy baked dog treats—particularly ones that offer some form of protein, whether that be an animal, insect or plant source."  PB