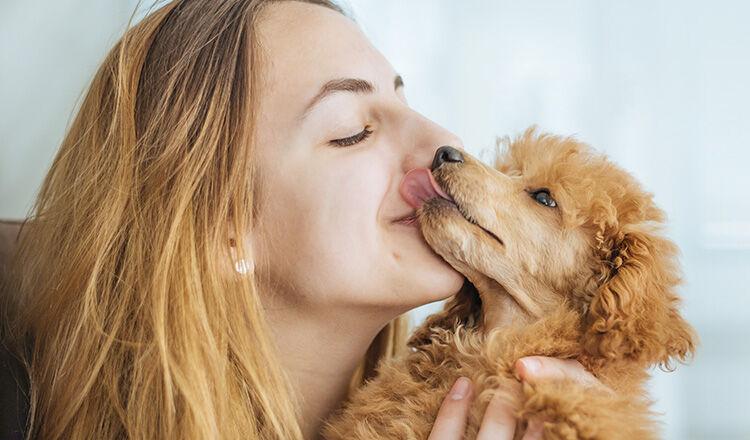 With more people working from home, pet owners are able to spend more quality time with their dogs and are likely more aware of how they smell. This is putting grooming—especially between-bath products—on the map in a major way. 
"This category was already growing strongly before the COVID pandemic," says Doug Gleason, founder of TrueBlue Pets. "That's because we are living in even closer proximity with our pets, which puts a premium on them being clean and smelling good. Just a generation ago, many dogs lived outdoors most of the time and had their own dog houses. Now most dogs not only live in the 'big' house, but they are hanging out on the couch with us, and often even sleep on our beds. When you're that close, you're more aware of how clean the pet is."
The COVID-19 pandemic has only further intensified this awareness, and increased work from home is likely to stay even after the pandemic. Global Workplace Analytics predicts that people will continue working from home in higher numbers, even after they are allowed to return to the office. 
Between-bath products, then, will keep their importance and likely continue to grow as a category. As more and more pet parents recognize the importance of keeping their dogs clean, healthy and looking great—these products are a sure bet for retailers to include in their stock. 
"These products are great to have on the shelf because they support the overall success of any grooming aisle," explains Jenny Gilcrest, vice president of marketing at Skout's Honor. "Some pet parents only wash their pets with shampoo occasionally, but if retailers can identify and get behind a set of daily-use essentials that really make a difference for the look, feel and smell of the animal in between baths, they can sell more product, more frequently." 
Understanding the Options
To capitalize on this important market, retailers need a knowledgeable staff that can help new and experienced pet parents. 
"The grooming category can be overwhelming, with numerous options," says James Brandly, trade marketing communications specialist for TropiClean (Cosmos Corporation). "A knowledgeable retailer will be the best source of information for consumers and can quickly help guide pet parents to the best product to address their or their pet's specific needs."
Knowing the importance of between-bath products isn't just for customers specifically looking for them—it can be helpful to guide customers toward them when they have general grooming needs. 
"Understanding and communicating how the products on their shelf support a pet's overall well being will transform the idea that these are 'extra' grooming products into the reality that they are must-have, essential items that pet parents can incorporate into their pet's daily routine," elaborates Gilcrest. 
Retailers need to know the ins and outs, pros and cons of the products that they offer to better help consumers, but they can turn to manufacturers for help determining which between-bath products to stock.  
Mary Hays, operations specialist for Gou Gou Pets, explains that retailers should be asking manufacturers what separates their products from their competitors. This way, retailers will have more information about what products to stock, and they'll be able to best explain to customers which products are best for their pup. 
Setting up for Success
After a solid knowledge base, strong merchandising strategies are the next steps toward securing sales. Informative displays are helpful for the consumer looking for grooming solutions for their pet, but they might not even know that between-bath products are an option. Many manufacturers, like TropiClean, even offer ready-made displays for their products.  
Retailers also need to consider where to place between-bath products in the store, be it brick-and-mortar or online. While some retailers group products from the same manufacturer together, that may not be the best strategy here.
"Retailers need to keep these products with their shampoos," says Dawn Leoso Duncan, vice president of Glo-Marr Products, Inc. "If you sell a bottle of shampoo, you should always be selling the in between product that goes with it."
Such a strategy is essential for helping pet parents understand how important these products are for pets' overall health and cleanliness, and they shouldn't be written off as "extras."
Retailers can also take this strategy to the next level, by placing these products near their grooming or self-wash areas, if they have them. 
"Retailers who offer in-store grooming services or self-wash stations can use in-between bath products as a tool for connecting the services part of their business to retail sales out the door," Gilcrest explains. "Having your pet groomed and then having a groomer or professional recommend a daily-use product to keep their pet healthy until their next visit is a huge opportunity for retailers to keep customers happy and loyal to multiple aspects of their business."
Meeting Consumer Demand
These approaches for between-bath products will help retailers stay ahead in a broader market, especially when consumers have increased their standards for between-bath products. 
"The overarching trend is that consumers are expecting a lot more from these products than they did just a few years ago," says Gleason. "Pet parents want natural ingredients, but without any trade-off in how well the products clean." He further explains that there will likely be a shift toward more eco-friendly products, in response to consumer pressure. 
Multi-use products are also on the rise, with pet parents looking to get the most bang for their buck. 
"Many brands in this category continue to focus on fragrance or a specific-use as the main differentiator," offers Gilcrest.  
"At Skout's Honor, we developed a truly innovative, new approach to grooming with our probiotic daily-use essentials (including a Detangler and a Deodorizer spray," she says. "In addition to being available in several great fragrance options, these products provide a daily 'boost' of probiotics directly to the skin's microbiome, offering a natural, preventative solution that tackles all of pets' most common issues at once (shedding, odor, hot spots, itching, etc.)." 
Other innovations reflect trends in human medicine, such as an upcoming launch from Gou Gou Pets that offers a holistic approach to between-bath products. Hays also suggests that more spa-like products will become more popular, outside of pure utility. 
"We spoil our pets just like [we spoil] ourselves, when we can," she adds. 
Above all, it's important for retailers to keep these products in stores and their eyes on this market. Brandly says, "The grooming category continues to introduce new products, new ingredients and new product applications that help make caring for our pets' skin and coat easy and safe, leaving more time for what truly matters—belly rubs and cuddles."  PB