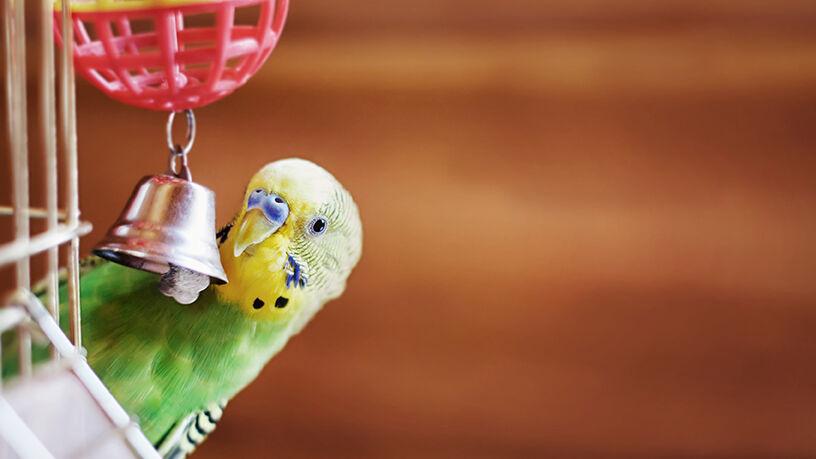 It's no secret that just like other pets, birds require physical and mental stimulation. To keep them engaged, manufactures have created toys to fulfill a bird's naturally playful instinct. 
Toys inside the cage and playgrounds set up outside the cage can entertain avian friends and help them get some needed exercise. 
To accommodate different preferences, more manufacturers are developing products made from various materials that can withstand birds' tendency to shred and chew. This development is especially important, now that the category has seen significant growth this past year. 
According to the American Pet Products Association's 2021-2022 APPA National Pet Owners Survey, 70 percent of U.S. households own at least one pet, with 8 percent owning a bird. That's an increase from 5 percent in 2018, and there's been an increase in purchases for bird products. 
Pandemic Changes
On the whole, last year's pandemic-related store closures did not stop bird owners from buying toys, but merely changed the way they shop. 
"We have seen tremendous online growth," says Brian Sholly, owner of Laurel Creek Group, parent company of Sweet Feet & Beak. 
In addition to an increase in online purchases, consumers bought more products that helped them manage the lack of certain services. Among the most-requested products are pedicure perches, a trend that began last year. People were unable to get their birds' nails trimmed, so they bought perches made with materials that could help maintain nail health. 
The smooth wood dowel rods that come with most cages don't do anything to promote nail health, Sholly explains, so consumers bought Sweet Feet & Beak Manzanita Pumice Pedicure perches. Manzanita is an evergreen shrub with a hard wood, and the cosmetic grade pumice is the same material that is used for making emery boards.
"Birds' nails continue to grow if you don't keep them in check," Sholly says. "To hold the birds can be painful because the nails become sharp, and they start to curl and it's not good for the bird." 
While nail health is a concern for bird owners, many people bought toys and other products for fun. According to the APPA Survey, there was a significant increase in the percentage of bird owners who buy birthday gifts for their bird, from 15 percent in the last survey to 28 percent this year. Younger consumers are more likely to do this, as 38 percent of Gen Z bird owners say they bought their bird a birthday gift. Around one quarter of all bird owners also purchase Christmas gifts for their bird.
These shoppers were active during non-holidays too, with 40 percent of bird owners saying they purchased gifts for no special occasion. Again, younger consumers were the most enthusiastic, as 87 percent of Generation Z and millennial bird owners report buying gifts for their birds. That is slightly higher than the 82 percent of Generation X and significantly higher than the 57 percent of baby boomers who buy bird gifts. 
The average number of gifts purchased by bird owners has remained consistent at 4.6 gifts per year, while the average amount spent per gift has risen from $24 to almost $57. Female owners buy more gifts on average than male owners, but male owners spend about $10 more per gift.
Flying Off the Shelves
Naturally, as owners were cooped up with their pets during quarantine, many had extra disposable income to spend on their birds.  
"People used to spend money on traveling abroad or going to restaurants or bars," says Jens Coene, area sales manager for Versele-Laga, the Belgium-based parent company of Higgins Group, which makes Higgins Premium Pet Foods. "Instead, consumers are willing to spend more on premium foods, toys and cages, and other pet products."
The joy of gift giving was not the only reason for these purchases, as bird owners also want their pets to be healthy and not bored. 
"People are more and more interested in toys that provide enrichment for their bird," says Victor Santucci, CEO of Feather Fabulous Birds, a retailer based in Matawan, N.J. "Birds are very intelligent, and they need toys, otherwise they turn to feather plucking and self-mutilation." 
Among the big sellers, Santucci says, are toys that have textures that encourage shredding and foraging. Leather has been gaining sales momentum lately, because birds enjoy chewing a dangling strand and leather is durable. For playgrounds, wood is always a popular choice, especially java wood, a hard wood that comes from coffee bean trees. People put a food and water dish on the java wood, hang boings (rope coils) on it, and spend time with the bird outside the cage. 
"They can be engaged with toys and the tree for a couple hours," Santucci says. "You can bring them into the living room to watch TV with you." 
Pine blocks, wooden beads, cotton rope and other natural materials are also trending, as are combination toys that encourage birds to chew, forage and climb. Toys in bright colors are also popular because birds generally have excellent color vision and are attracted to vivid tones. 
Keeping these trends in mind, it's important to remember that birds have different preferences based on their size. 
"Parakeets like little bells and mirrors, and little things with beads," says Gary Roberts, owner of Pet World, a retailer in Lakewood, Colo. "As you go to bigger guys like parrots, they like to destroy things, so wood and thicker paper rings are more popular." 
Combating Challenges
While this category has grown, it has its challenges. According to Roberts, one of the most significant challenges is that it has been difficult to get birds lately. Many breeders have retired, and the next generation has not been as interested in the bird breeding business. 
"Even before the pandemic we were having a difficult time getting birds," he says. 
The bird toys category also faced the supply chain constraints and rising costs of commodities that impacted other pet products. Orders from China are taking longer to arrive and are more expensive because of rising container costs. However, this presents an opportunity for companies that manufacture in the U.S. 
Sweet Feet & Beak manufactures a significant number of products in the U. S., Sholly says, and many consumers prefer to buy domestically made products. The downside for retailers is that when cheaper products from China are out of stock and high-quality Made in USA products are available, the latter have higher prices. "That could lead to sticker shock for consumers if they are used to buying $3 toys," he says. 
Some consumers are willing to pay more for bird toys and playgrounds if they see value. "With birds we hear so much about safety, and you pay extra to get something that you can trust a little bit more," Sholly says. 
He adds that people spend thousands of dollars over the lifetimes of larger birds, which have a lifespan of up to 60 years. "Retailers are going to have to be flexible and creative to keep store shelves stocked."  PB