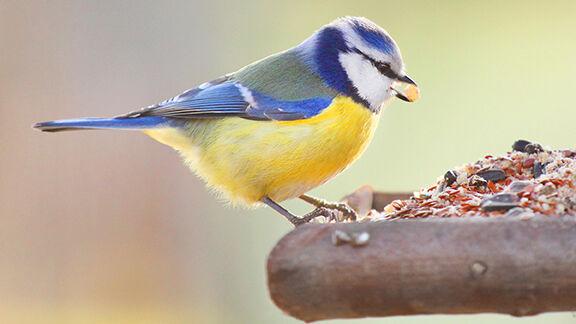 Wild birds lead different lifestyles and therefore have different health and habitat needs than pet birds. Rather than rely on an owner to provide them with a sufficient space and diet, they gather what they need from nature—or what backyard bird watchers provide for them.
Many pet store customers can be counted among those looking to attract wild birds to their yard or outdoor space so they can closely observe and enjoy these feathered friends in their natural habitat, and they are willing to invest in products that will accomplish this goal. Typically, what they are in the market for will depend on the type of bird they are looking to attract, as they want to be equipped to fulfill its specific nutritional and habitat needs and desires. With that in mind, retailers should aim to offer a wide enough variety of products and knowledge across the various wild bird species to cater to individual consumer needs. 
"A variety of food types, blends, and single ingredients like dark oil sunflower seeds is a great place to start," says Sue Brown, senior vice president of sales and marketing at Brown's Pet Foods, noting that wild birds require energy that comes from ingredients high in fat, such as black oil sunflower seeds and suet. "This gives customers the ability to find foods already tailored to their wants and needs, as well as the option to customize their foods if they wish." 
The staff at Volkman Pet Products agree that variety is the key to success in the wild bird category. According to David Block, director of sales and marketing, Jessica Hunt, customer service specialist, and Katie Tomlinson, digital media developer, while customers will generally be looking for the same base of products, local wild bird species will vary based on landscape and geography. So, they say, it is important that retailers offer something for everyone while maintaining "a healthy space to sales ratio."
In addition to understanding their customers' goals and building the right product selection, retailers must utilize the right pricing strategy in the wild bird category—especially in times like these, when supplies are scarce and the demand for wild bird food is high. At Wildlife Sciences, owner Bill Gleason emphasizes fair pricing on products like seeds, suet and basic feeders. This, he says, will help pet stores avoid giving off the initial impression that all their products are more expensive than the competition's. 
"I think that if a knowledgeable bird-watching consumer walks in there, they're going to know what's fair with those basic items; and if they're high, they might very well assume that everything in the store is high," he says. 
Gleason finds that setting the right price on the basics provides a distinct benefit in driving sales of products beyond the bare essentials. 
"People will always buy more than just the basics, but I think it helps to be as reasonable as you can on basic items like that," he says. 
Creating a Wild Success
To make a wild bird section stand out in a store, retailers must invest time and effort in the way the area looks, ensuring that it is both eye-catching and informational. To this end, Brown suggests using attractive signage to draw customers to the wildlife section. Once the customer is in that aisle, she says, retailers should provide them with information about how to set up a wild bird feeding station, a breakdown of the different foods and brands, and tips on how to attract different songbirds.
When it comes to merchandising, Gleason suggests positioning products in a way that resembles an arbor over the area where the bird food items are located—possibly even hanging feeders to create an atmosphere that is appealing and familiar for seasoned wild bird enthusiasts, and intriguing for those just starting out. 
For the team at Volkman, it's about where in the store displays and signage are positioned. A front window placement, they say, will let customers know that the store has a prominent wild bird section and encourage them to inquire about it, before they even step inside. Once inside the building, they suggest continuing strategic sign placement and merchandising schemes to generate interest and curiosity, "such as [hanging] danglers from the ceiling or stacks of product on the floor." 
According to Brown, hosting well-timed promotional events is another great way to drive sales in this segment. 
"Seasonal events in the fall and winter work best for the wild bird category," she says. "People are more inclined to feed the birds in winter due to the lack of natural food sources, and a natural increase in migratory birds that aren't often seen during spring and summer are great reasons to branch out from regular purchases. Get children involved by sponsoring a home-made feeder event and coupons for wild bird food." 
Staying Competitive
Since independent retailers that sell wild bird products are competing with more than just other pet retailers, they should consistently utilize their advantages over mass merchandisers that sell these same items, such as The Home Depot and Lowes. One key element that smaller retailers can use to get an edge is their ability to be more flexible than the chains. 
"The box guys have pretty rigid planograms all over the country, and if they're out of something, they're out all over the place," explains Gleason. "They don't really have the flexibility to react." 
Brown adds that pet stores can also be more accommodating with which items they choose to carry by finding out what their regular customers are requesting, while paying close attention to price points. Since the large chains can offer cheaper wild bird food, she advises retailers to shift their focus to obtaining higher-quality items, rather than selling the same products customers can get for a significantly lower price elsewhere. 
The Volkman crew concurs with this approach and notes that pet stores also have the advantage of offering customers a deeper knowledge base within the wild bird category, not to mention the ability to provide personal attention and guidance to the customers as they make decisions. 
As with every other sector of the pet industry, there are emerging trends within the wild bird segment that retailers should keep up with in order to understand consumer demands and the general trajectory of the category. 
For example, "Many wild bird customers want seeds and grains that do not sprout when they're dropped on the ground around their feeders," says Brown. "Customers also want natural solutions that attract birds, while also deterring wildlife from infiltrating their feeders. Retailers can take advantage of this by offering a selection of no-waste foods, natural additives, or specialty feeders that accomplish those wants." 
Of course, the biggest trend within the wild bird category right now is simply how popular it has become with consumers over the past year. With COVID-19 pandemic largely isolating people at home, there has been a significant increase in backyard bird watchers, so retailers should stand ready to satisfy the growing demand for variety and quality in wild bird products.   PB