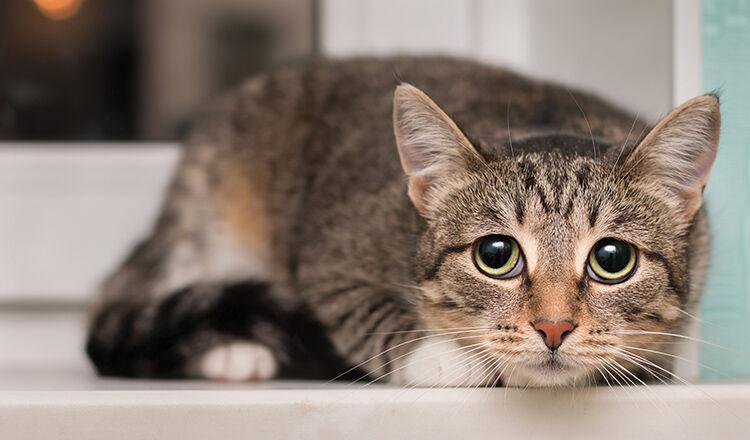 It wasn't just humans feeling the stress of quarantine, sheltering-in-place and general uncertainty for most of 2020—our pets felt it too. 
Although dogs are generally more expressive than cats, felines show emotional distress in their own ways. According to Scott Ragan, managing partner and CEO of Meowijuana, cats with stress or anxiety may display behavior such as excessive chewing, licking or over-grooming; scratching; attacking people or other pets; sleeping too much or not enough; inconsistent and inappropriate litter box use; hiding out for long periods; and, in extreme cases, running away or attempting to.
When there's something different about a cat's behavior, the owner must play detective and try to get to the source of the issue. This year's different as months of being home allowed pet owners to pay more attention to their furry friends. As a result, owners have become more sensitive to their pets' personality quirks and any erratic behaviors can be addressed sooner. Aside from correcting behavior issues, pet owners have made their four-legged friends' overall health a higher priority. 
"With the country spending more time at home and the increase in pet adoption, pet parents [are] interacting and seeking companionship in their furry friends more than ever before," says Ragan. "And, as a result, pet parents are even more health-minded and purchasing premium natural, wholesome, wellness products." 
The Source of Stress
Because cats thrive on routine, any deviation can trigger a change in their behavior. 
"Many behavioral challenges are rooted in anxiety," says Julianna Carella, founder and CEO of Treatibles. "With people spending more time at home in 2020, many realized just how stressed their cats are." 
New people or events can be traumatic to a feline's delicate constitution. 
"Simple things like strangers, strange noises, a dirty litter box, a change in routine or rearranging the furniture can bring on stress and anxiety in felines," explains Ragan. "So can weight gain, lack of exercise and improper nutritional balance." 
Since prolonged stress can lead to serious health issues, Ragan recommends making sure that pets can have a designated space to calm down, which is key, he continues. 
On top of respecting their space, understanding cats and their personalities is an important step toward changing poor behavior. Carella believes the "winning combination" for improved behavior results includes patience and understanding on behalf of the owner, the right behavioral products and positive reinforcement. 
"There is no such thing as a bad cat," she says. "How they communicate and respond is often misunderstood. Unfortunately, that often means cats are surrendered to shelters because of perceived behavioral issues. Used along with positive training, these products can help cats feel calmer and ultimately help correct unwanted behaviors." 
Ultimately, cat owners want products that are both safe and effective. Ragan explains that as consumers prefer to avoid overly-processed, chemical-laden food full of fillers and ingredients they can't pronounce, they're translating that same awareness to their cats. Today's consumers value healthier consumables that promote natural, wholesome wellness—even if it comes at a higher price.
Ragan continues that some of these wellness elements include being grown and/or made in North America (U.S and Canada); having no wheat, soy, corn fillers, artificial colors and animal by-products; and featuring natural herbs for flavor, aroma and engagement, such as dried catnip, valerian root, lavender, passionflower and chamomile. 
To accommodate cats' various preferences, manufacturers have various forms of behavioral products available. For example, Treatibles offers soft chewables just for cats, as well as oil dropper bottles in several potencies and a topical cream, which all feature organic full spectrum hemp CBD oil.  
"Because cats can be picky, tasty supplements are often desired," says Carella. "That seems to be the catalyst (no pun intended) for the development of more chewable calming products." 
Another CBD product available is NaturVet's Hemp Quiet Moments Calming Drops for cats, which was recently added to its product line-up. The product contains hemp seed oil, valerian, lavender, chamomile, L-tryptophan, thiamine and ginger to help reduce anxiety during stressful situations.
"It is veterinarian-formulated and recommended for storms, fireworks, grooming, travel, holiday parties, veterinarian visits, new environments and when introducing a new pet into the family," says Scott Garmon, president of NaturVet. "The dropper provides a quick and simple delivery method for even the pickiest of cats."  
NaturVet's line of cat behavioral products also includes Bitter Yuck, Off Limits, Pet Organics No Scratch and Pet Organics No Stay sprays, which all help to deter cats from unwanted behaviors. 
In addition, Meowijuana offers new Catnip Blend Bottles, described as "unique blends of catnip combined with all-natural calming additives such as passionflower, lavender, chamomile and dandelion." The company will be releasing a line of Catnip Spray Oils in 2021.
Ingredients in products that focus on feline behavior modification set them apart from other items. According to Carella, Treatibles' CBD-infused products work with the cat's whole body. 
"All animals have an endocannabinoid system that regulates the neurological, physiological (including the nervous system) and immunological systems of the body," she explains. "Basically, the body produces cannabinoids. When there is a deficit in internal production, adding a phytocannabinoid—plant-based cannabinoid, like hemp-derived CBD—it helps create homeostasis. That is why CBD is recognized for instilling calm and emotional balance. While toys and catnip can be very useful in correcting behavior, CBD is key in helping cats feel centered enough to respond to these tools." 
A standard cat toy or catnip are great for releasing energy and keeping the feline mentally stimulated, but to correct behavior, each situation calls for products with different elements. According to Ragan, Meowijuana's catnip and catnip blends are much more than "toy fillers"—they are standalone products that can promote up-selling or cross-merchandising to drive more sales for retailers. 
Securing Sales
For merchandising, retailer education and eye-catching displays work hand-in-hand to inform consumers and drive sales. Retailers should not assume that consumers know what will fix their feline's behavior issues. 
"Many customers are not aware that there are solutions for unwanted cat behavior," says Garmon. "Store employees should be educated on the differences in [their] products so they are able to recommend the best solution available." 
Carella suggests dedicating an entire section to feline behavior products because it is such a common issue. She says her company spends considerable time and resources on retailer education so they can pass that knowledge on to the consumer. 
"Supplements, toys, gear and other products associated with addressing these issues can often be used in tandem," says Carella. "Understanding how and why Treatibles products work is front and center. We provide weekly interactive educational webinar trainings as well as in-store demonstrations, shelf talkers and aisle violators featuring frequent issues addressed by our products, brochures, dosage cards and other informative handouts for both retailers and their customers."
In the end, it is often a team effort to correct a cat's abnormal behavior. It falls to the pet owner to recognize the irregular pattern, and the retailer to work with the owner to seek out an effective solution.  
"Supporting your cat customers with digital, social and POS education regarding what it means to be a stressed-out cat helps to begin the conversation and helps drive awareness and revenue," explains Ragan. "After all, everyone wants their pets to be calm and happy, so knowing the signs and what the options are for relief helps to ease the stress tremendously."  PB