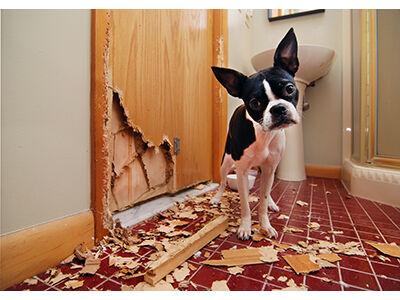 One of the most beautiful parts of owning dogs is their range of emotions and how quickly they cycle through them—there's nothing funnier than a rambunctious puppy tearing through the house one minute and then flopping on his bed totally exhausted the next. Unfortunately, the good also comes with the bad—included in that range are times of high-stress and anxiety, in addition to stubbornness that results in a refusal to listen.
When it comes to rewarding good behaviors and addressing/altering bad ones, there needs to be an understanding that there's no quick fix. There's behaviors that can and can't be controlled, so adjusting the dog's routine accordingly through internal, external and combination methods will provide the best overall benefit to its health.
"Animals feel our stress—it's very viral," says Susan Goldstein, co-founder of Earth Animal with her husband, Dr. Bob. "Your animal will take on your stress, but the difference is the animal can't verbally communicate that they're feeling crummy."
As the opposition to prescription medications and over-the-counter medicine increases, "giving the end user a holistic option over the pharmaceuticals… can offer relief without the long-term damage of a drug," says Shelby Finn, education manager at Pet Releaf.
Calming and Modifying
Calming aids are typically used to get a handle on things pet parents have difficulty controlling, such as anxiety and stress that's heightened by events such as fireworks or traveling. Though it's agreed that calming aids are needed throughout the year, there are times where it's more pertinent than others.
"There's a seasonality for calming aids," says Susan Goldstein, citing the upcoming hurricane season as a potential trigger for dogs. "Animals are very sensitive to barometric pressure, which can cause a lot of anxiety and discomfort."
That seasonality includes the holiday seasons, too, where stress/anxiety can be brought on by fireworks on the Fourth of July and New Year's Eve, unannounced or unusually frequent visitors during Halloween and Thanksgiving, and even just the additional travel those events typically pack on, explains Min Lee, founder and president of Honest Paws.
While calming aids handle the behaviors that are out of human hands, behavior modification is all about addressing the issues that are controllable, such as excessive barking, unwillingness to listen to commands and general unruliness.
"Behavior modification, at its core, is training-based, where a clear, mutually understandable means of communication is established between the pet and owner," says Emily Benson, marketing manager at Starmark Pet Products. "Training helps build confidence and creates a guideline for how to react in various situations, such as meeting new people, being in a new environment or at the vet or groomer."
The ability to train dogs to properly behave in those situations is instrumental, and the results are proven. Benson cites data from the American Pet Products Association (APPA) that shows nearly three quarters of pet owners use some form of behavior or training modification for their dogs, and of that, the majority used a reward-based method.
Solely in terms of bad behavior—incessant barking, refusal to listen and attention-seeking actions, to name a few—"the dog/pet owner should have an easy-to-use tool readily at hand to use when the unwanted behavior situation arises," says Chris Mushenski, president of Canine Innovations, Inc., citing his company's Pet Convincer product line, which emits a harmless, unique mixture of an acoustic sound inaudible to humans and air to help redirect a dog's focus.
Still, before allowing a pet parent to return home with any sort of calming aid or behavior modification system, it's important that retailers understand the specific functions behind each item and properly explain its use to customers.
"Learning the basic methodology behind the different behavior modification tools will help the retailer make an informed decision on what products they feel comfortable recommending to their clients," says Benson. "Manufacturers can help educate both retailers and customers by providing clear guidance in how the product functions, as well as how to use it to achieve the best results in working with their pet." 
A Class of Its Own
Of course, discussing calming aids and behavior modifications wouldn't be complete without mentioning the calming choice du jour—CBD, a product that experts agree is well known for its quick response time and superior results.
"I've been practicing for 45 years in natural and homeopathic remedies, and CBD is in a totally different category," says Dr. Bob Goldstein. "The consumer perception that these natural products in the past worked very slowly, but CBD acts so quickly, it's just going to transform and elevate the consumer awareness of natural products and the effectiveness as compared to medications, which oftentimes have side effects."
Contrary to popular belief that CBD is designed solely for joint problems and issues with anxiety and stress—cases that it's still highly effective for—the solution actually provides an entire range of wellness benefits that go beyond simply keeping a pet calm, cool and collected.
"CBD is not just for the anxious or arthritic pet," says Finn. "CBD is a wonderful natural anti-inflammatory, neuro-protectant and boost for their immune system. By giving CBD daily, we can help keep our pets healthier, longer. We should be giving our pets supplements in the same way we give them to ourselves."
After all, CBD hits on the biggest qualifications customers are looking for when it comes to calming their pets—organic ingredients, pure sources and natural processes for creation.
"CBD has had a dramatic effect by helping to meet the public's desire to replace prescription meds with organically-sourced ingredients," says Lee. "Combined with the fact that consumers have become more savvy about it and correctly disassociating it from marijuana, CBD is a trend that I don't see going away anytime soon."
It's important to note that pets shouldn't be given CBD—or any calming aid in general—during times of high-energy, such as when a pet comes down with what's popularly referred to as the zoomies. Scott Garmon, president of Garmon Corp. NaturVet's parent company, explains that active pets should be calmed with exercise before an aid is administered, as well through training.
Getting the Word Out
Still, a selection of calming aids and behavior modification products is only as good as its marketing techniques. While there's the obvious opportunities for cross merchandising—behind the counter, by ID engravers, in grooming and training sections, and with toys and travel products—one of the most effective options is to engage consumers in store.
"Call attention to the pet parent in your stores animal," advises Susan Goldstein. "The best way is to dialogue and find out what's going with the dog or cat and what they're dealing with. I always check in on the animal's emotions."
To that end, Garmon explains that key points all store employees should be knowledgeable of include the purpose of each active ingredient in a calming aid, how to properly fit a pet for a calming vest and matching the right products with a customer's lifestyle.
Perhaps one of the most important merchandising methods exists outside the store itself. Mushenski explains that he's found that one of the most common ways of merchandising calming aids, specifically behavior modification techniques and devices, is through advertising, attending pet shows, networking with dog trainers and word-of-mouth.
No matter what merchandising method is employed, it's important that consumers understand how helpful these products can be, and why they're an essential part of animal health. Susan Goldstein recounts a time where all of a sudden, a bunch of animals stopped responding to Dr. Bob's nutritional protocol, despite many years of prior success. After a little digging and conversing with the families involved, Susan realized all the non-responding animals were rescues with underlying emotional issues.
"We realized how important it was to treat the emotions, because all the best diets and vitamins on Earth won't have the opportunity to do the work we want them to do if there's an emotional imbalance," says Susan Goldstein. "Everything's connected in the body, and if you leave one area out, eventually everything gets weak."  PB