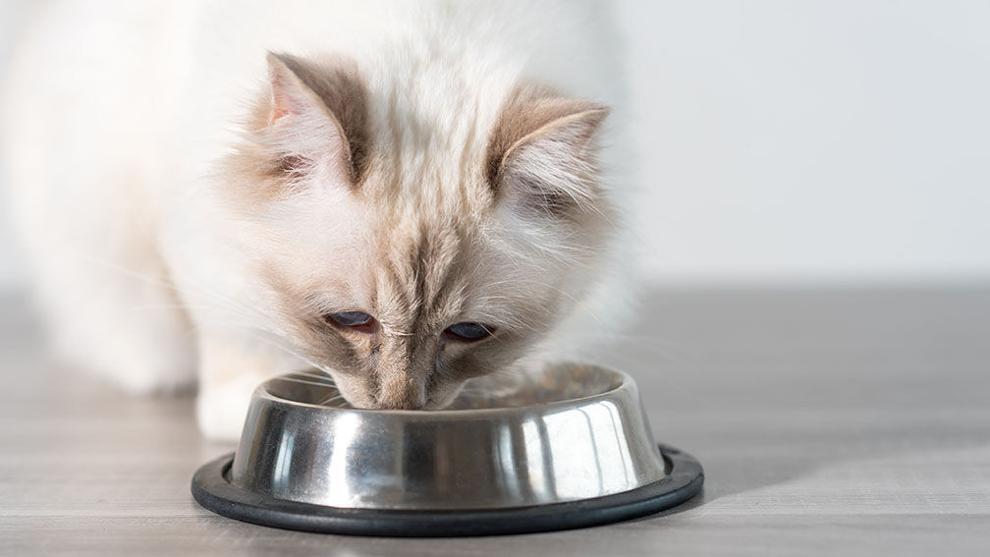 Cats, like dogs and humans, enjoy a treat once in a while. While treats are a fun reward or an indulgent snack, they also provide cats with extra nutrition. Since felines are notoriously selective about what they eat, their snacks need to be enticing. 
"Cat owners have always treated, as a way to engage and indulge their babies," says Ann Hudson, vice president of marketing for Whitebridge Pet Brands, which makes Tiki Cat and other brands. 
While legacy treats might have once been loaded with carbohydrates, by-products, and chemical preservatives, today shoppers can find treats that have better health attributes. As a result, there are more opportunities for pet specialty retailers to expand their sets with new, innovative offerings. 
"The growth of the cat treat category in specialty brings a whole new array of flavors, formats and nutritional aspects to treating," Hudson says. The most popular formats for Tiki Cat are Stix and Broths, which are made with only meat and broth, and no carbs. The brand also is launching Tiki Cat Baby Thrive, a functional supplement in a treat format for underweight kittens.  
One format that has continued to gain popularity is freeze-dried raw, as pet parents learn more about its nutritional benefits. 
"Feeding raw food is the most species-appropriate diet for cats and freeze-dried raw is convenient, and shelf-stable while providing quality nutrition and an appealing flavor and texture," says Victoria Bouldin, vice president of operations for Primetime Petz, which makes Hauspanther freeze-dried raw meal toppers and treats. "Many cat owners have become more aware of cat nutrition and therefore are opting for the best quality cat treats rather than the cheapest, also favoring Made in the USA cat treats." 
Other format options, including sticks and pastes, enable cat owners to engage with their felines during snack time. As an example, PureBites is launching PureBites+ Squeezables cat treats that can be fed as a healthy and functional treat, mixer or topper, and comes in a squeezable pouch that encourages interaction. "Whether it's a creamy paste, or a lickable stick, these new form factors offer cats an opportunity to experience change from the everyday," says Andrea Bourne, senior marketing specialist. 
The shape of a cat treat is also important. For its part, Emerald Pet released its Feline Dental Stixx, which features a longer stick shape that reaches back teeth and massages gums. Glenn A. Novotny, president and CEO, says consumers had asked for a shape that cats could not swallow whole. Cats have to use their teeth to crunch the stick down into smaller pieces. "This scraping action works wonders to clean teeth while also allowing interaction as the cat bats our treats around while they are eating them," he says.
CBD AND HEMP
Of course, functional ingredients have gained sales momentum over the past few years, but much of that attention has been on dog treats. 
"If there is one positive that came out of the pandemic, it's that cat parents became more aware of the stress and discomfort their cats experience and are seeking natural, functional options, much like dog parents," says Julianna Carella, founder and CEO of Treatibles. The company makes products that feature organic full spectrum hemp CBD oil. "In our view, there's no coincidence that according to a recent Brightfield Group report, there has been a four percent increase in CBD product use for cats between 2020 and 2021." 
The Treatibles product lineup for horses, dogs and cats includes topical cream, drops, capsules and chews. The cat chews are soft, which Carella says provides a palatable alternative to liquids or powders. Taste and texture are important to cats, and many pet parents are hesitant about purchasing a whole bag or canister of treats or chews. To encourage trial, Treatibles offers free samples and intro pack size bags. 
When considering which CBD products to add to the treat assortment, the company recommends that retailers ask certain questions. Among them: is the hemp used in the product grown in the U.S., is it organic, and is the company a member of the National Animal Supplement Council? Treatibles also offers retailers collateral materials such as brochures, posters and dosage cards, and provides a weekly interactive webinar for retailers and their staff, with up-to-date information on regulations, legal advances, scientific studies, and more.
The brand recently added high potency Soft Chewables featuring 3 mg. of CBD per Chewable. They are designed for senior cats or those who prefer a softer consistency, and are beneficial for any cat experiencing stress or anxiety, joint discomfort, or mobility issues. They are salmon oil flavor and are a source of omega-3 fatty acids. "Our customers are excellent communicators," Carella says. "Through their reviews, comments, and correspondence, we have learned that many cats require more CBD per chewable." 
Boosting Sales
Now, to encourage sales, retailers should dedicate a small section for cat snacks and stock it with the most popular formats in exclusive brands. This can help pet specialty retailers compete with grocery and mass stores that have an overabundance of cat treat SKUs, but with little variety in texture. "That's where the pet specialty stores can win," Hudson says.
Pet specialty can also win by making sure they stock treats that are nutritious. 
"Indulgence can be healthy," Hudson says. "Cats are obligate carnivores and meaty, liquid treats are super palatable, high in protein and provide hydration." 
Naturally, the focus on limited ingredients is a shift from the previous focus on price point and palatability, which were once the most important features of cat treats, Bourne says. As people become informed about ingredients they consume in their own food, they are also aware of what they are feeding their beloved furry friends. 
"Pet parents want to feed their pets healthy options," Bourne says. "They want to give their pets the equivalent of an apple versus a bag of chips." 
Pet specialty stores, traditionally the leaders in presenting new, high-quality products to consumers, can drive sales of healthful treats by showcasing them. Retailers should consider setting up natural and fresh sections to capitalize on the latest treat trends. 
"Even if it's slotting in a few test pegs or trays of new formats and cutting edge innovations, it signals to their shoppers that they are up on the current trends and capitalizes on the demand that's there, yet to be tapped," Bourne says.
One current trend is the preference towards natural products that are made in the U.S. 
"Retail customers and consumers alike are seeking out natural, 100 percent U.S. and high protein treat solutions for cat treats more than ever before," says Eric Abbey, president and founder of Loving Pets, which offers Purely Natural 100% Pure Dried Beef Lung Cat Treats. "With the continued humanization trend seen throughout the pet industry, simple, easy to understand one-ingredient cat treats sourced in the U.S. continue to be very high performing."
Pet specialty retailers should think strategically when they select products for their cat treat sections. Marketing support and in-store location and placement are more important than ever, because in 2020, Abbey says, nearly one million consumers in the U.S. adopted a cat or added a cat to their family or household. 
"Retailers can now cater to this growing segment of cat owners seeking affordable, healthy, natural cat treats that complement the protein-centric diet cats need." PB