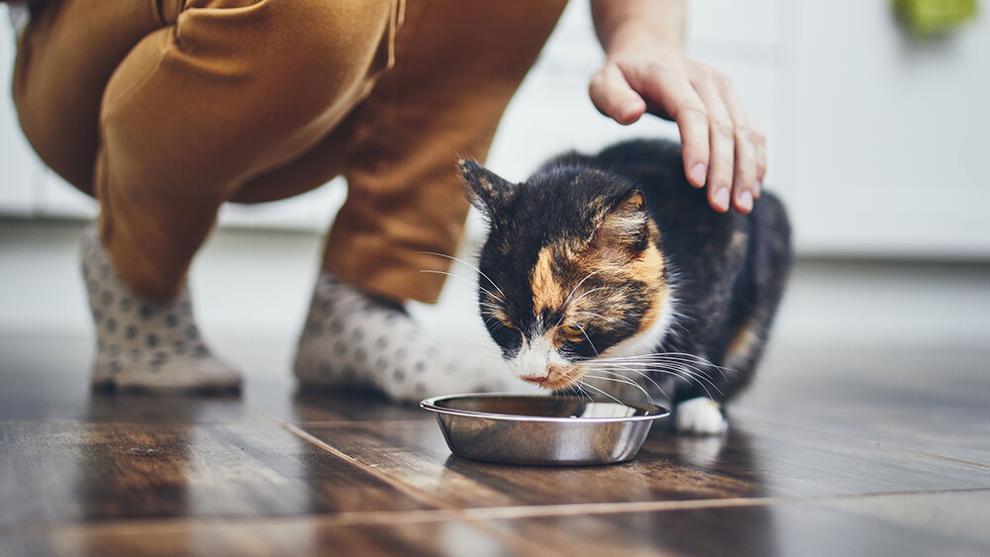 While often viewed as polar opposites, cats and dogs actually have a lot in common. Both animals enjoy playtime, getting pets and snacking on treats. However, one major difference that may surprise owners is their diets.
"A cat's nutritional needs are significantly different from that of a dog," explains Danielle Opetz, companion animal nutritionist at Fromm Family Foods. "Dogs are omnivores and cats are obligate carnivores. [So], a diet for cats is typically high in protein and moderate in fat, with minimal carbohydrates." 
Given this difference, it's important for retailers to see cat products as distinct—yet just as important—as their canine counterparts. This is especially true given the recent rise in cats' popularity, especially among younger generations. 
"There was a time when the cat population began to flatten, but that's not the case anymore," says Ann Hudson, vice president of marketing at Whitebridge. "Not only is the population growing, but the millennial shopper tends to own more cats than other generations. They don't have kids so they're even more engaged in their pet." 
Plus, "cat food takes less space and typically offers higher margins, another win for retailers," adds Hudson. 
Stocking Your Cat Section
To ensure their cat food sections are up to snuff, retailers should be thoughtful about their product selection to appeal to modern owners, who are increasingly educated and discerning. 
Like customers, retailers' number one priority when choosing stock is quality. Pet parents today are looking for healthier foods made with fewer yet more premium ingredients. 
"There is an overall focus on simplification and getting back to the ancestral diet of a cat," explains Gina Zaro, marketing director for Dr. Elsey's Cat Products.
"Consumers want to feed high-quality ingredients that help their cats live longer, healthier lives." 
Since animal protein is key to feline nutrition, retailers should pay special attention to the quality of meat ingredients says Billy Frey, director of marketing for ORIJEN and ACANA pet foods. 
"Check all the ingredients in the product, find out where they're sourced and ensure it contains a large percentage of fresh or raw animal ingredients, which indicate quality nutrition," he says. 
Also, try to avoid stocking up on products that are all pretty similar. Consumers still want to see variety and are always on the hunt for new and exciting formulations. That doesn't just mean offering a range of flavors and recipes; it also means stocking up on foods with different sizes and consistencies.   
"At Fromm, we offer a wide variety of kibble shapes, sizes, and three different textures of canned food – shreds, pates and stews – to better accommodate picky feline palates," says Opetz. "By only carrying a few textures, shapes and sizes of foods and treats, retailers may miss out on opportunities to present additional options that might better meet the needs of their customers."  
When it comes to texture, wet cat foods in particular have become increasingly popular among consumers, with growing attention in the marketplace on cat hydration.
"Cats have evolved from ancestors which had very little access to free water, so our cats have a low-thirst drive and are metabolically oriented to obtaining water from their food sources," says Heather Acuff, Ph.D., director of research and development at Nulo. "Providing moisture during mealtime through a canned food, topper or broth will increase your cat's water intake in a way that's in sync with their natural behavior."  
Of course, every cat is different, which is why retailers should also ensure their feline food assortment addresses a range of life stages, allergies and conditions, like digestive health or weight management. 
"Cat parents, like dog parents, are often looking for foods that are customized to the unique needs of their pets," says Acuff. "This trend will continue to lead to innovation in the form of customized formulas that can take into account the unique needs of pets across their lifetime."
Putting Felines First
Investing in a pet store's feline diet section goes beyond just product selection and requires retailers to also put the appropriate time, energy and resources into merchandising and marketing.
First, consider the location of your cat products. If they're hidden toward the back or behind dog food, you might be signaling to your customers that cats aren't as important to you as a retailer.  
"Too many times, cat products are an afterthought to dog products, or they are ignored altogether. Retailers should consider putting their cat food and treats front and center in their stores, even on a rotational basis," advises Frey.
Another way to cater to cats is through cross merchandising. This makes it easy for owners to find everything they need to keep their feline happy and healthy, rather than having to scour throughout the store. 
Acuff suggests cross merchandising food products with watering stations to "emphasize the importance of proper nutrition and hydration." Or consider merchandising cat toys and food together to "educate cat parents on the variety of stimulating toy options available for their feline family members and encourages pet parents to incorporate more activity into their cat's daily routine to maintain a healthy weight."
To further enhance customers' in-store experience, retailers should endeavor to stay informed about felines and the latest innovations in the food category. That way, they can provide impactful advice and demonstrate their commitment to cats. 
"In general, there is a more intimate buying experience when it comes to shopping at a neighborhood pet specialty retailer," says Opetz. "Pet parents turn to these retailers, in part, because they appreciate and respect their understanding and expertise in pet products. Retailers should stay educated on the foods that they carry to make better, more individualized recommendations to shoppers."
This is especially important considering the rapid growth of and innovation within the category, which doesn't show any signs of slowing any time soon. 
"I think we will continue to see momentum and growth within the feline diet category in the future," says Opetz. "One trend that will drive this will be the continued demand for variety. I think you'll see more manufacturers lean into innovation and expand formulations, recipes and textures to deliver more options to the pet parents." 
"We hope to see more brands work toward solving current issues that the cat lover is facing, including by addressing sustainability in the ingredients they use," adds Frey.  PB