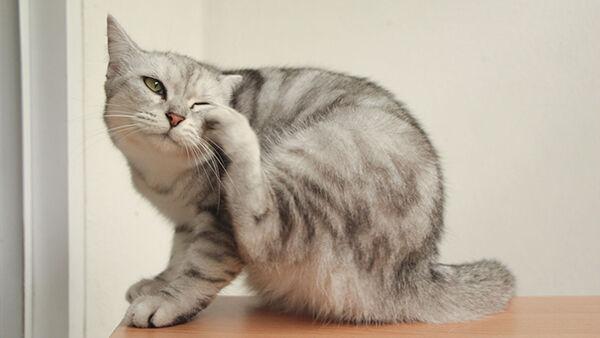 Spring is here, and for cats that love going outdoors, that means fleas and ticks are here, too. 
With the rising trend of walking cats on leashes, more consumers will be need to purchase flea and tick products for their feline friends, and pet parents looking for pest protection are turning more and more to natural products.
Of course, as with most pet products today, consumers continue to seek out more natural solutions, as they grow more environmentally conscious of what synthetic chemicals might do to the planet. There are also reasons closer to home: the safety of their feline friends. 
Reports released earlier this year have linked popular flea and tick collars to harm in both humans and animals, leading more pet parents to look for alternative, natural solutions. 
"News earlier this year about the negative impacts of the Seresto collar led to a dramatic uptick in sales for Earth Animal's Nature's Protection line of flea and tick products as more people are exploring natural options that do not rely on pesticides, a trend we expect to continue," says Kristen Smith, head of consumer marketing at Earth Animal. "Customers are looking for more natural and sustainable products but are also very concerned with efficacy and safety."
Another major reason to avoid synthetic pesticides is that their effectiveness might be decreasing as bugs gain resistance. "The flea and tick category is growing in the pet market with increasing reports of year-round parasite infestations and the rise of the "super-parasite" that is mutating to be impervious to current repellents," explains Smith. 
This means flea and tick products will have to continue evolving, and likely become necessary all year round. 
These types of products also help cats fight bugs on all fronts with multifaceted protection. "An approach like Earth Animal's involves an ongoing addition of a natural powder to the animal's diet to strengthen the immune system and alter the natural odor of the animal's blood to be less attractive to pests," Smith says. "This year-round systemic support is then augmented with a seasonal spot-on treatment, a repellent spray for use during outdoor activities, and shampoos to boost protection."
Education is Key
With the growing importance and complexity of feline flea and tick products, retailers have to work hard to keep up. 
"Retailers need to be armed with answers to all of the questions a customer will ask – Is it safe? Is it effective? How do I use it? What is the right dosage? Where is it made and from what?" Smith says. "Retailers should understand all of the elements of any protocol to be sure the customer understands and utilizes all of the elements for the highest level of protection."
Luckily, manufacturers are happy to help retailers by providing training, signage, and other tools to ensure a full understanding of the products on offer. "Retailers should request a full product training from their reps and any accompanying customer brochures and signage, so they are best equipped to comprehensively educate the customer about the features and benefits of the products," Smith adds. "Retailers can work with their distributors to identify the offerings available from different companies and choose a selection that offers both internal and external protection."
Even though pest protection is becoming a more year-round concern, marketing pushes are especially important during the highest risk seasons. "Especially during the spring and summer months, having eye-catching displays in high-traffic areas will draw attention to products that are not held behind the counter," Smith says. "Free standing displays, shelf talkers, and point-of-sale displays will spur interest in the products and questions about them as an alternative to the well-known pesticide options. Any informational signage or literature accessible from the display can help to entice the purchase."
For the growing millennial market, online marketing is also important. Smith adds that  "featuring flea and tick products in any customer-facing communication (newsletters, emails, social media) will move the category top of mind for their audience. If the business has a blog or any in-store educational content, featuring the breadth of their offerings can help boost sales of lines beyond the well-known chemical treatments."
With all these considerations, the feline flea and tick category will continue to diversify into more natural products. Smith concludes, "As information continues to emerge about the increase in drug-resistant ticks and fleas alongside mounting concerns about the dangers of pesticides for people and pets, natural parasite protection will experience higher demand."