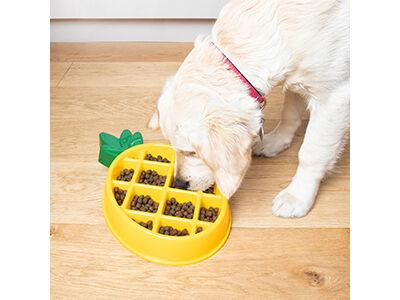 ZippyPaws's (zippypaws.com) Happy Bowl Pineapple slow feed bowl has a raised design to slow a dog's eating down and prevent bloating, belching and choking. The bowl has a non-slip base to prevent sliding, and it holds up to 4 cups.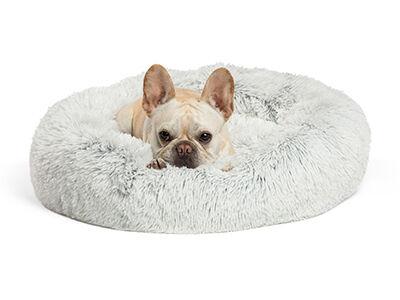 Sentiments's (sentimentsinc.us) Original Calming Shag Vegan Fur Donut Cuddler dog and cat bed has a raised rim to create a sense of security and provides head and neck support. Its super-soft filling offers joint and muscle pain relief. Finished with faux shag fur, the bed has deep crevices that allow pets to burrow. Every bed is safe in the washing machine and dryer, minimizing pet odors and excess hair.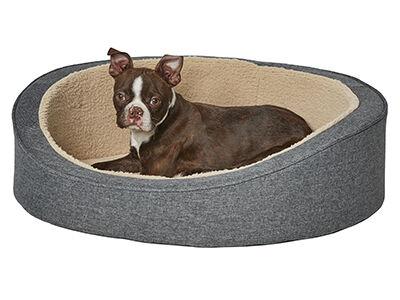 MidWest Homes for Pets's (midwesthomes4pets.com) QuietTime Deluxe Hudson Bed features a comfortable, orthopedic high-loft pillow and structured foam sides. The removable, machine washable cover is made with a soft, velvety fleece interior in a warm taupe color to conceal shedding. The durable woven fabric exterior comes in a tan or gray color to complement any home décor. Available in extra small, small and medium sizes.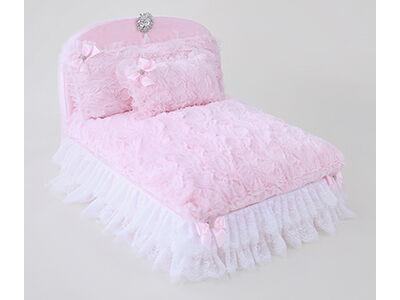 Hello Doggie's (hellodoggie143.com) Baby Doll Enchanted Nights bed is adorned with handmade lace. The headboard features a teardrop crystal brooch and satin bows accented with four-row crystals. The bed has a removable down pillow, along with zippered bottom to completely remove for washing. Available in Baby Doll, Sterling and Snow White, the bed can be customized with 13 different colors of bows. It is made in the U.S.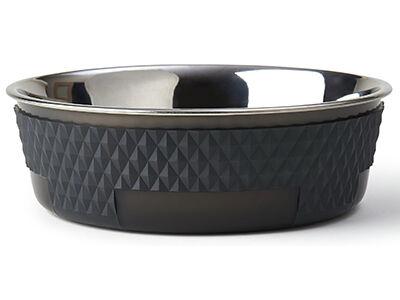 PetRageous Designs's (petrageousdesigns.com) Kona is non-skid stainless-steel dog bowl available in White, Taupe and Charcoal. The dog bowls feature a non-slip rubber bottom which blends into the textured TPE rubber coated exterior. They are easy to maintain, dishwasher safe and anti-microbial. The Kona collection is suitable for all sizes of dogs, and available in 1.75 cup, 3.75 cup and 6.5 cup capacities.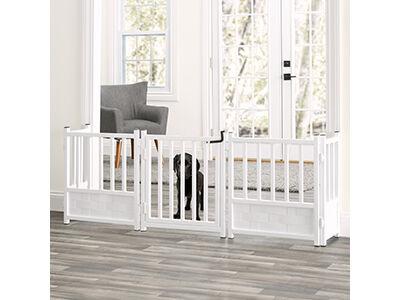 The Pets Stop (petsstop.com) Royal Weave Freestanding Gate Set is a heavy-duty freestanding pet barrier. Available in 24 in. and 33 in. heights, black and white colors, and multiple configurations, the gate set is a sturdy and versatile option for keeping pets out of harm's way. Each panel is made of steel and wrought iron and connects to the next using an easy-to-maneuver pin/sleeve appendage and additional panels can be added to make the pet gate as long as desired.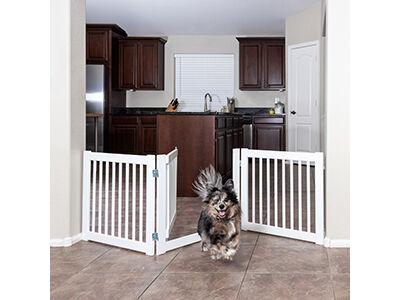 The Primetime Petz (primetimepetz.com) 360° dog gate is available in crisp white to complement contemporary décor. The solid wood freestanding pet gate features a sleek, white furniture-quality finish. The 360° hinges allow pet parents to configure the gate in a variety of ways, securely containing pets. Available in 24 in., 30 in. and 36 in. heights.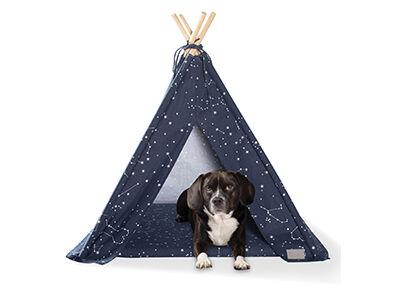 Petshop by Fringe Studio's (petshop.fringestudio.com) Celestial Teepee is made with 100 percent cotton canvas materials, solid wooden dowels and an ultra-soft matching pet cushion. With pre-assembled and lightweight construction it's easy to create a sanctuary for your pet anywhere anytime. The pet cushion is machine washable, and the teepee can be spot cleaned as needed.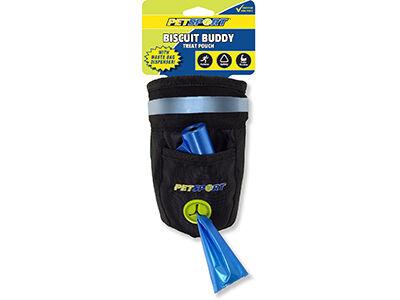 Petsport's (petsport.com) Biscuit Buddy Treat Training Pouch keeps dog's treats handy, fresh and clean while training pets. It clips onto belts, pants or pockets, and the wide mouth snap top allows for simple one-handed access. The Biscuit Buddy also includes a front pouch with a waste bag dispenser that holds a full roll of poop bags.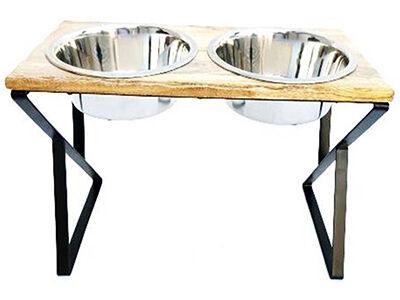 Indipets's (indipets.us) Luxe Craft Collection features dog bowls and elevated diners that combine durable, dishwasher-safe stainless steel bowls along with wooden or metal hand-crafted frames or stands. The veterinarian-recommended stainless steel interiors are bacteria resistant and can easily be cleaned. Available in various styles and designs.