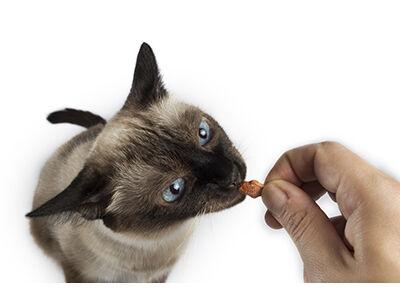 To pet parents, seeking out the best for their animals often means identifying the product preferences of their feline companions. When targeting these customers for treats in particular, retailers should note that the products that will resonate with these animals (and their owners) aren't comprised of a single formula with a one-snack-fits-all approach.
While responsible retailers will advise pet parents that treats serve a distinctive purpose seperate from food and supplements, they should also be certain to share that snack recipes are now being designed to help boost a pet's health, in addition to satisfying a cat's palate. The treat category is expanding to include a variety of options that suit a cat's age, lifestyle, activity level and nutritional needs. Manufacturers are raising the bar on other factors as well, through the inclusion of wholesome ingredient blends—such as clean proteins and beneficial herbs—and a larger variety of flavors.
"The humanization of pet food overall has driven a shift toward premium cat treats that are all-natural and made with sustainability in mind," says Joey Weichmann, national sales manager of Vital Essentials. "The most popular cat treats tend to be those with all-natural ingredients. Customers want treats that are grain-free, gluten-free and have a single protein source for pets who may need a limited-ingredient diet."
Sparse ingredient panels with easily-recognizable inclusions are more alluring to pet parents who are seeking wholesome snacks.
"We definitely see a much higher demand for more-natural and limited-ingredient treats," explains Andrea Bourne, senior marketing specialist at Pure Treats, Inc. "Pet owners are undeniably more conscious of what they are feeding their furry loved ones and they want to know what inside the bag of treats, just as they have also become more involved in what they are consuming."
Tracking Trends
Cat treats have evolved over the years to stay up to date with the trends across the food industry, closely emulating the changes that have been made in human diets. Even though consumers (and their cats) still enjoy the occasional indulgence in unhealthy snacks, junkier foods on the whole have become a bit more wholesome. Scott Ragan, managing partner and CEO of Smarter Paw LLC and its Meowijuana brand, explains that the trend toward nutritious cat treats is not always dependent upon the items that are included in a product, but actually in those that are not.
"Current trends in the cat treat category remain on treats made in the U.S., and those that contain zero wheat, soy, corn fillers, animal by-products [and] artificial colors," he says. "Consumers are doing their research and seeking out wholesome wellness in their consumables."
Creating cat treats that are satisfying and nutritious also means exploring ingredient options that closely resemble the protein-rich diets a domestic cat's wild ancestor relied on.
"Raw meat-based treats and food for cats are increasing in popularity because more and more cat owners are becoming aware that raw is the best kind of nutrition for cats," says Kate Benjamin, founder of Hauspanther LLC and creator of the Hauspanther Collection by Primetime Petz. "It is the most biologically appropriate way to treat your cat and freeze-drying offers a convenient and shelf-stable way to provide raw food and treats for cats."
The shift toward these types of high-protein treats is a response to the consumer demand for cleaner sources that typically haven't been used in cat treats before. Eric Tiller, vice president of sales for Redbarn, sees the growing potential for a premium-level protein as becoming the standard in cat treats.
"Cats are carnivores—no one is going to debate that," he says. "In the past, however, the more popular cat treats and foods were not made with high animal-protein contents. Just as we're currently experiencing with dog food, who are less carnivorous than felines, we think cat food, kibble toppers and treats will start to show-off the percentage of real animal proteins found within each bag be it kibble, wet food or freeze-dried treats."
The Change in Treats
Priorities for pet parents lie within optimizing animal health and ensuring pet safety, but they still want to have fun with their furry family members. This means that consumers will be more open to purchasing treats that can be used as a traditional snack, but also to enhance a meal or use during playtime, explains Tiller.
"There has also been increased interest in using treats as a meal mix-in to enhance their cat's mealtime experience and stimulate their appetite," adds Weichmann. "According to Nielsen Research, meal enhancers have experienced a 25 percent annual growth. This would suggest pet parents are looking for ways to offer variety to their feline family members with nutritional enhancement. We expect to see continued growth in this area of cat treats."
When establishing relationships with brands, consumers build loyalty through gauging the level of honesty and transparency a company is affording to them. Pet parents who plan their cat treat purchasing according to the standards they adhere to for their own food are going to demand manufacturers remain open regarding sourcing, product recipes and manufacturing practices. Additionally, consumers will hold their retailers to these same standards of transparency.
"There is a demand from consumers for transparency of ingredients and quality that they are purchasing for their felines," explains Ragan. "That fact especially holds true with Millennials, who in general eat cleaner, more wholesome and expect that for all members in the family."  PB