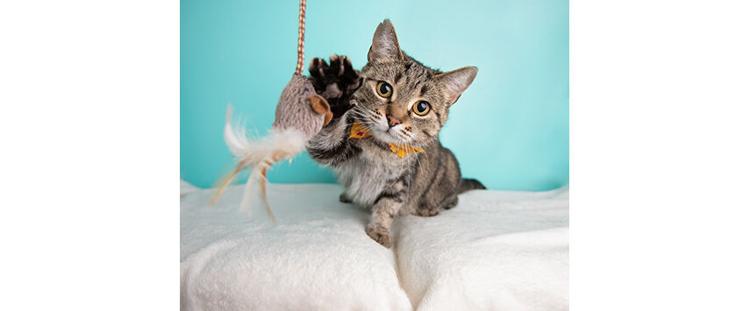 When monitoring the habits of cat-loving consumers, retailers should take note that these customers are driven by the tastes and preferences of their felines. These customers are going to invest in trusted products, but their attention can be shifted toward a new toy if it seems to offer the appropriate features that will keep cats stimulated and engaged.
While innovation and new products are shaping the category, Leslie Yellin, executive vice president of Multipet International, Inc., emphasizes that traditional cat toys, such as furry mice, lattice balls and burlap products, are always going to be staples.
"There are classic cat toys that have been around for generations that are proven sellers," she says. "Cats can be finicky with toys, so there is comfort in purchasing toys the consumer is familiar [with]. Many pet parents grew up with these classic toys in their own homes and know that cats like to play and interact with them."
To ensure success, retailers have to find the balance of showcasing modernity while still keeping a focus on the tried and trues. Instead of swapping stock entirely and overwhelming customers with a brand new cat toy section, retailers should gradually add fresh products into the display, which also opens the door for sales associates to engage with customers in a natural manner.
"New items and trends are easily folded into the set as buyers need to keep the section interesting and have something to point out when the customer says, 'What's new?'" Yellin explains.
The process of meshing selections is something that has to be handled tactfully and delicately. Through carefully choosing items that share common features or complement each other, organizing toys according to a certain system and occasionally revising this method, consumers will be attracted to the section and stay there for longer periods of time.   
To create a cat-toy section that is attractive to customers, Justice Le, creator and founder of DoyenWorld, advises store managers to keep a tidy, orderly space.
"[We] suggest retailers optimize their limited display space and create a clean, well-categorized assortment," she says. "Rearrange pet toy sections and layout periodically so it always looks fresh and new."
This type of formula has proven successful for Heather Bearz, owner of The Cheshire Cat and Dog, Too LLC, based in Cheshire, Conn. In addition to arranging her cat toy section through a method that includes trusted toys and newcomers to the category, Bearz tests products on the most discerning clients—her own family felines.
"We have several cat displays as you walk into our store," she says. "We generally keep our products consistent, especially if a customer needs to replace an item that was loved too much. We also bring in new items that we think our cat customers would like after trying them out on our six cats."
Cultivating a Cat Community
Consumers are increasingly becoming interested in experiential shopping when they visit brick-and-mortar locations. To build a cat toy space that contributes to this type of environment, retailers must forge relationships with the members of the communities that they serve. Connecting store associate knowledge with customer need might seem simple, but success lies in the execution.
"Creating a 'Staff's Picks' or 'Cat Toy Of The Week' section encourages the retail staff to be familiar with each toy on the shelf and share the information to the customers," explains Le. "This will let customers ask the question of why and the staff, being the expert, an opportunity to do a short demos showing exactly what the selling point and uniqueness of the product."
Wayne Chen, president of AfterGen Corporation, which develops and manufactures DoyenWorld products, suggests hosting in-store events that allow brand representatives to meet with shop associates and customers.  "Invite brands to come visit stores and speak directly with customers to find out what they are looking for and get their feedback directly," suggest Chen and Le. "Brands need to hear it first hand to have the confidence to turn ideas, into actual products!"
Bearz mentions that she welcomes feedback from her customers, but remains informed regarding products to be prepared to educate her clientele.
"We look for input from our customers," she says. "They are the reason why we are here. Make sure the area is always stocked, clean and ready for any questions you can answer for our fellow feline lovers."
Today's pet parents enjoy providing the very best for their animals, spoiling them as beloved family members. When it comes to cat preferences, the best products might not always be the most expensive. A comprehensive selection of cat toys to suit every budget will satisfy the needs of customers who are shopping at every price point.
"The most important thing to consider when setting up the cat-toy section is that it is price sensitive," explains Yellin. "Cat toys can range from .95 cents to over $25. The retail turns on the lower price points can equal the same amount in dollars as a higher-priced item. We have found that customers will often buy the lower price points in multiples, which add up at the register." PB